My independent advices are based on 6 years of experience in coffee machines sales. 13 comments
Hi! This is not yet another 'top 10 anything' website written by a freelance copywriter. This top is based on my reviews and comparative tests of espresso machines made over the past 2 years. All the machines are personally tested by me. I also disassembled most of them to investigate built-quality and durability issues.
This page covers only semi-automatic manual espresso makers for home with 15-bar pump and list price under $300. However, many machines fall into 'under $200' or even 'under $100' categories.


Below this point, I list espresso machines that have more controversial moments than models above. They still could be a good choice, but only with certain provisos. So please read my full reviews to understand if you can deal with particular cons of these models or not.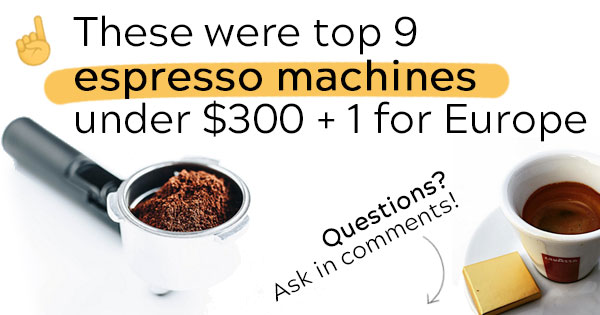 The portafilter photo by Marco Verch and espresso cup photo by Sharaf are used under CreativeCommons License.
I NEED you opinion. Please rate my review:
13 comments:
Have some doubts which model to choose? Ask me!