Comments: 31↓ specifications & manual ↓
NB! That article is NOT about: single serve coffee makers, steam and super-automatic machines. Read here to compare super-automatic espresso machines by Delonghi and Saeco.
When it comes to choosing a budget manual (or semi-automatic as it called in the US) at-home pump espresso machine you are probably looking for one with the 15-bar pump, the steam wand for cappuccino and the boiler. That's what most buying guides recommend and they are right:
15-bar pump is needed to make the real espresso shot. With lower pressure (with no pump as in steam espresso makers) the machine will not be able to push hot water through tampered coffee.
Panarello steam wand is needed to froth the milk for your cappuccino
Boiler compared to the thermoblock will give you more stable temperature of water. However, it can deliver limited amount of water with ideal temperature. After that limit the temperature will fall and coffee will be underextracted.
Having these three things in mind and being short on budget you will find variery of models in the shop. De'Longhi ECO310BK or EC155, Capresso EC50 or EC100, Saeco HD8325/47 Poemia Class or Gaggia Gran, Hamilton Beach 40715… They all qualify for above-mentioned criterias, however prices significantly vary.
Let me simplify your choice. All coffee makers in that class will fall in one of three following categories:
Delonghi's makers. They all are the same under the hood except Delonghi EC 145 that stands alone because of unpressurized filter basket and except Delonghi EC680/820/850. Last three models have thermoblock inside, not boiler. All other pump espresso machines from Delonghi are for 95% equal inside: identical boiler, indentical pump, identical or very similiar panarello, holders, filters. It means, that EC155, EC330, ECO310, ECO311, ECP3220, Ec 250 and other models will be diffrent only in matters of design and minor details. General functionality is the same in all cases. All Kenwood espresso makers are also based on Delonghi's parts.
Saeco, Philips and Gaggia models. Both Gaggia and Saeco now belong to Philips. That's why Philips Saeco Poemia (HD8323, HD8325, HD8327, HD8425), Gaggia Gran Style/Deluxe and Saeco RI8329 make identical espresso.
Hundreds of OEM-manufactured chineese models, that are sold under local brands all over the world. Clatronic in Europe, Vitek in Eastern Europe and India, Hamilton Beach in U. S., Somela in South America. All of them are based on the same model, that is designed in China, where factories produce hundreds of clones with different labels and slight outlook changes for global market. Again, most of them are identical under the hood.
That lead us to the conclusion, that we need to test and compare only three particular models one from each category to understand the difference between majority pump coffee maker models.


And that's what I did. I bought Delonghi ECO311 Red, Saeco Poemia HD8323 and Vitek VT-1511 ( = Clatronic ES 3584 = Hamilton Beach 40715 = Somela Capresso New! I published a simplified separate review of these machine: HB 40715 reviw). Having those three coffee makers in my hands, I will be able to make The Ultimate Test. Not only compare official product informations. I will also disassemble it to make measurements of boilers volumes, temperature settings, timings, durability and material quality. And even make blind tests of espresso taste and crema, as well as compare ease of milk frothing for cappuccino and usability. Let's start?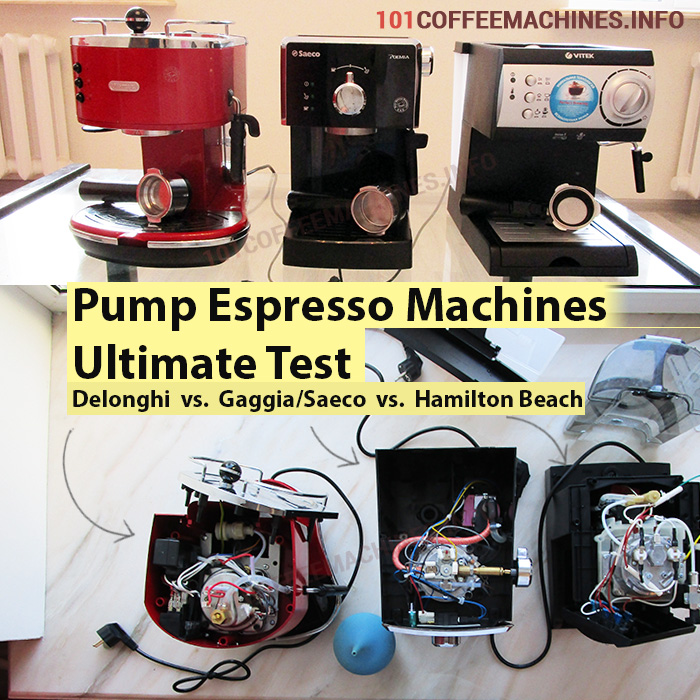 1. Water tanks and boilers: size and capacity
Delonghi ECO 311
Philips Saeco HD8323
HB 40715/Clatronic 3584
Water tank
1,4l = 48 fl oz

Accessed from top/back side

1,25l = 42 fl oz

Accessed from top side

1,5l = 51 fl oz

Accessed from top/back side

Heater element
Boiler, 1100 W
Boiler, 950 W
Boiler, 1050 W
Boiler volume/capacity
Not specified, I will find out further

Not specified, I will find out further
Not specified, I will find out further
Boiler material
Not specified, I will find out further

New models: Alimunium

Old models: Stainless Steel

Aluminuium
Water tanks capacity differ, however even Saeco's smallest one is enough for home use. The more important distinctions – material quality and usablity:
Chineese water reservoir that installed on HB 40715/Clatronic 3584 has the plastic smell. Even after several weeks of using it still has the smell. I can't exactly say that I can smell it in the cup – primary because the coffee itself has much more stronger smell. However the whole machine is smelly and the water tank is epicenter of that smell. Delonghi's and Saeco's tank have no extrinsic odor out of the box.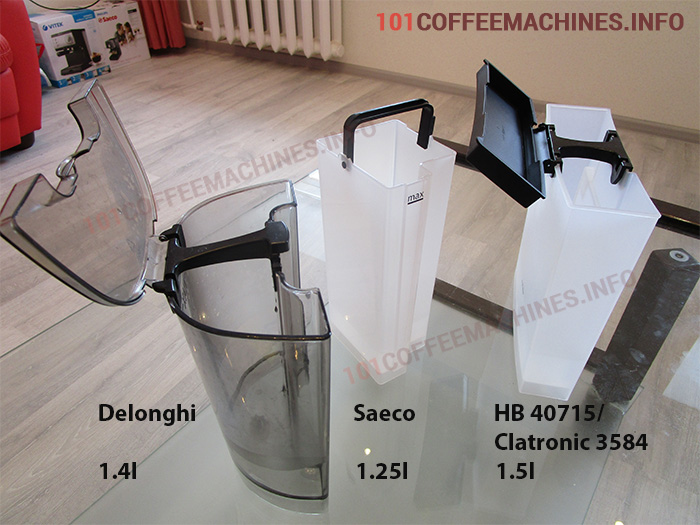 The ergonomics of Saeco Poemia's tank could be better – the water tank is installed inside the machine and the only small window is left for user to check if it still ebought water. HB 40715 has now look-up window, but the water tank itself is externally installed. So you can check the level visually. the plastic walls of water reservoir are not transperent enought, however it still possible. Delonghi ECO 311 has the best ergonomics, the tank is 100% trasperent and you can look at level of water from all point of views, even from front.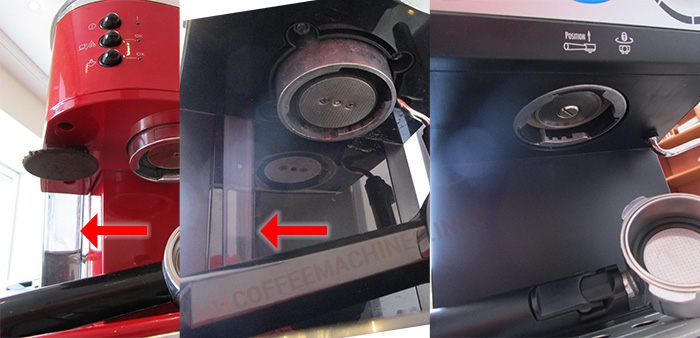 In that round, I give 5 out 5 points to Delonghi. Three points to Saeco and two to HB 40715.
When it comes to boilers, we have first secret to unveal – the boiler material and boiler sizes are unknown. Let's unscrew the coffee makers and look inside.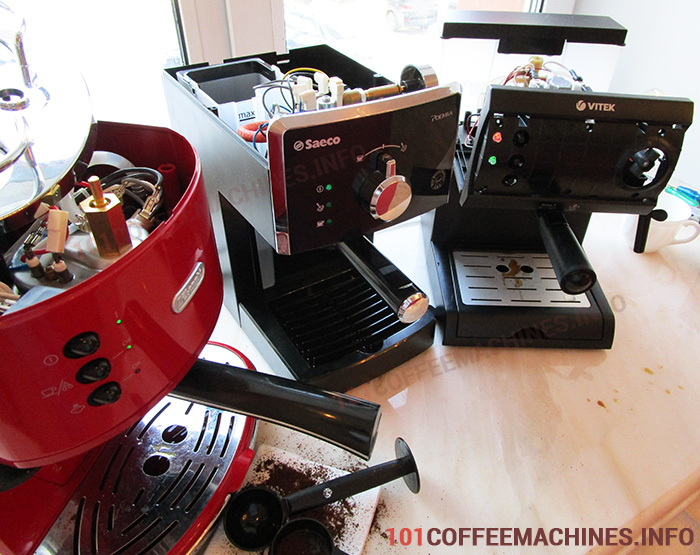 In all cases the boilers are installed in the same place, but the sizes significantly vary: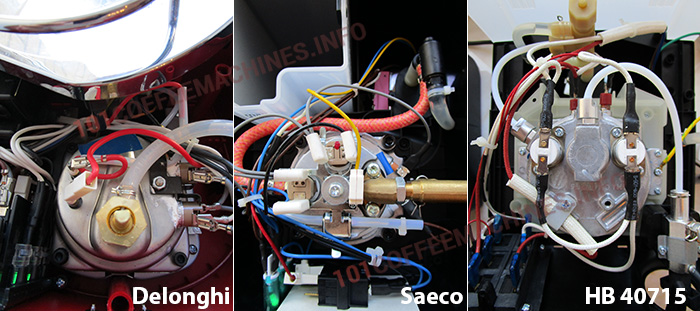 Delonghi (on the left) and Clatronic 3584 (on the right) have relativly the same boiler sizes. However, the one from Delonghi is made of stainless steel, while chinese one is made of aluminium.
The main suprise to me was new Saeco's boiler (in the middle). I knew, that they changed the boiler material – in official specification on Saeco's websites new models are said to be equipped with aluminium boiler. Not stainless steel as it was before.
But they changed not only the material. The heating element is now external, it curves around the boiler body and heats it. That allowed Saeco to make boiler smaller. Also it reduces the scale inside the boiler – that definetly is good. On the other hand, such design reduce thermostability, the water is not equally warm inside the boiler with external heating element.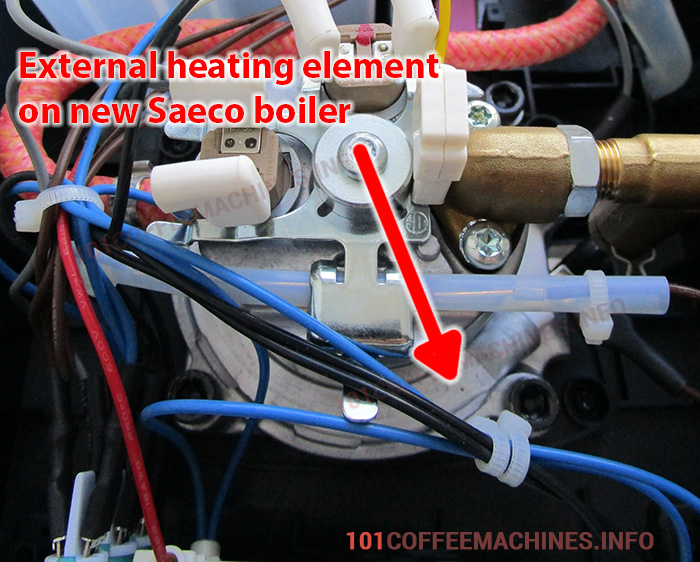 By the way, the quality of tubes for water looks indentical in all three machines, except the fact that Poemia's tube from pump to boiler is covered by thermo insulation. Electric wires are different. Electric wire diameter is smallest on HB 40715/Clatronic 3584, than comes Saeco Poemia and Delonghi has the biggest cross-sectional area of a wire.
But let's go back to boiler. I still need to find out the way to measure boiler's capacities of Delonghi, Saeco and Hamilton Beach. I decided to use enema for it.
I will fill the machines with water and let it work to unsure that boiler is full
Switch off the machines and wait until the boiler and tubes are cold enough to touch it
Then I will unplug the tube that deliver water into the boiler
Then I will place my espresso coffee makers upside down – I need to do it becuase in that position the steam output is the lowest point of boiler
I will suck up the water using enema throught the steam wand and that's how i will find out the amount of water that fits inside
Sounds too comlicated, but it's the easiest method I can imagine to measure boiler volume.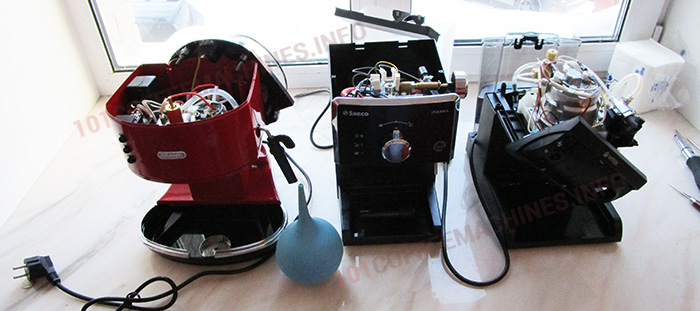 I don't have enough photos of the proccess itself, becuase I need both hands and even my teeth to hold the machine in needed position and use enema in the same moment. That's why I will go straight to results which were suprising to me:
| | Delonghi ECO 311 | Philips Saeco HD8323 (new one) | HB 40715/Clatronic 3584 |
| --- | --- | --- | --- |
| Boiler material | Stainless Steel | New models: Alimunium | Aluminuium |
| Boiler volume/capacity | 180ml/6 fl oz | 110ml/3.7 fl oz | 130ml/4.4 fl oz |
Suprising, huh?
Does sizes and material influence the taste and aroma of espresso? I will find out it further, when I will run several blind tests. I will not give marks for this round yet until the taste and aroma test.

2. Crema and milk foam: milk frother tests and portafilter comparison
Delonghi ECO 311
Philips Saeco HD8323
HB 40715/Clatronic 3584
Pump max pressure
15 bar
15 bar
15 bar
Crema system
Pressurized baskets with double floor:

one for one shot
one for double shot
one for E.S.E pods

Saeco's Pressurized Portafilter with spring:

one for one or double espresso
one for E.S.E pods

Pressurized multilayer basket:

one for one shot our double shot

Milk frother
Manual panarello
Manual panarello
Manual panarello
Max cup height:
77 mm = 3″
75 mm = 2.95″
100 mm = 3.93″
Filter inner diameter
52 mm = 2″
54 mm = 2.1″
52 mm = 2″
Tamper
Built in coffee maker body
Spoon's reverse side
Spoon's reverse side
Height under panarello
115 mm = 4.53″
80 mm = 3.15″
85 mm = 3.45″
When it comes to espresso people usually pay attention to its flavor and crema. Espresso crema is special foam on the top of espresso shot that could indireclty indicates the quality of the drink. If we are talking about cappuccino the outlook of milk froth is such an indicator. Let's test which espresso machine produce best crema and best foam.



Important notice about crema. On professional coffee machines crema is the indicator of good taste. Crema will apear only if the coffee beans are fresh, grind settings are correct and if the barista tampered it good, forming a steady coffee tablet. If everything is made ideal, only water flow under 6-8 bar pressure will be able to press it.

On home use espresso machines so called 'pressurized portafilters' are used. They are designed to create fake crema and they are less demanding to grind level and tamparing.

It means that even with old beans grounded on cheap coffee grinder and without right tamparing you will get decent cup of espresso. With great crema on it. But in that case the crema is fake, it is not an indicator of the taste anymore. It just looks good.
Here is how pressurized filter basket on Delonghi is made. Metal basket has double floor with multiple holes on upper floor and only one tiny hole on bottom floor. In frame is the picture of 'old' Delonghi's pressurized filter that is not produced anymore: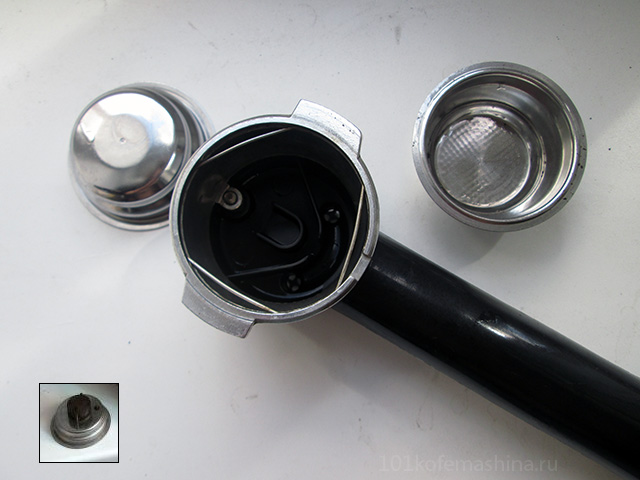 Saeco has a different approach. The pressurezid element is made of plastic and placed in the holder itself, not in the basket. There is a special 'stitch' that is controlled by the spring: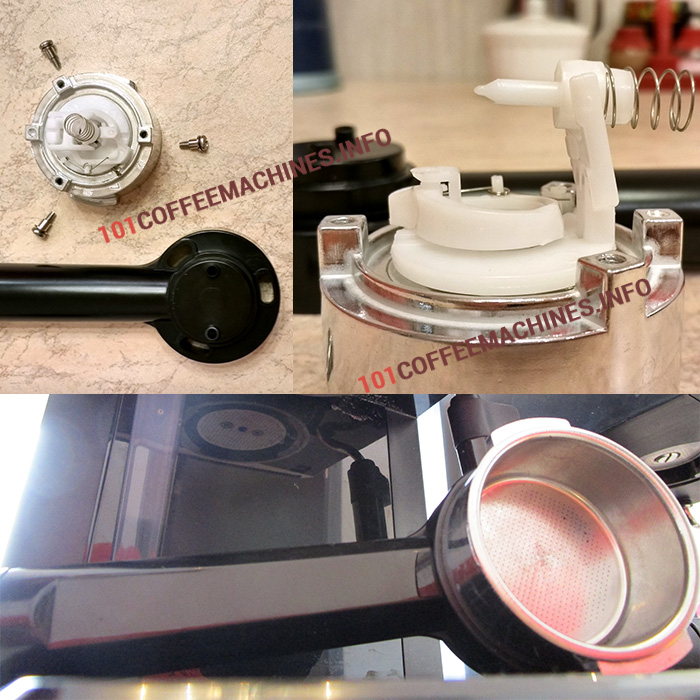 Chineese engineers came up with multilayer system. Both Clatronic ES 3584 and Hamilton Beach 40715 as well as Somela Capresso are equipped with it: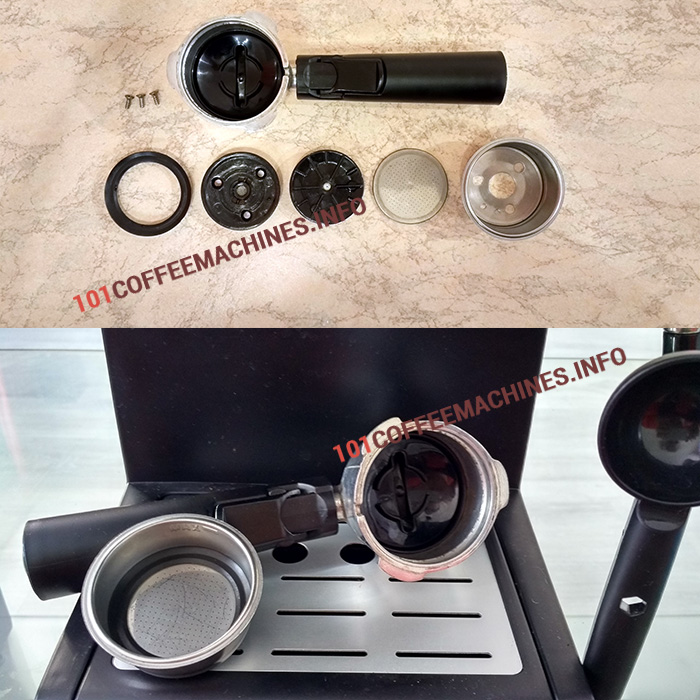 I made several test espresso shots. Delonghi delivers most poor crema, Saeco is the best, Hamilton Beach 40715 tooks the second place in that round. You can see result on photos below, Delonghi is on the right, Saeco in the midddle, the last is HB:

The last photo shows that Delonghi could make good crema if you tamper coffee properly. But in hands of the very beginner it will make less crema that its competitors.
I also made some measurements of the holders itself:
| | Delonghi ECO 311 | Philips Saeco Poemia | HB 40715/Clatronic 3584 |
| --- | --- | --- | --- |
| Holder weight w/o filters | 250 grams = 0.55 lbs | 150 grams = 0.33 lbs | 100 grams = 0.22 lbs |
| Real max cup height to fit under the holder (with and w/o drip tray) | 80/125 mm (3.14″/4.9″) | 80/100 mm (3.14″/3.9″) | 100/120 mm (3.14″/4.7″) |
In terms of taste I have following observations (it's all for personal taste and opinion). Delonghi's deliver espresso with more bitterness, Saeco on the other hand will make coffee with more acidity from the same ground coffee. HB 40715 is somewhere in between with little less aroma.
For this round Delonghi coffee maker receives only 3 stars from me. It is very easy to use, but the crema is poor. Saeco gets 5 out 5. HB 40715 got 4 out 5.
To be continued…
I NEED your opinion. Please rate my review:
31 comments:
Have some doubts which model to choose? Ask me!