Comments: 185↓ specifications & manual ↓↓ EC680 vs EC685 vs SMEG ECF01 ↓
Compared to its more affordable competitors, the De'Longhi Dedica EC 680.M espresso machine looks like a classic limo next to a Hyundai Accent. There can be no doubt that its design is a success. It looks classy, respectable and expensive. The width of the full-metal body is rather impressive – only 15 cm, which makes it one of the narrowest espresso machines on the market. Due to these proportions, it can fit onto any table, taking up a minimum of space. As we know, width is the most critical factor in any kitchen.
The Delonghi EC 680M Dedica full-metal body pleases the ear as well as the eye. Metal provides better isolation of the pump, which is the main source of noise during operation. This model really is quieter than its "plastic" counterparts.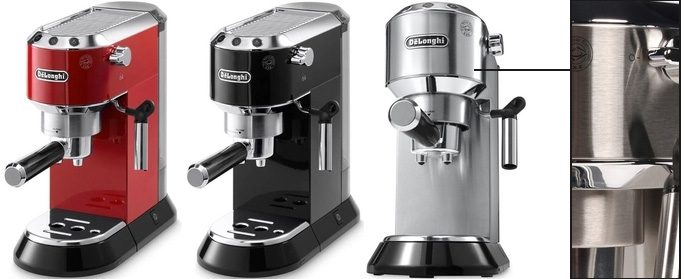 Delonghi Dedica EC680 should not be confused with Dedica Deluxe EC685 — check differences below 👇.
However, there is another nuance to the narrow body: as the metal portafilter is heavy and quite long, it causes the entire body to tip over when installed in the coffeemaker. In other words, you have to hold the body with your other hand to stop the machine tilting to one side. As the portafilter module is used more and gets ground in, this becomes less important.
By the way, although the holder looks like it is 100% metal, there is still a plastic part inside. In the very bottom of the portafilter there is a plastic dispenser that divides the coffee flow. But there is no need to worry – the plastic is good quality and the temperature of the coffee at that point is not too high. Still, if you want, you can unscrew the bolt in the bottom to remove that plastic part.
The cup stand, the drip tray, the steam wand and other silver parts are made of stainless steel, colored parts are made of some other metal alloy. The water tank and the lower black part are made of plastic.
Quick access to the operating mode by using the thermoblock instead of the boiler
The Delonghi EC 680 Dedica espresso maker is remarkable for its use of a thermoblock instead of a boiler as a heating element. I realise that sophisticated professionals of the coffee world will chuckle at this, but it gives clear advantages for a beginner who does not plan to delve deeply into the barista trade:
It takes the coffeemaker at the most 30 seconds to enter the operating mode and be ready to serve coffee. Classic pump-type coffee makers for home use with a boiler (like the Delonghi ECO311) need more time to heat up – a minimum of 3-5 minutes is recommended.
It can serve you two lungos at a time. In other words, the thermoblock can supply a much greater volume of water at the desired temperature than a boiler-type intended for home use. You can safely do a few lungos in a row. The same goes for the steam – it simply supplies more. By the way, this coffee maker includes a manual cappuccinatore with a flexible rotating mouting, which is much more convenient than many of its competitors.
The main advantage of electronic control is automatic dosing and portion volume programming
The second main feature of the Delonghi EC 680.BK coffeemaker is the electronic control. There are three buttons at the top of the front panel: one serving, two servings and steam preparation. Each of the first two buttons has a preset volume (approximately 40-50 and 80-100 ml, depending on the tamping of coffee grounds down into the portafilter), and the machine automatically stops the feed upon reaching this level in the cup.
In addition, if you simply press and hold, you can program your favourite volume for each button. That is to say, the "two servings" button can deliver any volume you want, not just two times more than the standard. For example, you can program it to serve a ristretto (20ml in the classic recipe) or lungo (60+ ml).
Electronic control advantages:
Program an automatic shutdown time: 9 minutes, 30 minutes, 3 hours.
Program your coffee temperature – there are three levels and medium is the default. This may be relevant for those who like it hotter, though, believe me, the right temperature is medium. In order to make the coffee hotter, it is necessary to let water run through the brew group (make one portion without coffee) and a cup (heating the cup a little).
Programming for water hardness. This affects the frequency of the descaling procedure. Depending on water hardness, the machine turns on this indicator more or less frequently. The machine simply counts the number of served portions, as it cannot define the actual amount of scale. The harder the water, the more often the machine will turn on the alarm light for the descaling procedure. At the maximum level of water hardness, the Delonghi EC680 M Dedica requires descaling approximately every 200 servings. As a matter of fact, all coffee machines are similar in this regard.
Built-in descaling program. It is not fully automatic, as in most cases – it is necessary to be near the machine and carry out various actions, which are described in detail in the manual.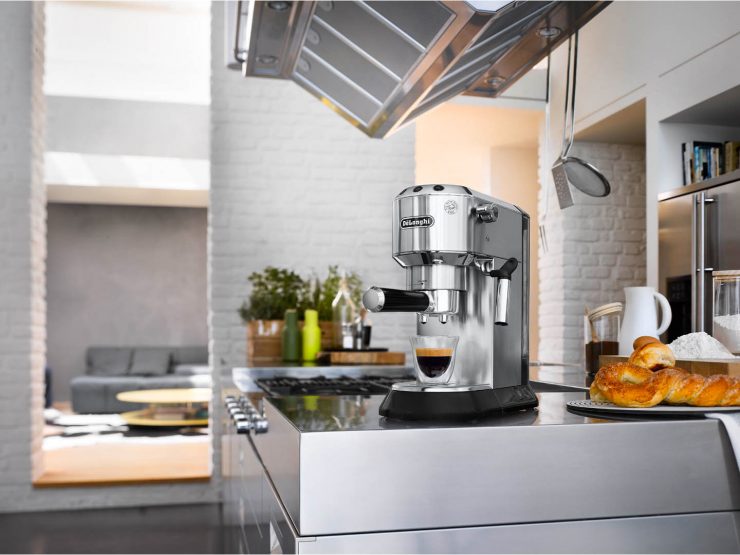 Cons
Everything as standard for this class of espresso machines:
The passive cup heater only works well if the machine is well heated (after 5-10 minutes of warm-up and/or 1-2 served cups). This is always the case.
The cup stand quickly gets covered with scratches, which is also common.
The cup stand is too narrow to accommodate two large cups, which is the price to pay for the compact body. This is relevant for couples who love big servings.
The combined plastic tamper and measuring spoon is rather weak. No, it won't break after a month of use, not even a year, but it's much more pleasant to work with a metal one, which you can buy separately (51 mm in diameter).
The filters have a double bottom (the same are used in the Delonghi ECO 311). They are more sensitive to the type of grinding than valve ones (for example, in the Saeco HD 8325/47). It is not recommended to use the extra fine grind. This can block the space between the upper layer (with many little holes) and the lower layer (with one centred hole). It is better to lean towards medium grinding, give or take. Remember to rinse the filter after use. As a precaution (once a month or two), it is worth soaking them in citric acid and then rinsing with fast-flowing hot water from the tap.
The machine needs some time to cool down after steaming the milk and before making the espresso. This is because it doesn't automatically drain water from thermoblock like Krups Calvi XP3440 does, for example. By the way, Calvi is another option if you are looking for a fast and narrow espresso machine, but less automated and with a lower price tag.
Color range
The Delonghi Dedica EC 680 espresso maker is available in three colours:
Delonghi EC 680.BK – black with chrome elements
Delonghi EC 680.R – red with chrome elements
Delonghi EC 680.M – silver
DeLonghi EC680BMC – is a gift set which includes a silver EC680M machine and two cappuccino glasses
Once again, I would like to draw your attention to the fact that all these models have full-metal bodies. I will repeat myself and say that they look classy and sophisticated.
Updated EC 685 series review (and comparison 680 vs 685)
In 2017 Delonghi made some changes and launched new models with 685 index and called it Dedica Style in Europe and Dedica Deluxe in the US. In the new EC685 model range they added a white color (EC685W, not available in the UK) and made only two functional changes.
So, EC685 vs EC680: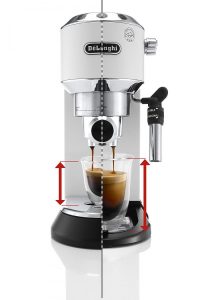 Steam wand on 685 is equipped with regulator ring, the same that we saw on Delonghi ECP 35.31 and ECP3630. In the down position it just froths the milk, as usual. In upper position it only heats up and mixes the milk, making almost no bubbles. This mode could be useful if you like less milk foam in your cappuccino, or if you want to make hot chocolate for kids. For technical details see my comment below.
EC685 has second mini drip tray under the cup stand. So you can put higher glasses under the holder. Many owners of espresso machines use following hint, if they want to use higher glasses: remove the main cup stand, and put cup directly on the floor of the drip tray. That allows to gain extra 2-3 cm. Delonghi on EC 685 M/BK/W/R models put the metal plate on the bottom of the drip tray and now maximum cup height is officially 12 cm.
All else being equal if compared to the EC680.

So it's up to you to decide if it's worth paying more for the newer model. My new price comparison tool below (updated several times a day) might help 🙂
Current US prices and deals for EC680 Dedica:
...vs current prices for EC685 Dedica Deluxe:
Similar models
Delonghi EC680 has a "clone" – SMEG ECF01. It is exactly the same machine without any functional differences. Just outlook is slightly changed by SMEG designers, the upper part is made of plastic (not metal alloy like on Delonghi EC680/685) and the price is doubled. There are black SMEG ECF01BLEU, blue ECF01PBEU, red ECF01RDEU and beige/cream ECF01CREU models in stock:


For the US market Smeg has different indexes: ECF01BLUS (which is short for "Black" and "US"), ECF01PBUS ("pastel blue"), ECF01RDUS and ECF01CRUS respectively.
EC680 also has two close relatives with the same essential components – the Delonghi EC 820/850/860. It is hard to tell from their appearance, but they have a similar thermoblock, exactly the same pump, the same metal portafilter with filters and a front water tank (1l). Ignoring the appearance, the key differences are:
The model 820 is mechanically controlled, it does not dose automatically and does not program the volume of a serving. A more classic model for creative people, and also a bit more reliable.
In addition to everything that the 680 includes, the EC850/860 also has an automatic cappuccinatore with an integrated 0.5-litre jug that allows the height of the milk froth to be adjusted. De'Longhi EC860 "knows" how to make a cappuccino or latte in one touch. But, of course, you first need to tamp the coffee and fit the portafilter.
My Review Conclusion
The Delonghi EC 680.m/bk/r Dedica espresso machine is a compact, reliable and classy solution for coffee lovers who want some kind of automation (automatic dosage, serving size memory) and speed (a heat block that is ready for operation in 30 seconds), but on the other hand do not want to be completely detached from the process (as with automatic bean-to-cup machines). They want to be able to influence the taste directly, forming a coffee puck according to the rules of the craft and their personal preferences.
It is also important to understand that the price you pay for the Dedica is higher than for coffeemakers such as the Delonghi ECO 310/311, because it has a thermoblock heating element that makes it possible to deliver larger portions of coffee. If you prefer classic, small espresso shots and do not need automatic dosing, you are overpaying for the design and compact body alone.
Finally, if you want to get a good espresso from this machine, I highly recommend using fresh beans and grinding them with a decent coffee grinder (no, the cheapest blade grinder is not the best choice).
Check current prices and deals @ Amazon: Delonghi EC680 or EC685 or SMEG ECF01
I NEED your opinion. Please rate my review:
Delonghi EC680/685 DEDICA 15-Bar Pump Coffee Machine Specifications:

Download manual:
Download pdf manual
Machine type:
Pump espresso machine
Top rated:
1st in my list of best espresso machines under $300
Width х Deep х Height:
15 x 33 x 31 cm
Coffee used:
Ground coffee or E. S. E. pods
Grinder:
No
Brewing group:
Metal filters with double floor
Heater:
Thermoblock 1350 W
Max pressure:
15 bar
Water container:
1l
Waste container:
No
Cappuccinatore:
Manual 'pannerello'
Max cup height:
80 mm (120 mm in case of EC685 or in case of EC680 without cup stand)
Controlling:
Temperature adjustment (3 levels), automatic dosing with coffee volume adjustment
Peculiar properties:
Passive Cup Warmer
Colors:
Delonghi EC680M/EC685M - metallic silver
Delonghi EC680R/EC685R - red and silver
Delonghi EC680B/EC685B - black ans silver
Delonghi EC 685 W - white
SMEG ECF01BLEU/ECF01BLUS - black
SMEG ECF01PBEU/ECF01PBUS - pastel blue
SMEG ECF01RDEU/ECF01RDUS - red
SMEG ECF01CREU/ECF01CRUS - beige/cream
185 comments:
Have some doubts which model to choose? Ask me!