Comments: 6↓ specifications & manual ↓
This would be a short review, because – let's go straight to the facts – Aicook's new Espresso Machine is from a technical point of view a replica of Mr. Coffee Cafe Barista / Oster Prima Latte, but with:
different design: the outlook of new Aicook espresso maker is more modern with more silver elements in the coating, however, it's still plastic, not metal;
completely different control panel: more intuitive and easier to use, however, less durable;
enlarged tanks:

61 oz (1.8L)

water reservoir and 22 oz (0.65L) milk container, that is a lot if compared to competitors in the class of at-home manual espresso machines.
cup stand under the portafilter has two positions for different cup heights.
worse (none, indeed) customer support and built quality (read comments below)
Therefore, almost everything that is said about Oster Prima Latte in my review, is right in case of Aicook. I will briefly repeat myself further and will compare these models.
Aicook B079 Espresso Machine which appeared on Amazon in 2018 and which is sold currently in the States (with ASIN B079BW6HHW) and in Europe (in Germany, Spain, and Italy, where it's known as B079BW6HHW) has the same features as Mr.Coffee/Oster:
15-bar pump to create enough pressure for espresso;
Thermoblock as a heating element – the machine is ready for brewing almost instantly, just wait 30-40 seconds after switching it on and the machine is ready (classic espresso machines with boiler require several minutes);
Integrated milk jug that automatically creates milk foam – no barista skills required;
Upper cap stand can be used as a cup warmer;
Makes single or double espresso, single or double cappuccino and single or double latte using ground coffee or ESE pods.
Aicook compared to Mr. Coffee Cafe Barista has a much more comfortable control panel. While the latter one has three push buttons for seven operations (six automatic recipes + cleaning cycle) the Aicook offers seven buttons in a row. That's a way more convenient – 1 button for 1 operation. However, they are touch (sensor) buttons, which makes them less durable on the long distance. Aicook calls it "display" buttons, but it's not a real display indeed.

Bigger tanks for the water and for the milk, which I mentioned in the beginning of this review, also makes Aicook's model more comfortable to use.
Nevertheless, Aicook still has other drawbacks of Cafe Barista:
This machine is less automatic that it seems to be. It can froth the milk and add an espresso shot to it – which is not correct cappuccino, by the way – in original recipe, the milk foam is added to the espresso, not vice versa. However, you should understand that it requires a bit complicated milk jug and filter cleaning, which is made manually. Also, you should manually put the ground coffee into the filter, put the filter into the portafilter and, finally, install portafilter into the machine – all these operations are also made manually each time. So don't think that Aicook Barista Espresso Coffee Maker can do everything in one touch.
The machine is engineered and made in China. This generally affects the durability and built quality – especially automated milk frother – and the taste. It brews average espresso, not more. On the other hand, it could be sufficient for people who prefer cappuccinos or lattes, since it's harder to distinguish the real espresso taste when you add milk.
By the way: Aicook changed the crema filter construction if compared to Oster Prima Latte – they use double-floor metal filters like Delonghi do (described in details in my Delonghi Dedica Review), however it doesn't help. As well as increased thermoblock power (Aicook has 1350W, Mr. Coffee/Oster – 1040W).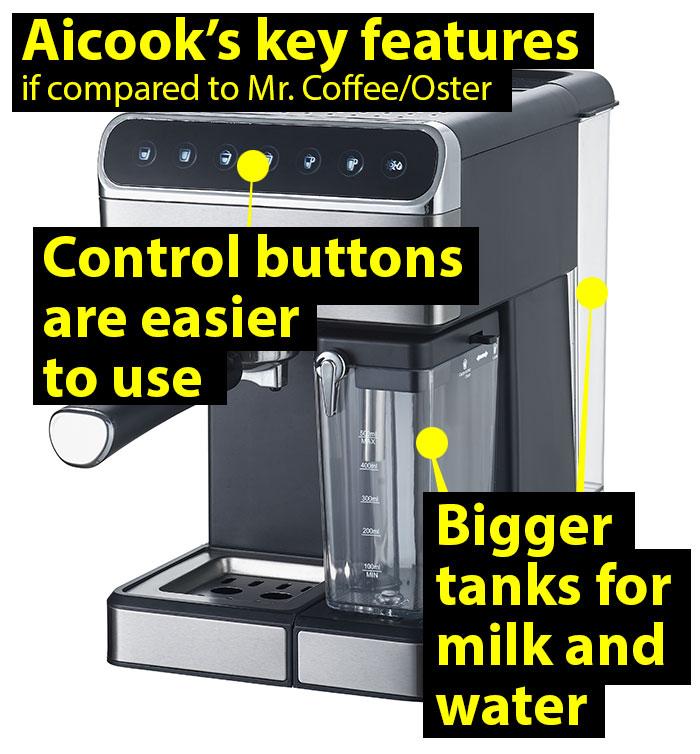 Review Conclusion
Just to summarize: Aicook Espresso Machine B079 is just a clone of the American Mr. Coffee Barista or European Oster Prima Latte / Breville PrimaLatte with improved usability and different control panel with touch buttons. Moreover, probably both models are assembled in one Chinese factory. Thus, considering the fact, that the Aicook is usually cheaper than its counterparts (see current prices below), it might be a better bargain.
But! If I personally would* choose between these two machines I wouldn't buy the Aicook for two reasons:
I prefer physical push buttons to sensor/touch buttons because they are more reliable and durable. It might not be the problem if only I would be sure that there is no problem to fix it.
However, I'm not sure if Aicook's two-year warranty is perfect. They don't even have a website, only a facebook group, where I already found some complaints. Even if the quality of Mr. Coffee's or Oster's models isn't perfect as well, still these companies are known, they have customer support hotlines and warehouses full of spare parts. That's why I can bet that soon we'll see a lot of negative reviews about this model.
* However, as I said in my PrimaLatte's review, I still think that it's better to choose a simple espresso machine without automated milk frother by more renowned brand and separate milk frother.
P. S. There are no functional differences except type of power plug between US versions (Aicook Espresso Machine, Barista Espresso Coffee Maker with One Touch Digital Screen, 15 bar Pump and Automatic Milk Frother for Cappuccino, Latte ) and Spanish Aicook Caftera Espresso, German Aicook Caftera Espresso or Italian Aicook Macchina per Caffe.
I NEED your opinion. Please rate my review:
Aicook Espresso Machine, Barista Espresso Coffee Maker with One Touch Digital Screen Coffee Machine Specifications:

Machine type:
Pump espresso machine
Top rated:
8th in my list of best machines under $300
Width х Deep х Height:
8.26" x 11.02" x 12.59" (20cm x 30cm x 31cm)
Coffee used:
Ground coffee or E. S. E. pods
Grinder:
No
Brewing group:
Metal filters with double floor
| | |
| --- | --- |
| Heater: | Thermoblock, 1350W |
| Max pressure: | 15 bar |
| Water container: | 61.5oz (1.8L) |
| Bean container: | No |
| Waste container: | No |
| Cappuccinatore: | Automatic with milk foam regulator |
| Max cup height: | 4.7" (120 mm) |
| Controlling: | Seven sensor buttons |
| Peculiar properties: | Automatic dosing with coffee volume adjustment |
| Colors: | Black and Silver |
6 comments:
Have some doubts which model to choose? Ask me!