Comments: 2↓ specifications & manual ↓↓ prices & competing models ↓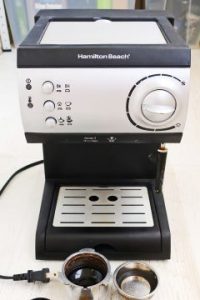 This review is based on my Pump Espresso Machines Ultimate Test, in which I disassembled and fully compared three machines. So if you want a deeper analysis please read the test. Otherwise, if you simply want to understand main pros and cons of Hamilton Beach Espresso Maker 40715 and compare it with counterparts, read below.
A typical at-home espresso machine has a simple construction and Hamilton Beach Espresso Maker 40715 is not an exception (as well as its clone-models for other markets – Somela Capresso and Clatronic ES 3584). It has everything that espresso machine should have:
The 15-bar pump to create enough pressure for espresso. Hamilton Beach installs the Italian-made CEME-ULKA Type EP5 pump, however, this very model is installed on 90% of other espresso machines (it's an industry standard if you want). Only the cheapest Chinese models have different pumps.
A boiler as a heating element. However, it is made of aluminium, while more expansive brands use steel.
Water tank with a capacity of 1.5 litres / 1.6 quarts. This is more than average in the class.
The portafilter with pressurized filter baskets. This helps to create beautiful crema on top of the espresso and full-bodied taste. So even the beginner without any barista skills will get a decent shot.
The steam wand with pannarello to froth the milk (manually, not automatically like on Mr. Coffee Cafe Barista or Oster Prima Latte) for your cappuccino or latte.
✔️ So, I can state the fact that Hamilton Beach 40715 Espresso Machine can indeed brew espresso. Being paired with a decent burr coffee grinder and tamper it even is capable to create tolerable shots. This is definitely can be listed in pros.

✔️ The second strong point is a price. This Hamilton Beach Espresso Maker is usually more affordable than most of the other machines on the market. For the amount of money that someone can spend at Starbucks just for 2 weeks, you can get an entry-level espresso machine. This is definitely another pro.
Check current offers below to understand the price difference with the nearest competitor by more renowned brand (I use Delonghi ECP3420 as an example and below I will compare these two machines):
✔️ There is one more unobvious feature – matt surface of the cup stand. The thing is that the pump, which I mentioned above and that is installed on the majority of competitors, is vibrating (not rotary type). So, it vibrates. And the whole machine (any machine with this pump) vibrates while making an espresso shot. That's why cups vibrate too and leave scratches on the cup stand. Most of the others at-home machines (by De'Longhi, Aicook, Breville, whatever, even another model by Hamilton Beach – 40792) use shiny metal surface on the cup stand so it is covered with scratches in 1-2 weeks. Hamilton Beach in 40715th model uses matt surface. Thus, the machine looks like a new for a longer period (black plastic also helps).

✔️ Finally, one more fact that could be listed in pros list. The construction and all the parts that are used in the Hamilton Beach 40715 Espresso Maker are proven over time. Simply because this very model is on market for years and many other coffee machines are based on the same engineering scheme. There will be no problem repairing it, spare parts are widely available all over the world. Overall the durability is quite good except some cons that i will mention below.
Nevertheless, there are always some disadvantages of the low price. And this Hamilton Beach machine is not an exception. The main drawback is a taste of espresso and ease of use.
personally compared
this model with competitors by Delonghi and Saeco using the same coffee beans and grinder. Hamilton Beach takes only the third place in the "taste of espresso" competition – despite the great looking cream, the taste is a bit bitter, a bit more watery and less full-bodied. That's because of two factors:
Small boiler capacity (130ml). After 30ml/1oz the temperature falls and spoils the extraction process. The boiler material also plays its role – aluminum (if compared to Inox boilers) is less efficient in keeping the water hot inside the boiler.
That's why I strongly recommend (the manual says the same) to heat this machine well before pulling a shot. Preferably wait at least 5 minutes and make one empty shot to heat up the portafilter. A similar approach is recommended to any espresso machine though (except models with thermoblock that are ready in 30 seconds – the Delonghi Dedica is a great example). But in case of the HB 40715 it is more critical.
The crema filter construction. It helps to artificially create the crema, but not enrich the flavor. This is described with more details in my test.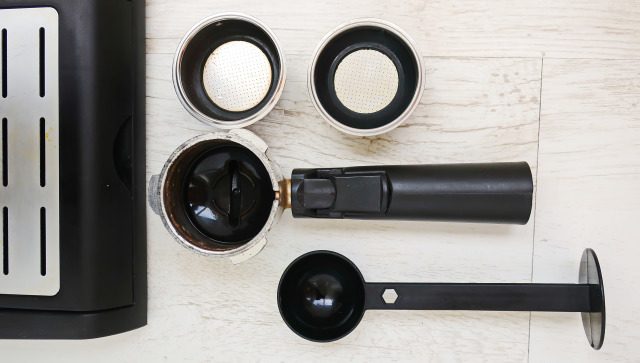 The ease of use is not a strong point of Hamilton Beach Cappuccino, Mocha, & Latte Maker 40715 as well as of Somela Capresso. Let me explain:
Push buttons controls. I would list this fact in pros list (since it's always easier to operate with physical buttons than with rotary selectors or sensor buttons) if only they didn't make two mistakes:

It's hard to understand visually if the button is pressed or not because in the "on" position the button is just few millimeters deeper than in the "off" position (see photo below).
Indicator lights barely help. One light is always on to indicate that machine is on. The second light has multiple meanings because each button has double function. Thus, one light means 4 different things, depends on which operation machine is carrying at the moment. However, I should admit, that more expansive espresso machine (like Saeco Poemia) have similar drawbacks. But this fact doesn't make Hamilton Beach's controls easier (you can get used to it though).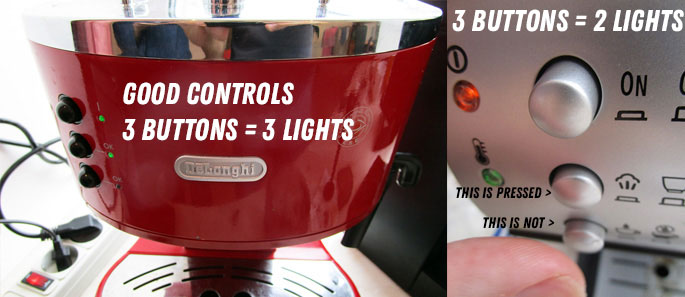 The waiting time between shots or between shot and steam. On the one side, the small boiler and relatively powerful (1050 Watt) heating element inside guarantees that after one shot, the espresso machine will be heated again soon and ready for the second shot or for the steam. On the other side, the limited amount of available water/steam makes it hard to make long coffee or enough of milk foam in one attempt.
Most likely the steam pressure will fall before you are finished with your milk and you will need to wait, while the boiler is getting warm again and ready to deliver steam. The waiting time "for the steam" is ~46 seconds as my test shown, by the way.
The steamer itself is not the best. It produces too many "bug bubbles" rather than creamy foam. Nothing you can't get used to, but definitely HB has less efficient milk frother than Delonghi, Gaggia, Saeco and Breville.
I don't know, by the way, why Chinese factories (this machine is engineered in China as any OEM-model) can't just copy Italian steam wands and filter baskets. They copied the whole construction (all Chinese espresso machines are inspired by old Saeco models), but keep trying to invent their own construction of crema filters and pannarello wands. Probably, the reason is that renowned brands made more efforts to protect these parts by patents…
And the last weak point of Hamilton 40715 Beach Espresso Machine with Steamer – some durability issues. It's nothing that will break immediately, however on the long distance this model is without doubt less durable than Saeco or Gaggia for example (but not Breville, it has similar issues). Just few examples:
The steam opening mechanism (aka steam value hose coupler, the thing that keeps the pressure of the hot steam when the machine is not in the steam mode) is 50% plastic. Less durable if compared to brass made on Gaggia Gran, for example.
All water tubes have less durable connectors: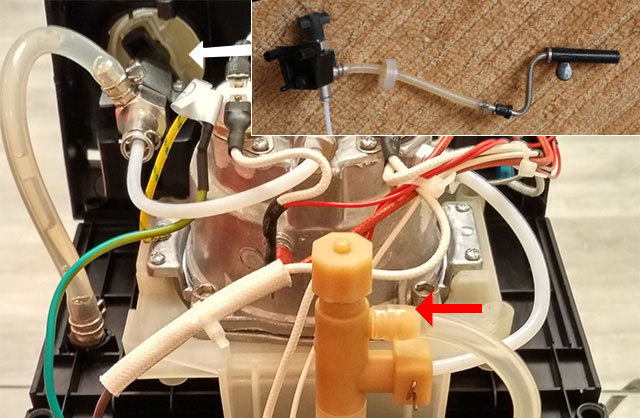 Review Conclusion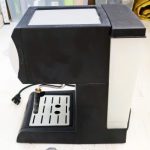 Overall I think that buying a Hamilton Beach Espresso Maker 40715 or its clones (Somela Capresso/ Clatronic ES 3584) is a compromise. Surely with a low budget, it's better than nothing, it can brew an average espresso and you can make cappuccino. I can even say that it's best machine if you are searching for something strictly under $100 and want to make both espressos and cappuccinos.
However, I strongly recommend (if it is possible in your case) to raise the budget to choose the espresso machine with fewer drawbacks and better espresso quality. Few examples below. Or – if you drink only espresso and there is no need to froth the milk regularly – choose the De'Longhi EC155 (see comparison below), which is also a very affordable machine.
Comparison with other cheap espresso machines (US market)
Alternative №1. De'Longhi ECP3220, ECP3420, ECP3630
See my Delonghi ECP3420 review here. A bit more expansive model if compared to Hamilton Beach, however, makes better espresso due to big 180ml stainless steel boiler and better filters. Also, it is more comfortable in everyday use.
Alternative №2. Old good De'Longhi EC155/EC155M
See my Delonghi EC155M review. This is for those of you, who don't need cappuccinos. For the similar price, the EC155 will brew better espresso, but the steam wand is even worse.
P. S. More clones. The following models are exact the same machines under the hood with slightly different design:
Excelvan 15 Bar Pump Espresso Italian Style Coffee Machine for the UK market
Clatronic ES 3643 for German market
I NEED your opinion. Please rate my review:
Hamilton Beach 40715 / Somela Capresso Coffee Machine Specifications:

Download manual:
Download pdf manual
Machine type:
Pump espresso machine
Top rated:
6th in my list of best machines under $300
Width х Deep х Height:
8.7" x 11" x 11.5" (22 x 28 x 29 cm)
Coffee used:
Ground coffee or E. S. E. pods
Grinder:
No
Brewing group:
Metal filters (two)
| | |
| --- | --- |
| Heater: | Aluminium 130ml Boiler, 1050W |
| Max pressure: | 15 bar |
| Water container: | 1.5 litres / 1.6 quarts |
| Bean container: | No |
| Waste container: | No |
| Cappuccinatore: | Manual 'panerello' |
| Max cup height: | 3.9" (10 cm) |
| Controlling: | Push buttons |
| Colors: | Black with silver parts |
2 comments:
Have some doubts which model to choose? Ask me!