Comments: 2↓ specifications & manual ↓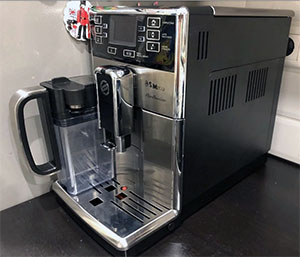 It's not a coincidence that Saeco PicoBaristo super-automatic espresso machine looks very similar to good old Saeco Minuto, which currently is not sold in America (only used models are available on Amazon), but which used to be one of the Saeco's best sellers a few years ago.
Both models share the same platform and compact dimensions. The difference lays in electronics and external elements. On PicoBaristo typical Saeco's body is "decorated" with: different front panel, different coffee dispenser and different milk carafe. They also added a few software functions.
On the other hand, the name (PicoBaristo) reminds another model – Saeco GranBaristo. Well, Pico has nothing to do with Gran. Saeco HD8927 and HD8924 (I will explain the difference between the two models below) in terms of functions and technologies used are much closer to Minuto and Incanto than to GranBaristo.
Let's run through key characteristics of the platform that is shared by Minuto and Pico:
Removable brewing unit with preinfusion (the latter is a software feature, of course). The ability to extract the unit allows you to keep it clean and perform lubricating (1-2 per year) manually, without calling a serviceman. On the other hand, you had to wash it weekly. While machines with unextractable groups can require less everyday attention, but usually are more costly in maintenance.
This brewing group gives not the strongest espresso in the world (it uses 11 grams on maximal coffee strength setting), but it is more than enough for most of the people. Also PicoBaristo – as most of the Philips/Saeco machine – gives the most balanced taste: no over-bitterness, no over-sourness.
10-steps adjustable grinder with flat ceramic burr set. Minuto was 5-step adjustable, but they've just added intermediate steps, the minimum and the maximum are the same.
1850 Watt boiler and 15-bar Ulka pump – industry standard, I may say.
Plastic water tank (1.8 liters) located in the same place: on the left side of the machine, you can fill it with water from the top without ejecting the tank.
On the other side (top right) there is a 8.8 oz /250 g container for coffee beans. You shouldn't use very oily beans or flavored coffee – it's always the case for automatic espresso machines. Oils destroy grinders and may clog tubes inside coffee machines. You can use ground coffee in this machine, by the way.
Waste container for used coffee pucks is accessible from the front. Its capacity is approx. 15 pucks, which means that you should empty it every 15 coffee drinks made.
On HD8927/47 and HD8927/37 the milk jar (500 ml) automatically makes a good milk foam for your cappuccino. The efficiency is the same as on any Philips or Saeco with integrated carafe (not to be confused with LatteGo like on new Philips EP2220/14). Here is a sample photo:
Saeco HD8924/47 has a milk frother of a different type. I call it the tube system. And here we have the first distinction between 8927 and 8924.
Difference between HD8924/47, HD8927/37, HD8927/47
First of all, the two eldest models (HD8927/47, HD8927/37) differ by colors and materials of the front panel only. On the more expensive "/47" it's decorated with steel, while on more affordable "/37" it's just black plastic. Both materials are very "good" at collecting your fingerprints. However, a clean microfiber cloth will help you to wipe off both glossy plastic and metallic surface.
Saeco PicoBaristo HD8924/47 has also an Inox front, however, it has more significant functional distinctions:
The above-mentioned milk frother is not fully automated. Well, it will deliver a milk foam automatically as well as a carafe-version. By not fully-automated I mean that you can't prepare a cappuccino in one touch:

You need first to brew an espresso shot
Then move the cup to the left (under the milk output) and run a 'Milk Froth' recipe with a second touch of a button.

On the other hand, this type of milk frother is more convenient, especially if you forth milk rarely. That's because the machine is designed to suck the milk directly from a water bottle – as shown in the photo below. Thus, the only thing you should clean manually is this single tube. A quick rinse of the milk circuit inside the machine is done automatically by running a 'Quick Clean' function. Well, technically it's a third 'touch' that is needed for a cappuccino.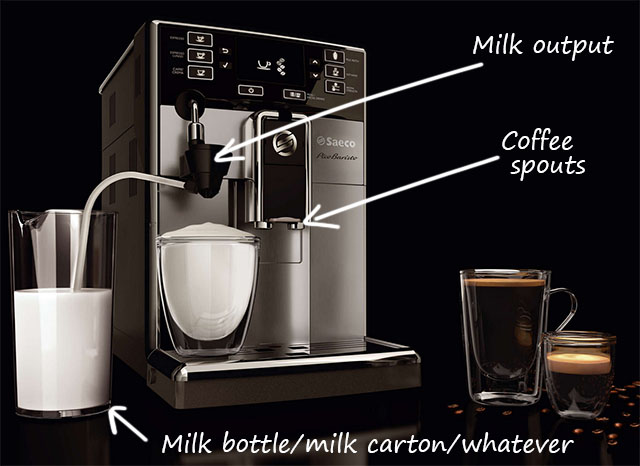 Black coffees – no difference
If we put milk cappuccinos and lattes apart and focus only on black coffee recipes then all PicoBaristas are the same. They can make three drinks in one touch (corresponding buttons are located on the control panel):
Espresso. 40 ml by default.
Espresso lungo. 80 ml by default.
Caffe crema. 125 ml by default. I highly recommend using this recipe with a coarser grind setting to avoid over-extraction and bitterness.
These drinks/buttons should be considered just as 'memory cells'! There is no difference between recipes except the preset volume. The brewing process is identical. This means that you can reprogram the 'Espresso lungo' button for .75 oz to get ristretto, for example.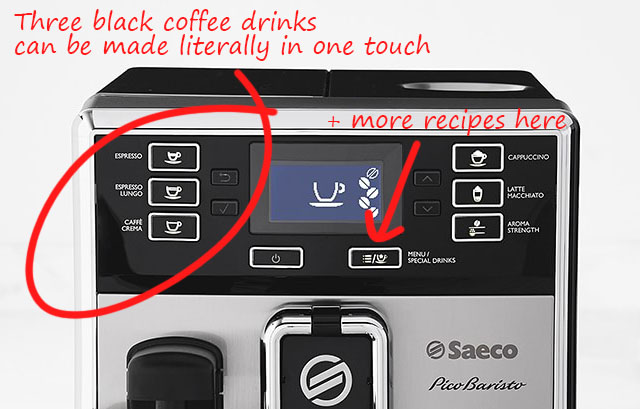 Two more black coffee recipes are accessible via the Menu button (2-3 clicks):
Ristretto
Double Espresso (makes two espressos in one cup, the strongest coffee)
Please pay attention to the fact that PicoBaristo doesn't have any special recipe for long coffee like a newer Philips machine do. If you want to brew a mug of American coffee you may reprogram one of the recipes to a larger amount of water (230 ml is maximum on Saeco). However, much, much tastier would be making small shot of espresso and then dilute it with hot water. By the way, yes, all three models being reviews do have a 'Hot Water' function.
Comparison with Saeco Minuto
Except for new front panel, new milk carafe, and more grind settings, two new features are introduced on PicoBarista of compared to Minuto:
The above-mentioned quick rinse function for a milk carafe. If you run it after every cappuccino made, then you may perform a deep cleaning of the carafe only once per week.
You can remove coffee dispenser on Picobaristo to fit larger cups (max height = 6.2 in / 163 mm vs 5.9 in / 152 mm on Minuto). However, in this case you will have only one coffee output, without division into two coffee flows for two cups.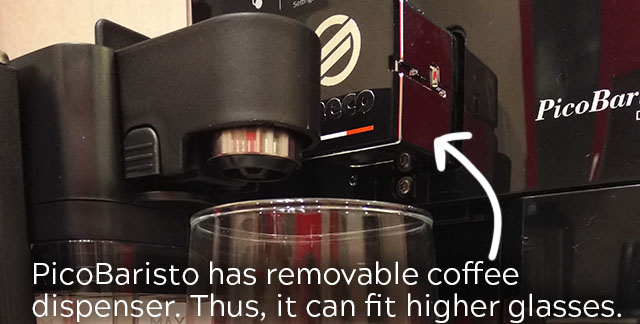 There are more buttons on the control panel (12 vs 6 on Minuto). These allowed to:

Increase the number of recipes, which you can make in one touch. On the HD8924 it is espresso, lungo, cafe crema, milk froth, and hot water. On the HD8927: espresso, lungo, cafe crema, cappuccino, latte macchiato.
Make the menu more intuitive.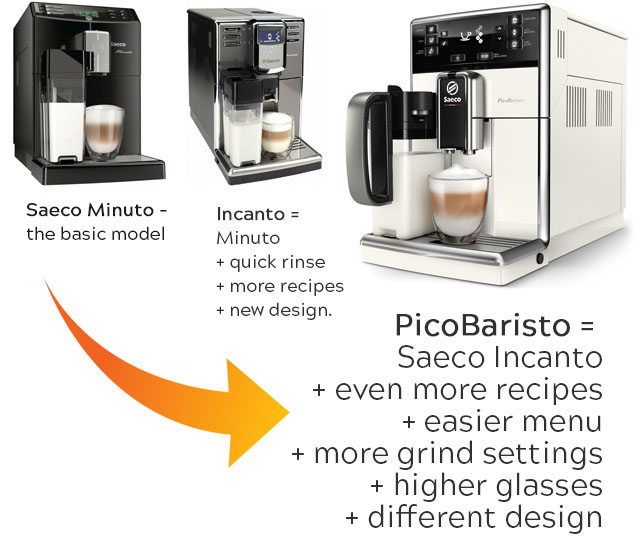 Comparison with Saeco Incanto

HD8917



Since the fact that Incanto is just a rebadged Minuto (with few improvements, but mainly with another front panel) almost everything that I listed above in comparison PicoBaristo vs Minuto is true for the pair PicoBaristo vs Incanto.
I'll repeat:
Incanto has 5 grind settings, while Picobarista has 10. The min and max are the same.
You can fit higher glasses under coffee spouts of Picobaristo (6.4 in / 163 mm vs 5.9 in / 152 mm)
They both have 'quick rinse' cycle to keep your milk frother clean (Minuto hasn't)
Saeco Incanto

HD8917/48 "knows" fewer recipes:

Two automated milk&coffee programs (which you always can reprogram based on your taste): cappuccino and latte macchiato. While Picobarista "knows" four: cappuccino and latte macchiato in one touch + Baby Cappuccino and Flat White in two touches (via 'Special Drinks' menu)

Two black coffee recipes: espresso and lungo. While the Pico has five – see above.
I will not stop to repeat that all these recipes are just names, memory cells if you want. You can reprogram any of them and turn, for example, baby cappuccino into Grand Latte. Thus, the number of recipes is only important when each of your family members wants to have its "own" button for its favorite recipe.
That's all functional differences! Design is different, of course, but it's you who choose. Height/width/depth is also the same.
Conclusion Of My Review: PicoBaristo vs Minuto vs Incanto
All three machines – discontinued Minuto, Incanto and PicoBaristo – are very similar to each other. The main distinctions are:
design, ease of use
number of one-touch drinks that you can put in the machine's memory
There are no technological differences, except for the Saeco PicoBaristo HD8924/47, which has semi-automated milk frother (you need to make cappuccino in two steps: deliver espresso, move the cup, deliver milk foam). They all have the same pressure, the same grinder, the same brewing unit, etc.
The taste of espresso or cappuccino will be identical on all of them.
I NEED your opinion. Please rate my review:
Saeco PicoBaristo HD8924/HD8927 Coffee Machine Specifications:

Download manual:
Download pdf manual
Machine type:
Bean-to-cup super-automatic machine
Width х Deep х Height:
8.6 x 17 x 13 inches
Coffee used:
Beans or ground coffee
Grinder:
Ceramic burr set, 10 steps adjustable
Brewing group:
One, removable (extractable)
| | |
| --- | --- |
| Heater: | 1850 W |
| Max pressure: | 15 bar |
| Water container: | 1.8 L |
| Bean container: | 8.8 oz / 250 g |
| Waste container: | 15 servings (accessible from front) |
| Cappuccinatore: | Fully automatic carafe on HD8927/37, HD8927/47. Semi-automatic on HD8924/47 |
| Max cup height: | 6.2 inches / 163 mm |
| Controlling: | Adjustable coffee strength (5 grades), temperature settings (3 grades) |
| Colors: | Stainless steel front panel on Saeco PicoBaristo HD8927/47 and HD8924/47, black plastic on HD8927/37. Sides are always plastic. |
2 comments:
Have some doubts which model to choose? Ask me!