Comments: 10↓ specifications & manual ↓↓ Calvi vs Calvi Latte ↓
It was supposed to be a Krups Calvi espresso machine review. However, it is so hard not to compare it with the Delonghi Dedica EC680/685 almost in every paragraph that it gonna be rather a comparative review 😉 It's quite a long text (~6-7 minutes reading time) but you can skip directly to the conclusion, where I summarize key cons and pros.
Indeed, the Krups XP344040/XP344C51 is the most popular pump espresso machine of the brand. As well as Dedica is for Delonghi. They both are:

Narrow and compact. As much as a real 15-bar pump espresso maker can be. See sizes.
Quick and require less time in everyday use. Just 30-40 seconds to heat up, for example.
Equipped with a manual milk frother for your cappuccino (new Calvi Latte has automatic one).
This is what most of the people are looking for in 'under $250/£150' budget and this is why Dedica is so popular all over the world. However, Krups is dumping and usually offers a similar machine for the lower price. Just compare current ones:
The price difference is surprisingly big enough to investigate if Krups XP3440 has any serious drawbacks in comparison with the Delonghi EC680, isn't it? I think so too. That's why I bought and tested Krups Calvi. In my case, it was European XP344010, which has gray plastic on the 'forehead'. On American XP344C51 it's shiny metallic. However, from a technical point of view, any Krups' model starting with XP344 is the same machine, different numbers – for different markets.
By the way, Krups is dumping only in the States (another reason to assume that buying a KRUPS XP344C51 espresso machine in the US is a good deal). In the United Kingdom, for example, where this machine is known under XP344040 name, French guys ask a higher price for this machine (check current price on Amazon).
Yes, Krups, being originally a German brand, now belongs to SEB Groupe from South of France. They are more famous for Tefal brand, which is known in North America as T-Fal – they invented non-stick pan. Thank god!
Probably the main difference is a steam wand/milk frother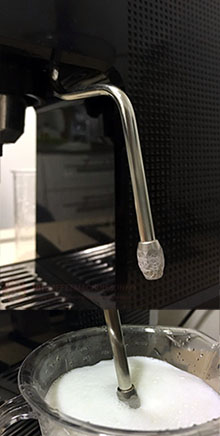 Krups Calvi XP3440 has a simplified professional steam wand with the hexagonal steam nozzle. It's not a professional equipment, of course. However, it is much more efficient in the hands of an experienced user. It rotates 280° and is large enough to be comfy in use. Due to thermoblock it produces even flow of steam for 60-75 seconds at maximum. During frothing the machine intermittently makes a clicking noise, it's normal, don't worry.
I liked the steam wand. However, if you never frothed the milk on espresso machines before, it may take some time to get used to it. Please mind the height limit – the milk pitcher should be no taller than 3.1 in / 8 cm to fit.
Another advantage of this steam wand is that it requires fewer cleanings. Simply because normally only the bottom hexagonal part is covered with milk and you can detach and wash it.
Delonghi Dedica, on the other hand, has a panarello. It's a type of steam wand, which enlarges the steam flow and makes it (much) easier for amateurs to froth the milk like real barista do. It is installed on the majority of other budget espresso machines. However, it may create big bubbles in your milk. Thus, the milk foam in your homemade cappuccino may look different to what you see in cafes, where the foam is perfectly microdispersed.
You can remove the panarello on Delonghi, but there would be only a small rubber tube that isn't a perfect tool for making a milk foam.
Roughly speaking, this type of steam wand on the Krups can't be unequivocally listed in pros or cons. Calvi's steam nozzle is rather a good choice for those of you, who had some practice of manual milk frothing or who are willing to spend some hours of training to get a super foam for cappuccino. Delonghi's panarello is perfect for any beginner.
Water consumption difference between Calvi and Dedica
Krups Calvi drains a lot of water to the drip tray, which has a small capacity. Krups makes it every time you switch off the steam (to rapidly cool down the thermoblock) and sometimes before or after espresso brewing (for hygienic reasons, I assume, to guarantee there is always a fresh water for your espresso). That's why you may need to empty it on the daily basis. And frequently add water to the 1.1 L water tank.
This sounds embarrassing, however, it makes Krups super fast if you are constantly switching between coffee and steam. By the way, you may not notice the moment when Krups Calvi flushes the water because there is an internal water tube coming directly to the drip tray.
Delonghi Dedica, on the other hand, doesn't have a bypass from thermoblock to the drip tray.
It only has emergency drainage back to the water tank in case the thermoblock is blocked. That is why Dedica needs a long cool back after steaming milk or requires some manipulations as described in the user manual in the 'Cooling the boiler' paragraph. Delonghi's manual even suggests "first make all the coffees then at the end prepare the frothed milk for all the cappuccinos". However, lukewarm espresso isn't a perfect base for a good cappuccino 🙂
So, Krups consumes a lot of water, but it is faster when you make two or more cappuccinos in a row. Delonghi, being more automated overall, doesn't have auto cooldown function to make coffee again immediately after frothing milk.
Equally good espresso on both machines with more crema on Krups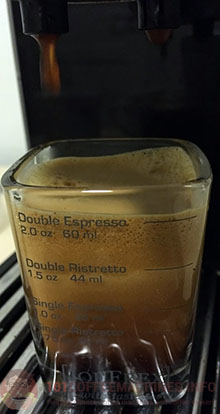 The taste is almost identical – rich and full-bodied. In terms of crema Krups even seems to perform a bit better. I used 6-month old Arabica beans from a supermarket, which is generally not the best choice if you are trying to get better crema. And Krups was capable to deliver a full demitasse of crema – from bottom to top.
This was a surprise for me, honestly, because the construction of filters is almost identical. Both Delonghi and Krups uses 51mm double-floor pressurized metal filter baskets (I described them in this review). I may assume that it is a result of more powerful thermoblock used by Krups (1.460 Watt vs Delonghi's 1.350 Watt) that results in a more stable temperature during brewing.
You shouldn't judge an espresso shot by crema only, of course. Cheaper Chinese-engineered machines like Hamilton Beach 40715 can deliver a full mug of crema, but the taste itself will be flat and watery.
Both machines have the automatic pre brewing cycle. They add some water to the filter with ground coffee, then stops for several seconds and continue brewing. This allows to extract more aroma and taste. So don't panic, if your machine makes unexpectable pauses 😉
Overall, I liked Krups Calvi's espresso. Except for the following fact:
Plastic group head and (very) strange self-tamping system 😞
Krups claims in the user manual that with Calvi XP3440 Espresso Machine you don't need to tamp coffee in the filter, because it has patented "tamping system". Well, it may be patented, but it's a rubbish. Like any espresso machine it requires good tamping in order to pull a good shot.
As far as I understood, Krups placed the screen, which is located above the filter basket, lower than usual. This allowed Krups to state that you don't need a tamper (and it didn't come with the machine) because the coffee will be tampered itself touching the group head screen, which is located above the filter.
Why it is bad? Because the force of 'patented self-tamping' isn't enough for a good espresso and because ground coffee constantly sticks to the shower (it's where the hot water comes from). Roughly speaking, the group head of Krups Calvi XP344 will be permanently dirty. Read reviews on Amazon, for example, where people complain about this issue.

The good news is that you can easily solve the problem. Just buy a tamper – you'll need any 51mm tamper (this one on Amazon is ok). I recommend ordering a tamper and this machine together. Seriously, your overall experience will be much better.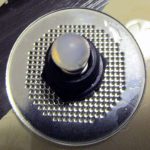 And here we have another drawback – the group head is plastic! Plastic doesn't transfer the heat from machine to the filter and filter holder. You'll need to let some hot water through the empty basket to warm it up (this helps to extract more flavor). Even the bolt that you may want to unscrew to clean the mushroom valve and the other side of the shower screen is plastic (see photo). The necessity of cleaning itself is normal, any espresso machine needs such cleaning every year or two, but on Krups group head could be dirtier because of strange tamping system.
This is probably the only seriously negative thing about Krups Calvi XP344C51 (other cons are less important). Plastic part may be less durable 'on the long distance'. And this is where Krups cut the cost. Luckily, this doesn't affect the taste of the espresso.
Other cons (nothing you can't get used to considering the price)
First of all, I will list some minuses that Calvi and Dedica have in common:
It's hard to see the water level in the water reservoir, which is installed on the back. The flipside of the narrow body. Dedica has the same drawback.
The cup warmer plate on top is rather useless. However, the majority of at-home espresso machines has the same nuance. The cup heater is not electrical, it becomes hot by the heat of the thermoblock. You need to keep the machine on for 10-15 minutes before cups become at least lukewarm.
Unique drawbacks of Krups XP344:
It doesn't have auto dosing as Delonghi Dedica does (you need to stop water supply manually when your coffee is ready) and you can't regulate the temperature. The only automated operation it has except above-mentioned prebrewing is auto shut-off function. If you don't touch machine for 5 minutes it will switch off automatically.
There is no program for hot water. You can't make a tea or dilute espresso to make cafe Americano.
The big hole on the cup stand that is made to 'catch' drops from portafilter is made too big (see photo). Small espresso cups could fall if you put them here.
The cellular surface of the right side near the steam wand could easily be covered with milk splashes. It would be hard to wash dried milk out of this cells: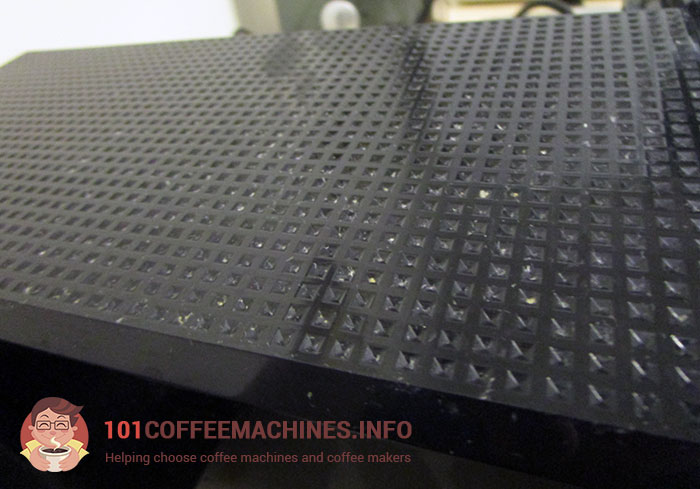 Back to pros! What else I liked in Krups XP344 while testing it: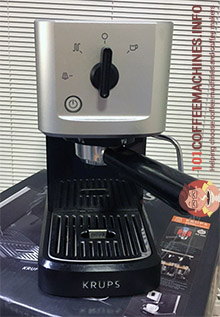 Krups Calvi Coffee Machine is quite. It's a result of good pump isolation. I didn't measure loudness in dB, however, it is definitely quieter than any espresso maker under $200. Maybe the cellular surface of the plastic body, which I complained about in the previous paragraph, also helps to muffle the sound of the pump?
The pump is also well vibroisolated. Therefore, there are minimum vibrations on the cup stand and cups doesn't make a jingling sound, which I complained about in Delonghi ECO310 review, for example.
The control panel and design have three strong points:

It's practical. Both black and silver plastic parts as well, as a metallic cup stand on the drip tray, are resistant to scratches and fingerprints. But in the case of the US version (XP344C51) shiny surface of the 'forehead' could be not so good in this context. This espresso maker machine will look as new even after months. This is a rare characteristic in the class of budget espresso machines. The only thing that you might complain about is a switch on/switch off button and the KRUPS letters in the bottom, which usually lose paint in a year.
It's super easy to use. All the operations are performed with one big rotary knob. It has four positions (from left to right): deliver steam, heat the boiler for the steam temperature, stand-by and deliver coffee. Very easy to use and pleasant tactile feeling.
Finally, it looks good. Despite low price the plastic doesn't look cheap, the machine is well assembled and no parts (except above-mentioned plastic group head) doesn't look flimsy. Overall, the outlook of the Krups XP344C51 is rather great for its price.

It's really fast if compared to boiler-based machines: 30-40 seconds to heat up, 20 seconds to switch from coffee mode to steam mode and 12 seconds to switch from the steam mode (~150°C/300°F) back to the coffee mode (~90°C/200°F).
It's narrow and takes only 14 x 28 cm (5.9 in x 11 in) space on your kitchen table. This is like a half of the office paper A4 sheet. Krups Calvi's height is 27 cm / 10.6 in. Maximum cup height is 9 cm / 3.5 in.
Krups is even smaller than Delonghi Dedica. However, you can use taller glasses if compared to the Dedica EC680. Nevertheless, Dedica EC685 with a double drip tray (described here) can fit even higher glasses.
Similar or newer models: Krups Calvi Latte XP345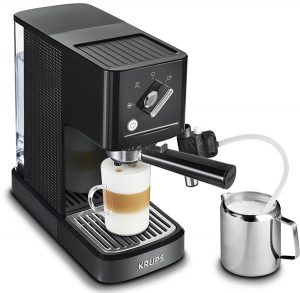 Krups is going to launch a new modification of Calvi espresso machine soon. It will be called Krups Calvi Latte and will have a different model number (starting with XP345). Krups already announced it in Poland and some other Eastern European countries, where it has been numbered as XP345810. I hope that very soon it will be launched on other markets, including French, German and North American.
The only functional difference if compared to basic Calvi XP344 is the milk frother. XP345810 has a semi-automatic one.

You just need to put a tube into the milk bottle, the machine does everything else: sucks in the milk, froths it and adds to the cup. Probably, that's how Krups reacted to reviews where people complained that professional steam nozzle is not easy to use.
My Review Conclusion
Let's summarize. The Krups Calvi XP344C51 takes a minimum of space and can quickly make a very good espresso shot or cappuccino. Here I don't have any complaints. Surely it's better to use freshly ground coffee beans for better results. If compared to the Delonghi Dedica EC680, which is the main competitor of XP3440, I may equally rate them for espresso taste.
Krups has the steam wand, which is unusual for at-home espresso machines. Its professionally shaped nozzle can give better milk foam and is easier to clean but only if you are an experienced user. Otherwise, you may get poor results unless you take some practice. By the way, soon you will be able to choose new Calvi Latte model XP345 with automatical milk frother (see above). Krups is also faster when it comes to making two or more cappuccinos/lattes in a row.
The main drawback of the Krups Calvi is the plastic group head (the thing where you install portafilter to). It's not durable on the long distance. However, I'm sure that Krups will serve you with no major problems for 2-3 years. Big water consumption paired with small drip tray and water tank could also be inconvenient, however, it's the price you pay for record compact size and speed.
Overall I think that buying Krups is reasonable if:

the price difference with Dedica is big enough;
or if you clearly understand that Calvi's steam wand is better for you;
or if you regularly make several cappuccinos in a row.

Otherwise, it's better to choose Dedica: more durable, more automated and has fewer usability issues. It will be more preferable too if you wish to install it in the office, for example, far away from the nearest sink.

P. S. All above applies to any other modification of Krups Calvi, which has a model number starting with XP3440. For example, in the United Kingdom it is Krups XP344040 (see on amazon), in other European countries it is usually called Krups XP3440. Sometimes this model is called 'Krups Espresso Pompe Compact'. There is also XP3410 modification: it goes without steam wand and espesso is the only drink it makes.
I NEED your opinion. Please rate my review:
Krups XP344C51 (XP3440) Calvi Steam And Pump Coffee Machine Specifications:

Download manual:
Download pdf manual
Machine type:
Pump espresso machine
Top rated:
2nd in my list of best espresso machines under $300
Width х Deep х Height:
14 x 28 x 27 cm (5.9 x 11 x 10.6 inches)
Coffee used:
Ground coffee or E. S. E. pods
Grinder:
No
Brewing group:
Metal filters with double floor
Heater:
Thermoblock 1460W
Max pressure:
15 bar
Water container:
1,1 L
Cappuccinatore:
Manual with hexagonal steam nozzle (semi-automated on Krups Calvi Latte)
Max cup height:
9 cm / 3.5 in
Controlling:
Single rotary knob
Peculiar properties:
Passive Cup Warmer
Colors:
XP344010, XP344040 (Europe) - Black and Gray;
XP344C51 (USA, Canada) - Black and Shiny Metallic
10 comments:
Have some doubts which model to choose? Ask me!