My independent advices are based on 6 years of experience in coffee machines sales. 54 comments
In this article, I will give general information (similarities, differences, pros, cons) about Saeco and De'Longhi machines and a brief model-to-model comparison. For more detailed information please read my reviews.
Please note that this review covers only super-automatic espresso machines with a built-in grinder, which can make you an espresso in one touch. For manual espresso machines comparison click here.
Saeco vs Gaggia – there are no differences between the two brands
Gaggia and Saeco are subsidiaries of Philips. That's why all three brands use the same parts and technologies in their home espresso machines. The only exception is Saeco Granbaristo which has a slightly different brewing unit with enlarged capacity – up to 16 grams/0.56oz of coffee beans per serving compared to 11 grams/0.38oz in any other Saeco or Gaggia model. De'Longhi, by the way, can use up to 14 grams/0.5oz of beans for one espresso.
Moreover, there are identical machines sold under both brands. The price tag and warranty conditions being the only difference. Here is a great example – Saeco Intelia HD8771/93  and Gaggia Velasca RI8263/47:

Cheap vs Expensive Models – the same espresso on default settings
The 'chassis' – main parts and general construction scheme – is the same in any model within brand range. That's why the cheapest Saeco's X-Small espresso machine will make you the same espresso on default settings as top-notch Saeco PicoBaristo HD8927 (Granbaristo is an exception again).
The differences will be in automatization, manual or automated milk frothing, materials used, programmable settings and other extra functions.

It is the situation when the manufacturer limits the functionality of cheap models for marketing reasons. For example, any Saeco/Gaggia automatic espresso machine has:
The same grinder with flat ceramic burrs, however, cheaper models have intentionally limited settings of:

grind levels (for example, 5 in Saeco Incanto/Gaggia Anima vs 10 in Saeco PicoBarista);
coffee strength adjustments, it's the amount of coffee beans used per one cup, which I mentioned above. Cheaper models can have no or only two settings, while more expensive ones have up to 5 from very mild to very strong.

Identical

removable

brew unit, however, some model doesn't have temperature settings, while others – do. Some models do have a bypass for ground coffee, some don't  – you can use only beans (actually, both have that bypass, but on cheaper models, it's sealed and there is no program to activate it).
The same heating element (Saeco/Gaggia uses boiler system).
The same applies to De'Longhi machines. Any Delonghi machine has the same conical metal burr set in the grinder (the grinder itself could be different), the same brew unit and thermoblock as a heating element within ESAM, ECAM or ETAM series range. However, they don't differ much:
ESAM is the "old" system. Last models available on the American market are ESAM 04.110.S and ESAM 3300/3500. Any ESAM machine will be bigger and a bit louder than Delonghi machines of other series. It usually makes a bit colder coffee than ETAM and ECAM series.
ECAM is a new generation of ESAM with some bigs fixed – mainly, the temperature settings were improved due to different thermoblock used. Thus, Delonghi now can make hotter coffee on maximum settings if compared to Saeco. The "new" ECAM platform also allowed to make more user-friendly machines – water tank is easier to access, for example.
ETAM machines are similar to ECAM series but compact. They are not sold in the US so I will not mention them anymore in this review.
⚖️ Key differences between Saeco/Gaggia and De'Longhi
Choosing between any De'Longhi model and any Saeco (or Gaggia) model you can rely on the following facts:
The Saeco (Gaggia, Philips) will have flat ceramic burr set in the grinder, while De'Longhi uses metal conical ones. This doesn't really matter. Yes, I know that it's considered that metal grinder can 'burn' coffee beans, which can result in a bitter taste. And that's ceramic burrs, on the other hand, can easily crash if there would be a small stone in the beans. However, for home users it really doesn't matter, believe me. You are not making 10 espressos in a row to heat the beans up and there is almost no chance to find a solid piece of stone or something like that in the beans from the supermarket. The only practical difference is that De'Longhi can grind a bit faster due to conical burr set.

De'Longhi can make hotter coffee. My own experiment shows that on factory settings and using the same coffee beans De'Longhi's espresso can have a temperature of 74

°C/166°F, while Saeco makes 71°C/160°F at maximum.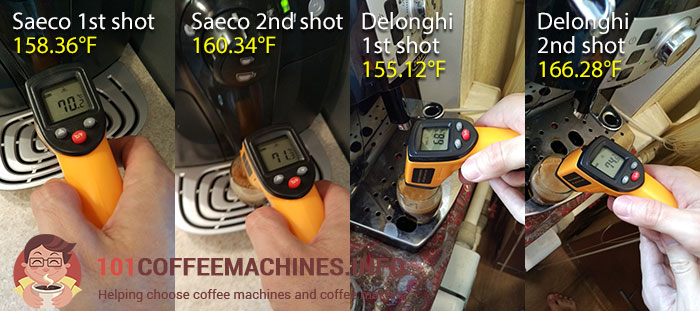 Bitter vs Sour Taste. De'Longhi will deliver a bit bitter espresso than Saeco, which usually makes it a bit sourer. That's if all other things being equal (grind settings, coffee beans itself etc). Even on Saeco, you can make bitter Italian-style espresso if you will use dark roast beans with some robusta.
Cappuccino-related differences:

Fully-automated machines (with automated milk frothers) by De'Longhi have a "less foam/more foam" selector. While Saeco always froths the milk with the same efficiency and you can only regulate the amount of milk used. This feature by De'Longhi can be useful when you are making a latte (cafe au lait, coffee with milk). There is no difference for a classic cappuccino.
Delonghi always uses a built-in milk carafe as a frother, Saeco in most models do the same. However, some models (examples: Saeco PicoBarista HD8924 and Gaggia Anima Deluxe) have a milk frother with a tube that sucks the milk directly from the bottle (or any other container). They call it cappuccinatore.
The "tube system" requires easier cleanings if compared to carafes and it is, overall, more comfortable to use if you make cappuccinos rarely. However, a machine with tube system usually can't make cappuccino in one touch: you need to make an espresso, move the cup under the milk dispenser and manually start milk foam program.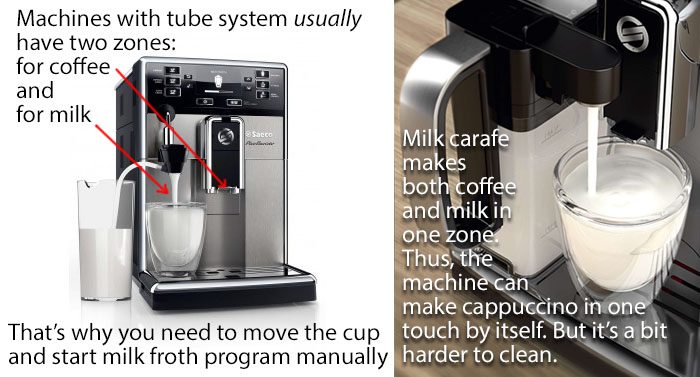 Special programs for lovers of classic American coffee (not tiny and strong espresso). This fact is usually underestimated, however, I think it's very important. Some De'Longhi models (Magnifica S ECAM 23.260.SB, Eletta ECAM 23.260.SB, Eletta ECAM 45.760.B) have a special LONG (aka BREW) program for imitating the filter brewing using a lower pressure. Saeco does have similar technologies called Coffee Switch, however, for some reason they sell espresso machines with this function only in Europe, but don' sell them in the US, where more people prefer classic coffee.
This is important if some of your family members get used to classic coffee in mugs (cafe americano). Both Saeco and De'Longhi are engineered in Italy, where people prefer 2oz shots of strong espresso. Trying to make an extra large lungo (letting too much water through one coffee puck) will lead to over-extraction and the taste will be spoiled. That's why this special mode for American coffee merits attention.
💰 Model-to-model comparison: budget home espresso machines
The cheapest automatic espresso machines by both brands have many cons in common:
They require more counter space in the kitchen in terms of width and depth, the height usually is not a problem
You can't use tall glasses for latte macchiato – maximum cup height is limited
They have not so fancy design and produce more noise while brewing (especially during grinding cycle)
Nor DeLonghi, neither Saeco doesn't make cheap models with automated milk carafes. This means that espresso is made automatically, but for a cappuccino you will need to use a panarello wand (steam wand) to froth the milk
However, they both have a great a strong point:
They are cheap and you just need to push one button to brew espresso of the same quality as more expensive models.
Saeco is represented in this class by XSmall HD8645 and De'Longhi's cheapest model is ESAM3300. I have more detailed reviews of both machines here and here. So I will briefly compare them below:
| | | |
| --- | --- | --- |
| | | |
| Link to detailed review | My Saeco X-Small Vapore Review | My Delonghi ESAM3300 Review |
| Width x Depth | 11.5 x 16.5 inches | 11 x 15.75 inches |
| Machine Height | 12.8 inches | 14.2 inches |
| Max Cup Height | 3.7 inches | 4.1 inches |
| Temp settings | no | 4 levels |
| Strength settings | no | yes, stepless |
| Burr sett | flat ceramic | conical metal |
| Grind levels | 5 | 13 |
| Uses ground coffee | no | yes |
| Taste profile | more sour taste | more bitter taste |
Being very similar in general, they have one difference, which really matters. It's temperature and strength settings, which Saeco's model doesn't have at all, while DeLonghi offers stepless strength adjustment (approx. from 0.2 to 0.5 oz of coffee beans for one drink) and 4 temperature settings. Moreover, XSmall has only 5 grind levels, while on the ESAM3300 you can choose among 13.
Although people rarely use all these settings, I believe that Saeco's marketing division had limited too many functions in order to create marketing distinctions between XSmall and more expensive models. As I already mentioned above, it's fully artificial limitation. That's why in budget class I would prefer to buy the Delonghi ESAM 3300, not the Saeco.
💰💰 Model-to-model comparison: middle class with manual frother
For $150-$200 more both brands offer espresso machines, which are characterized by:
Fancier controls: LCD display with push buttons (Saeco/Gaggia) or buttons&icons (Delonghi) instead of simple buttons and lights, that we saw on budget machines.
Both still have a manual steam wand for milk frothing (cappuccino recipe is not fully automated)
More narrow body in terms of width, which is the most critical factor in any kitchen
Nevertheless, more expensive models become a bit taller and deeper. This makes them more comfortable to use:

Slightly larger reservoirs for water, beans, and waste (spent coffee pucks)
Higher maximum cup height, which allows you to use tall glasses for latte macchiato, for example
Saeco and its sister-brand Gaggia are represented by Incanto HD8911 and Anima machines, respectively. And this is one more example of identical models sold by different brands for different prices:
All the main parts are the same as in any cheaper Saeco model. However, Incanto and Anima gives much more controls and adjustments, which were strictly limited in budget class.

Delonghi, on the other hand, already had wide adjustments in its cheaper models, so there is less functional difference between Delonghi ECAM22110 and cheap ESAM3300 (see above). However, different thermoblock that is used in ECAM machines allows them to brew hotter coffee on maximum settings.
Delonghi is represented in this class by ECAM22110 Magnifica XS and various very similar models. I described all of them in this review. The most interesting model among them is ECAM23120SB (check it on Amazon), because it has the special function for classic drip style coffee brewing. However, since it's a rare model, I choose the ECAM23210B as the most popular one to be compared with Gaggia Anima (however, keep in mind that it's the replica of Saeco Incanto HD8911):
Link to detailed review
I don't have on yet
My Delonghi ECAM Series Review
Width x Depth
8.7 x 17 inches
9.5 x 17 inches
Machine Height
13.4 inches
13.5 inches
Max Cup Height
5.9 inches
5.75 inches
Temp settings
3 levels

with less hot coffee on maximum

4 levels

with more hot coffee on maximum

Strength settings
5 levels
5 levels
Burr sett
flat ceramic
conical metal
Grind levels
5
13
Uses ground coffee
yes
yes
Taste profile
more sour taste
more bitter taste
Classic coffee recipe
no
no (but similar ECAM23120 model has it)
Display&controls
LCD display and push buttons
Icons and push buttons
I think that Saeco/Gaggia offer better value for money in the middle class. However, pay attention to the special long mode in some Delonghi models and to the fact, that it brews hotter coffee.
In other words, if you are looking for the machine to drink classic espresso and cappuccino, then it's better to choose among Saeco's models. If you prefer really hot coffee and/or drink mainly big cups of coffee, then it's reasonable to choose among Delonghi's models.
💰💰💰 Model-to-model comparison: middle class with a carafe
Both models described in the previous paragraph have modifications with automated milk jar (carafe).
Integrated milk frother allows you to make cappuccino in one touch. And this is what you overpay for. There is no need to practice barista skills to make milk foam with a steam wand. 100% no mess around – just place a cup, press the button and the machine will do everything. However, you will need to run a cleaning cycle. But it is also automated.
Everything else is the same as in earlier models: dimensions, taste and temperature profiles, all black coffee adjustments including exclusive Delonghi's LONG/BREW mode for drip style coffee. The distinction between Delonghi ECAM23120 and Delonghi ECAM23260, Anima and Anima Prestige, Incanto HD8911 and Incanto HD8917,  is only the integrated milk frother (and slightly different design of control panel).
Nevertheless, milk carafes are different. Delonghi's one is called LatteCrema and it allows you to adjust the foam height. Saeco's milk carafe doesn't have such adjustment.
This adjustment works only for making less foam. It means that Delonghi on the maximum settings makes approximately the same amount of foam as Saeco does. However, on Delonghi, you can minimize frothing and get the hot milk or flat foam.
This also means that the difference between latte macchiato and cappuccino in terms of Saeco is only the amount of milk and coffee. While on Delonghi you can regulate both the amount and the height of the milk foam. Thus Delonghi 'knows' more recipes (don't forget the special recipe for classic coffee).
I still prefer the taste of espresso made on Saeco (a bit less bitter and a bit less hot), however, in the class of fully automated machines with milk carafes Delonghi is definetely offers more value for money.
💰💰💰 Premium models: Eletta vs PicoBaristo
 … to be continued …
💰💰💰💰 Flagship models: PrimaDonna vs GranBarista
 … to be continued …
Outaged series (old premium): ESAM3500 vs Saeco Inetlia Deluxe
 … to be continued …
I NEED you opinion. Please rate my review:
54 comments:
Have some doubts which model to choose? Ask me!