Comments: 40↓ specifications & manual ↓
Holy War
In the class of the most affordable bean-to-cup coffee machines, a fight to the death has been raging for quite some time. Everyone knows the key players: the Philips Saeco concern represented by the Saeco Xsmall, which I have already described, and the Delonghi ESAM range. Their price policies differ depending on the market: Delonghi offers a better price in some countries (for example, ESAM2800.SB in the UK), sometimes Saeco engages in price dumping (in case of Xsmall in US) and in other places they are neck and neck, for instance on the German market.
In fact, the ESAM 3000.B and ESAM4000.S/ESAM3300 Magnifica differ only in their design and arrangement of control elements. Just like the Delonghi ESAM 2800.SB Caffe Corso and the Delonghi ESAM 2900 Caffe Cortina, which are identical apart from the colour.
Therefore, everything covered by this review concerns any Delonghi ESAM machine with the model numbers 2600, 2800, 2900, 3000, 3300, 4000 or 4200 – they are all the same in terms of functionality. The letter at the end of the name, e.g. B or SB, can be easily ignored, as it only denotes the colour.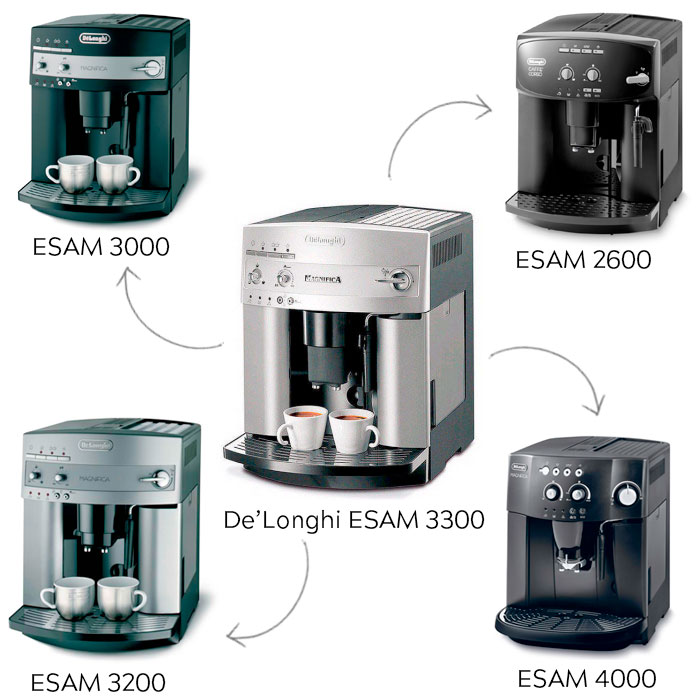 Strong Points
First of all, the DeLonghi Magnifica ESAM3300 Magnifica coffee machine is built on a reliable and easy-to-maintain "chassis". It has a classic pump with a maximum pressure of 15 bar and a 1350W thermoblock. The design is smart and easy to use. The containers for coffee beans (200 grams), water (1.8 litres) and tank for used coffee grounds (14 servings) are typical of this class and comfortably allow a family of 3-5 people to use the machine. It may be not enough for an office (unless there are only two people working there), but is just fine for home use.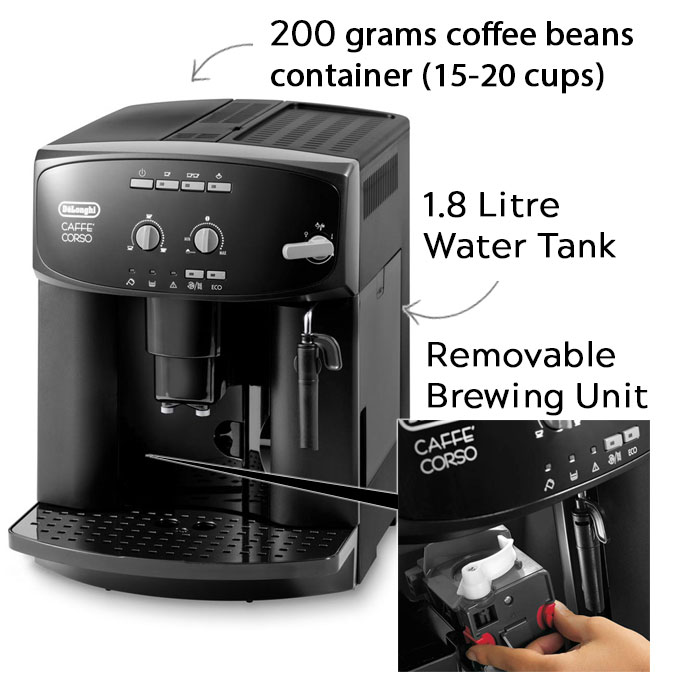 The compact removable CRF brewing group/unit with a pre-wetting function perfectly brings out all nuances in the taste. It is very easy to maintain – I recommend rinsing it under a strong stream of tap water every week. Once in six months, it is necessary to grease the moving parts with a food-grade lubricant. The Delonghi ESAM3000B EX coffee machine automatically rinses itself after turning on or standing idle for a long time. This prolongs the periods between descaling and guarantees the "purity" of the resulting taste. But it drains off a lot of water – the Saeco is more economical in this respect.
Check current prices and deals @ Amazon for Delonghi ESAM espresso machines
However, what I like the most about the Delonghi ESAM 3000 B Execution coffee machine is its simple mechanical control system with "twisty knobs". Two regulators for volume and coffee strength allow you to instantly tweak these basic parameters at any moment. Simple, handy and reliable:
This is also a sort of "memory", meaning that the next serving will be prepared using the previous settings as long as the knobs are not moved.
Amount of water used for one cup can be adjusted from 30 to 200 ml (from Espresso to Americano) and there are 8 positions to set coffee strength (from 7 to 14 grams of grounds).
It is, without question, a pleasure to be able to adjust the coffee dispenser height (from 75 to 105 mm), as this allows the use of tall glasses. Though it would be better to lift it even higher for a latte.
Like any Delonghi coffee machine, the ESAM3000 or ESAM3300 Magnifica Super-Automatic will deliver slightly warmer and more bitter coffee than Saeco models. This is because the construction of the brew unit is different.
By the way, you should not be misled by words "Super-Automatic" in the title. All above mentioned models are able to make only black coffee in one touch. When it comes to cappuccino, you should switch to the steam mode, manually froth the milk and add it to the coffee.
Extra Bonuses
The Delonghi ESAM 3000B Execution coffee machine has an Eco button that allows you to save electricity. In return, you will have to wait about 10 seconds longer to prepare a drink and the cup heater on the top panel will be turned off, although it is not very useful anyway. The passive cup heater uses heat from the boiler and barely gets warm.
It is possible to work with ground coffee.
Weak Points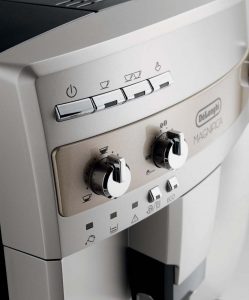 There are very few drawbacks. The Delonghi ESAM 3000 B is an excellent example of a product made conscientiously that fully meets the requirements of the budget class. It has a metal grinder in the coffee mill, which some may say is a minus. It can burn or overheat the grains, which will cause bitterness in the taste. Personally, I experienced this effect only when I used an old dark-roast coffee or tried to brew dozens of cups back-to-back. But you should not use old coffee at all. It is impossible to burn or overheat normal, medium-roast coffee even with all the will in the world.
Yes, the Delonghi ESAM 3000 B coffee machine is not too compact, but also not too big – that is a fact. Yes, it is not the quietest, prettiest or fastest… I would say even it is quite slow.
But all these qualities should be sought at a different price point. Usability, reliability, ease of control, ease of maintenance and an excellent final product are the key characteristics appreciated in this class.
The Delonghi ESAM 3000 and her sister models, without doubt, deserve praise in all these respects. The machine's "workhorse" design offers a full range of possibilities for making delicious coffee without unnecessary functions.
Nevertheless, think of Saeco Xsmall HD8645 if in you country it costs less and you don't need coffee strength and temperature adjustments.
P. S. Above mentioned models should not be confused with Delonghi ESAM 3500 and ESAM 4500 models, which are equipped with an automated milk tank (jar) and therefore can make cappuccino automtically.
I NEED your opinion. Please rate my review:
Delonghi ESAM 2600/2800/2900/3000/3300/4000 Coffee Machine Specifications:

Download manual:
Download pdf manual
Machine type:
Bean-to-cup super-automatic machine
Width х Deep х Height:
28 х 40 х 36 cm
Coffee used:
Beans or ground coffee
Grinder:
Steel burr set, 13 steps adjustable
Brewing group:
One, removable, with a pre-brewing functions
Heater:
Thermoblock 1350 W
Max pressure:
15 bar
Water container:
1.8l, accessible from the front section
Bean container:
200 g
Waste container:
14 servings
Cappuccinatore:
Manual 'panerello'
Max cup height:
105 mm
Controlling:
Adjustable coffee strength (6-14 grams per serving), adjustable serving volume (30-200 ml), adjustable tempertaure (4 grades)
Peculiar properties:
Passive Cup Warmer
Colors:
ESAM 3000.B - Black,
ESAM4000.S - Black with Silver front side,
ESAM3300 - Black with Silver/Gray front side,
ESAM 2800.SB - Black with silver front side,
ESAM 2900 - Black
40 comments:
Have some doubts which model to choose? Ask me!