Comments: 22↓ specifications & manual ↓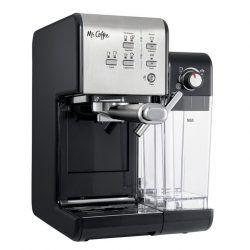 Last Amazon price update was: 2023-11-27
Mr. Coffee One-Touch CoffeeHouse is a new espresso and cappuccino machine that appeared on the American market this autumn. However, it's a replica of already well-known Oster Prima Latte II, which was introduced on Canadian, South American American and Europen markets last year. This doesn't mean that Mr. Coffee copies Oster. Both brands sell OEM-manufactured Chinese appliances (just a fact FYI).
One-Touch Coffee House BVMC-EM6701SS is an upgraded version of another Mr. Coffee's model called Café Barista. They are very similar and all the main parts are the same, however, there are few differences and improvements, which I will list at the end of my review.
Mr. Coffee CoffeeHouse belongs to the rare class of machines, which makes milk foam automatically, however, espressos should be made manually. Overall, it's quite a controversial machine. Buying it is a compromise between price, automatization, durability and coffee quality. However, since Delonghi EC860 (see at Amazon) left the market, Mr. Coffee's machines with automated frothers have no strong competitors. Thus, this machine could be recommended overall, but with the following provisos:
First of all, you are really looking for an espresso maker with automated milk frother. 9 out of 10 other semi-automatic espresso machines on the market have a panarello steam wand, which requires you to whip milk manually (see example video below). Based on my observations approx. 10% of people can't handle it.

Automated milk jar is definitely one of the strongest sides of Mr. Coffee One-Touch CoffeeHouse. You are guaranteed to get a milk foam for your cappuccino. Even your grandma will be able to do it. Just compare:
Panarello wand (90% of other machines):
Mr. Coffee's automated frother:
However, there are some flip sides of such automatization:

With such type of frother, you can't make latte art and you can't regulate the temperature of the milk foam. You may get colder cappuccino than you get used to.
Another con – automated milk frother by Mr. Coffee doesn't have a quick rinse cycle as more expensive super-automatic machines do. This means that after every cappuccino you will have to do quite complicated cleanings: empty the milk jar, wash it, fill it with fresh water, put an empty cup on the cup stand and run cleaning cycle by pressing the 'Clean' button.
Lack of cleanings can lead to poor milk foam. But even with appropriate cleanings, this milk jar can be broken in 1-2 years due to average build quality.
💡 Alternative purchase idea №1. Consider buying a cheaper manual espresso machine by more renowned brand like Delonghi, Gaggia or Saeco plus a separate milk electric milk frother and warmer. This pair will be more durable, however less automated. Example: the old good Delonghi EC155 and something like Nespresso Aeroccino3:
Secondly, if you are looking for something cheap, yet with a good customer support and warranty.

The low price of this Mr. Coffee BVMC-EM6701SS should definitely be listed in pros.
Mr. Coffee has good customer support, spare parts availability and warranty conditions in the States. There are cheaper Chinese OEM-manufactured espresso machines like Aicook, for example. But they have terrible support (better say 'none'). Read comments left by real customers under my Aicook's review.
💡 Alternative purchase idea №2. However, if you are really short on budget, you may look for cheaper and older Mr. Coffee Cafe Barista. Current prices are shown below and differences (not much really) are listed at the end of my review.
Thirdly, you understand that Mr. Coffee One-Touch CoffeeHouse Espresso Maker and Cappuccino Machine is not as automated as it may seem. It is not a super-automatic machine:

You still need to make espresso manually:

Put ground coffee into the filter basket
Tamp it
Install the holder into the machine. In the weeks, it could be tight. This is always the case with manual espresso machines.
Clean the filter after you finish.

Don't forget above-mentioned cleanings of milk carafe, which are quite complicated.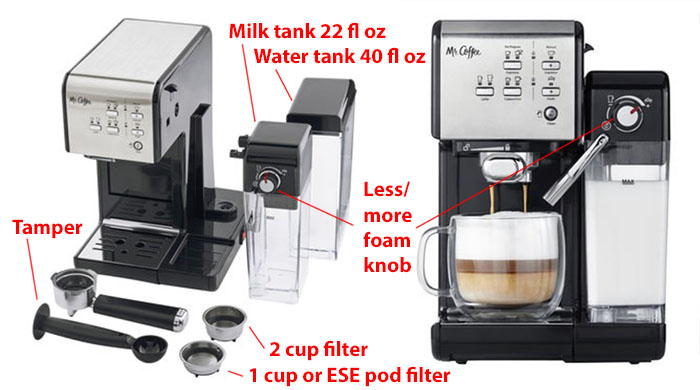 Finally, if you mainly drink cappuccino/latte. Because if you drink espresso than the taste would be noticeably worse and flatter if compared to the results of Delonghi, Gaggia or Breville. That's because of the filters:

Mr. Coffee uses pressurized filter baskets that guarantees good coffee extraction even without good tamping and with inappropriate grind level (I described the difference in the Delonghi EC155M review). Nevertheless, the construction of the filters is less effective – water runs too fast, which leads to more watery, flat taste. Not terrible, but still could be better.
By the way, technically speaking Mr. Coffee Coffee House Cappuccino Machine doesn't make cappuccino in one touch. The programmed recipe is, in fact, a latte macchiato because it adds espresso into the hot milk foam. Classic cappuccino is made vice versa – first espresso, then milk. You can do it on this machine in two steps: first make espresso by pressing 'Espresso' button, afterwards – press 'Froth' button.
There is one more unobvious advantage of the Mr. Coffee BVMC-EM6701. Since it's a replica of Oster Prima II, which on the South American market goes with Nespresso capsules compatible filter (not available in the US market due to patent reasons, I assume), you may buy one and turn your machine into multipurpose espresso maker: ground coffee, ESE pods and Nespresso capsules.
Mr. Coffee CoffeeHouse vs. Cafe Barista
As I already mentioned at the beginning of this review both machines have similar cons and pros. However, in the One-Touch CoffeeHouse they made several improvements if compared to Cafe Barista:
The machine still uses thermoblock as a heating element. This fact is rather negative for a professional barista, but for an amateur thermoblock is better than a boiler. Because it warms up faster and can deliver more water/steam. What's the changed is that now it's 1170 W vs 1040W. This helps a bit to raise thermostability, which was one of the drawbacks of the older model.
New pump with a maximum pressure of 19 bar (not 15 bar). Honeslty it's kind of useless improvement. In both cases (15 or 19 bar) it is the maximum pressure measured in the pump's output. Espresso needs just 6-8 bar inside the filter. So both 15 and 19 bar is more than enough for espresso. Just a marketing trick.
Increased milk tank capacity (now 650 ml, was 480 ml). The construction of the milk frother is the same, the milk jug still needs to be cleaned after every cappuccino and that still ruins all the automatisation.
In the same time. the water reservoir became smaller, which I find to be more critical.
New filter baskets. You can use ESE coffee pods now. Plus new filters are separable, which makes it easier to clean them.
The width isn't changed. New Mr. Coffee CoffeeHouse looks smaller, however it's just due to more lightweight design.
Colors available. As for November 2018 CoffeeHouse is sold only on black and silver coating, while Cafe Barista is available in red&black, white&black and silver&black.
However, the most important improvement (in my opinion) is a new control panel, which became much more user-friendly. Cafe Barista has three buttons for 7 different functions (six automatic recipes + cleaning cycle). The new model has exactly 7 buttons for 7 different drinks and operations. I found this new "1 button – 1 function" philosophy to be much easier to use.
My Review Conclusion
Should you pay more for a newer model or buy old Cafe Barista? It depends on the price difference. Now, when the Mr. Coffee One-Touch CoffeeHouse has just appeared on the market the difference is rather too high if compared to few improvements that were made. However, I think that in a few months the price will drop and if the surcharge will be no more than $40-50 then it's worth it.
Nevertheless, I want to repeat myself once again:
Mr. Coffee One-Touch Coffeehouse BVMC-EM6701 is quite a controversial machine. Buying it is a compromise between price, automatization, durability and coffee quality. Consider buying a less automated machine or raise the budget for the super-automatic machine, which is really automated.
I NEED your opinion. Please rate my review:
Mr. Coffee One-Touch CoffeeHouse BVMC-EM6701 Coffee Machine Specifications:

Download manual:
Download pdf manual
Machine type:
Pump espresso machine
Width х Deep х Height:
8.86" x 11.22" x 11.6" (22cm x 28cm x 29 cm)
Coffee used:
Ground coffee or E. S. E. pods
Grinder:
No
Brewing group:
Metal filter
| | |
| --- | --- |
| Heater: | Thermoblock, 1170W |
| Max pressure: | 19 bar |
| Water container: | 40 fl oz |
| Bean container: | No |
| Waste container: | No |
| Cappuccinatore: | Automatic with milk foam regulator |
| Max cup height: | 4.1" (105 mm) |
| Controlling: | 7 buttons |
| Colors: | BVMC-EM6701SS (Stainless Steel) is black and silver |
22 comments:
Have some doubts which model to choose? Ask me!