Comments: 81↓ Review of US versions ECP3420 vs 3630↓ New: comparison table of UK versions
What I like most about Delonghi company is that its engineers are constantly launching new models trying to fulfill expectations of different customers. While Saeco's main pump espresso maker Poemia has been produced with minor changes for almost a decade, Delonghi now has a huge model range of espresso makers. Most of them are identical under the hood as I mentioned in Delonghi ECOV310 review. Nevertheless, the outlook, materials used and usability are also important. And the price of course.
The Delonghi ECP is an effort to make a cheap coffee maker with metal/semimetal body, which still can deliver good espresso. Plus some bugs fixed if compared to older models. Plus some advanced functions for cappuccino lovers. It is a successor of older Delonghi EC155/156 model.
The ECP model range includes Delonghi ECP31.21, 33.21 and 35.31 (in the UK and other European Countries). In USA and Canada slightly different models are sold (ECP3120, ECP3220, ECP3420,ECP3620, & ECP3630, which are descibed below 👇).
The basic functionality of all models is the same. It's a 15-bar pump espresso maker with pressurized filters that could:
Make a strong espresso with rich crema (however I should admit the Saeco Poemia is better in terms of crema)
Make cappuccino, macchiato, latte or any other coffee&milk drink using manual cappuccinatore (milk frother) called panarello
Has the biggest boiler in class (stainless steel, 180ml), which gurantees that you would be able to make two espressos with a right temperature in a row. Big boiler gives also longer steam flow for milk frothing
Has full metal portafilter. Nevertheless there is still a plastic part inside, it is used to divide coffee into two flows. It could be removed easily if you want.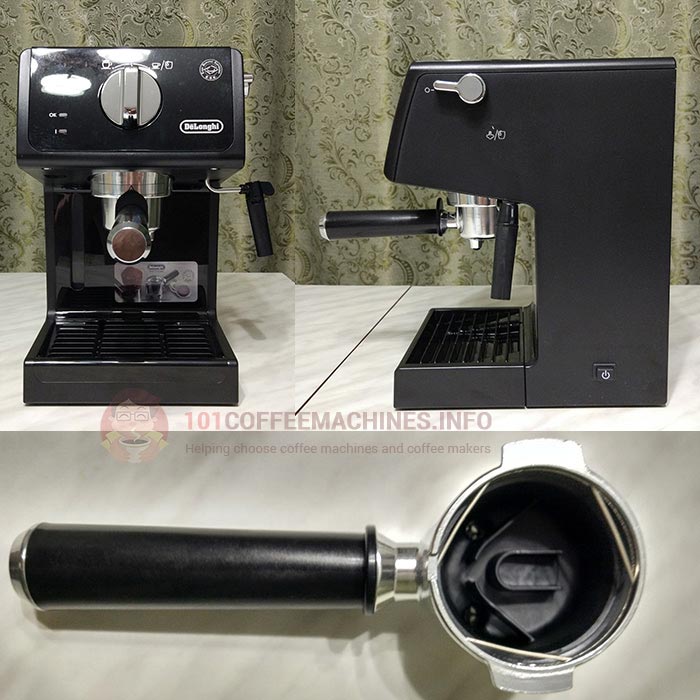 1) The cheapest De'Longhi ECP 31.21 (on photos) has plastic finishing and have an ordinary milk frother that is still good for cappuccino and has an enough deflection angle. The last fact guarantees that it would be easier for you to froth the milk for your cappuccino. The drip tray is now fixed in its place, so it does not produce rattling noise anymore. Unfixed tray was the most common complain about older Delonghi's models. ECP31.21 has convenient "twisty knob" controls and a storage place under the top cover.
2) De'Longhi ECP 33.21
if compared to the 31.21 has only one difference. It has a little of metal in outlook: the driptray, cup tray with passive heater (it's not electrical warmer, cup stand is located above the boiler and it becomes warm in a 'natural' way), milk frother and the front side are now made of stainless steel. However these parts are most important: it's easier to clean metal tray and panarello from coffee and milk stains, the metal cup warmer is more efficient since it heats faster and the metal "forehead" helps to keep the heat inside the boiler for a little bit longer.
So it's perfect ratio of price and percentage of metal in coating. Nevertheless it's the least popular model among ECP series in the UK, for example.
3) Third model is ECP35.31. It's an "elder sister". It has more differences. First of all, this coffee maker has full front side made of metal (but still low price 😉 ). Secondly, the panarello milk frother has a regulator ring. Moving it up you can switch to 'hot milk' mode, which means you simply warming the milk, not frothing it. This mode could be useful for families with kids (Nesquick) or for preparing special drinks like flat white. Moving the ring down you are switching to the 'normal' mode for making a rich foam for cappucino or latte. This function is unique for home espresso makers.
Check current prices and deals @ Amazon for Delonghi ECP series espresso makers.
Obviously, 31.21 was considered by Delonghi as the cheapest model, the 33.21 – as a golden middle choice, while the 35.31 was planned to be most expensive and luxury version. There is such pricing on other markets, however in the UK there is not much price difference between last two. Moreover, sometimes ECP 3531 costs less than 33.21. Or 3121 gets higher price tag than 3321… So it's better to check current prices.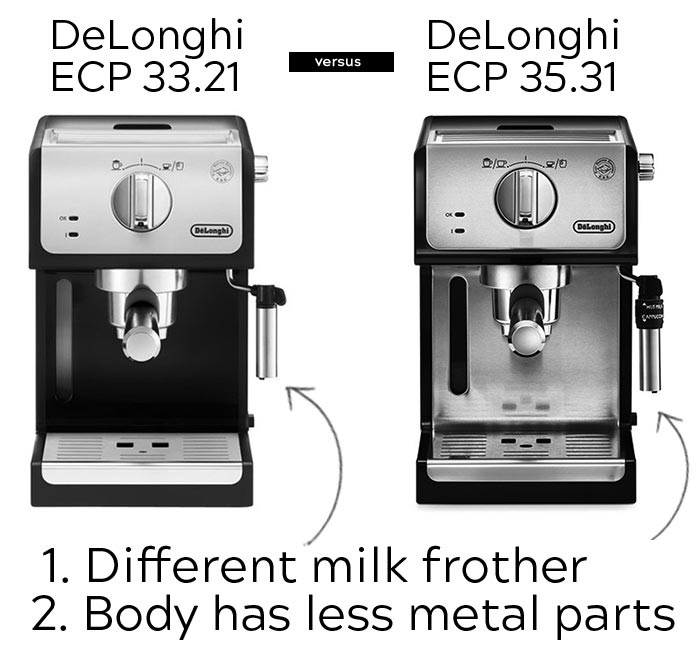 Comparison Table of European Models (new!):
31.21:
33.21:
35.31:
Full plastic body
Plastic and some metal
Metal and some plastic
Only froth the milk
Only froth the milk
Froth or heat  the milk
All else being equal:
15-bar pump
15-bar pump
15-bar pump
180ml SS boiler
180ml SS boiler
180ml SS boiler
Espresso & Cappuccino
Espresso & Cappuccino
Espresso & Cappuccino
Added on 27/10/2017: Refurbished items appeared on amazon. Pump espresso maker construction is not a rocket science at all, main parts are quite simple (see photos in my test of Delonghi vs. Saeco). So if you are really short on budget then officially refurbished could be a good choice. However I recommend to make full descaling and washing cycles before making first coffee.
US versions: Delonghi ECP3220, ECP3420, ECP3620, ECP3630 review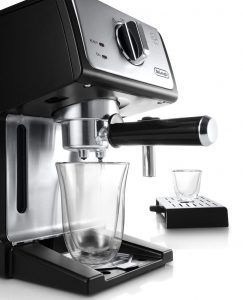 For the US/Canada market, Delonghi produces three slightly different models. Or six if you count color variations. The main difference between North American and European versions is that all American ECPs are equipped with 'double drip tray' system, the same 'innovation' that earlier was introduced on the Dedica Deluxe espresso maker:
Many owners of espresso machines use the following hint if they want to use higher glasses: remove the main cup stand, and put cup directly on the floor of the drip tray. That allows gaining extra 2-3 cm. Delonghi put a small metal plate on the bottom of the drip tray and now maximum cup height is officially raised to (~4.3 inches).
It's hard to use this mini drip tray for a long time because it's capacity is literally a few drops. That's why normally you will use the big one, which limits the maximum cup height to 90 mm = 3.5 inches.
All models are very similar, however, there are some distinctions. Here is a comparison:
New! ECP3120. New variation is announced on the North American market. If compared to all other Delonghi ECP models the ECP3120 is the simpliest one – full plastic body (except for the grouphead), simple panarello wand w/o hot milk mode and no double drip tray (see above). However, there are no taste differences.
De'Longhi ECP3220 is the cheapest 'sister' in the family. For some reason, some shops call it 'Deluxe'. However, it is an exact copy of the European ECP 33.21. And it is definitely less 'luxe' than ECP3420 (so there is no reason to pay for ECP3220 more).
Plastic body with some metal decoration: drip tray and panarello aremade of metal. Nevertheless, it's still mostly plastic in coating.
Simple steam wand (panarello).
It comes in three colors (color is the only difference): simple black ECP3220, red ECP3220R and white ECP3220W:

De'Longhi ECP3420 is similar to the ECP3220, but without color option (only black plastic) and more metal used. Another model – the De'Longhi ECP3620 – might seem to be made of stainless steel. However, the body is not 100% metal – it's just plastic colored with silver paint. Thus, I consider both 3420 and 3620 to be one model in different colors:

Body is mainly made of plastic, however, more parts are metallic – the front side almost fully is covered in metal plates. In the case of cup stand (which has a function of the cup warmer as well), it helps to warm cups more efficiently. However, it's still a passive cup warmer, so don't count on it much – the stand is located above the boiler it becomes warm in a 'natural' way. It's not electrical. Sides are plastic.
Simple steam wand (panarello)
Black (3420) or silver (3620)

De'Longhi ECP3630 is remarkable for the new steam wand installed. The milk frother has hot milk/foam settings, which is described above. In the foam mode, it will froth as simple steam wand does. Switching to the hot milk mode will help you to heat up the milk without frothing it.
Body is still made of metal and gray colored plastic (see photo below)
New steam wand – panarello with regulator ring for less/more foam
Silver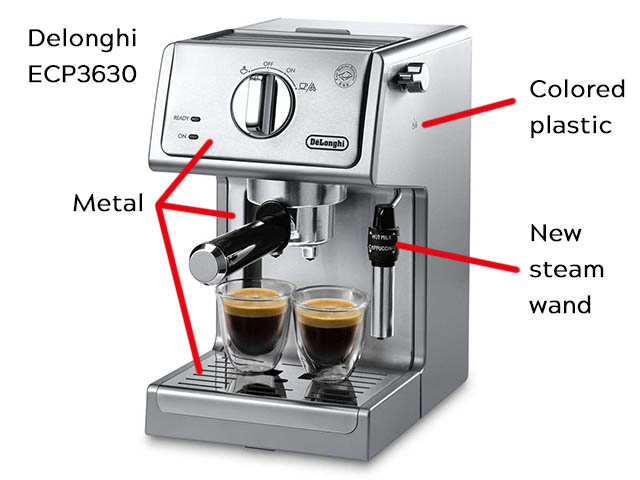 Everything else in these espresso machines being equal! They differ only by coating (metal parts/colors) and the new steam wand, which is installed on the ECP3630. The second cheapest model with such steam wand is Delonghi EC685 (read my review) which costs much more.
I also want to pay attention one more time to the fact that Delonghi Espresso and Cappuccino maker ECP3220/3420/3630 is namely espresso maker, not similar to classic American drip coffee makers. It means it can deliver maximum 60 ml/2 oz (or 90 ml/3 oz being well heated) of coffee of right temperature that is equivalent of two espressos or one lungo. If you want to make an American coffee (e.g. full 200 mg mug of black coffee), you should make an espresso first, than add hot water from steam wand.
If you will try to brew a mug of coffee by simply letting a lot of water come through tampered coffee the result would be pour. Because a) the taste will be bitter due to overextraction under high pressure, b) the temperature of the coffee will be low, since Delonghi ECP has a boiler, not a thermoblock inside. If you want an espresso maker with thermoblock, which can deliver more amount of hot water of right temperature, you should check my Delonghi EC680 coffee maker review.
For other customers I could highly recommend Delonghi ECP machines as cheap and high quality models. ECP range allows you to choose the right model for you depends on how much plastic/metal in body do you want and what type of coffee you prefer more – simple espresso or cappuccino.
I NEED your opinion. Please rate my review:
De Longhi ECP 31.21/33.21/35.31/3420/3630 Coffee Machine Specifications:

Download manual:
Download pdf manual
Machine type:
Pump espresso machine
Top rated:
4th in my list of best machines under $300
Width х Deep х Height:
18,5 x 24 x 30.5 cm
Coffee used:
Ground coffee or E. S. E. pods
Grinder:
No
Brewing group:
Metal filters with double floor
| | |
| --- | --- |
| Heater: | Boiler 1100 W |
| Max pressure: | 15 bar |
| Water container: | 1.1l, accessible from the top |
| Waste container: | No |
| Cappuccinatore: | Manual 'pannerello'. With foam/hot milk regulator (only ECP 35.31 and ECP3630 models) |
| Max cup height: | 90 mm |
| Colors: | Silver metal and/or black plastic |
81 comments:
Have some doubts which model to choose? Ask me!