Comments: 24↓ specifications & manual ↓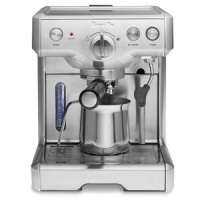 Ok, guys, I understand that a 15-bar Breville 800ESXL espresso machine looks cool. Any of Breville's products look cool by the way. Moreover, the stainless steel body helps in this regard. However, let me explain why I'm not a big fan of Breville's coffeemakers and why I believe that buying their machines is always overpaying.
First of all, little historical overview of the brand. Breville is an Australian company that invented sandwich toasters. In addition, for decades their primary products were toasters and small kitchen appliances. However, on one day in 2001, the company was sold to Housewares International Pty Ltd. (now known as Breville Group Limited). And then, marketing and sales guys decided to go global. 17 years ago, they knew nothing about coffee, now the ex-toaster company offers me 'Purge' and 'The Triple Prime Pump' functions and says that I will have a good espresso on it.
Did They Succeed? Let's Make a Fair Point-to-point Review.
Breville 800ESXL can brew good espresso and cappuccino. Nothing extraordinary, but it's good. It also looks cool and the price isn't too high. Its sister model The Duo-Temp Pro Espresso Machine usually costs a little bit more. By the way, there is clone model for UK market called Sage Duo Temp Pro, it is exactly the same machine, just with slightly different controls. Also, it is assembled in China, but everything now is assembled in China, right?*
 * – not really, read further
800 ESXL/Sage Duo Temp Pro Key Features
At first, it seems that there is no other coffee machine on the market for this budget that offers so many functions and has a stainless steel coating.
However, is there any real super function inside? Let's go through key features:
15 Bar Italian Pump. Ok, they use a European-made Ulka pump that almost every coffee maker on this planet has. Nothing special.
Purge Function that automatically adjusts water temperature after steam for optimal espresso extraction temperature. Sounds good. But in reality, it's just means that after you turn off the cappucinatore (milk frother), the water from the thermoblock will flush into the drip tray. After that, new cold water comes to the thermoblock, so machine is ready to serve warm water for espresso. The same could be done with any other espresso machine, just keep the steam open for a while and let the hot water come out. I consider this function quite useless, especially because it leads to over-filling the drip tray more often. But let's suppose that someone might find it useful.
3 bursts of hot water is released by pump after pre-brewing to moisten the ground coffee resulting in greater build-up to extract the fullest flavor. Again, pre-brewing is nothing I can't do manually on any other espresso machine, but it could be useful for newbies. Nevertheless, when it comes to that "three bursts" it makes me laught. That is in fact, an absolutely useless musical show that does not affect coffee anyhow. It does affect the pump, however, because it just not designed to work in such mode.




So, as you can see now there is nothing special. Ordinary espresso machine with some funny special effects. With that knowledge, we can recheck Amazon now to see what other brands offer in the same budget.
Breville 800ESXL (Sage Duo Temp Pro) vs Gaggia Classic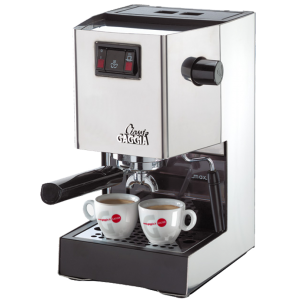 Could I offer you one? Look at Gaggia 14101, also called RI9403/11. This legendary model has been around since 1991 with no changes in design. Gaggia is an Italian company that makes coffee machine for decades. Back then, Breville was focused on sandwiches. There are examples of this machine working for 10+ years without losing its functionality and appearance.
I could not say that about Breville. Painting around front buttons often peels. Another Breville problem is that it is too complicated 'under the hood', which is a direct result of designers being in charge for creating a coffee machine. That does not mean anything bad except well-known problems with a pump (no surprise here considering the fact that Breville's engineers use a pump to play a musical show), short lifetime of heating element, and that descaling is needed more often for this machine.
Nevertheless, let's go back to Gaggia. The company is based in Italy, the machine is assembled in-house, in Europe. It's made of stainless steel, has a professional size portafilter (58mm), 3-Way Solenoid Valve and other professional useless-for-amateurs options that really only real barista needs.
In my personal opinion, Gaggia Classic is often too much for home use. However, it costs the same and that's why one simple question arises:
Why should I buy a Chinese-made Australian-designed espresso maker when I could buy a semi-professional machine, made in Europe by Italian coffee veterans?
Delonghi's Options
Another option is new De'Longhi ECP3630. I will write a detailed review of it sometime later. Now, I just want to say that it has the same functionality (except triple prime and autopurge) covered in stainless steel. It is also produced in China by another Italian coffee veteran, and it costs much less. Come on, why should one choose Breville?
Or – for the same anount of money – you can choose De'Longhi EC860, that has an automatic milk frother.
Add an Extra Hundred and Get a Fully Automatic Machine
Some people say that they really need those two functions which I consider useless. They say they need them becuase they are newbies in espresso. I always ask them a question – in that case, why don't you spend a little bit more more and get a fully automatic Philips Saeco XSmall with a built-in grinder? It's made in Europe and it will deliver a shot of espresso in one touch with no need no mess with it.
My Review Verdict
As you may have already realized, I don't like the Breville brand. Nevertheless, I tried to be very objective in this review to show that Breville's 800 ESXL was not a smart buy. I would understand this choice if the price was two times lower.
The machine has no useful extra functions, it's just an ordinary espresso machine in steel coating. You can buy the same from Delonghi for lower price or semi-professional Gaggia Classic for the same price. Both come from more reputable brands in the coffee world.
But let's be honest. You can love the design of that model just as much as I don't like that brand. In addition, I  understand that looks could be very important. I only want you to know that in case of Breville 800 Duo-Temp you overpay for design, not the functionality. Moreover, it's a downgrade in terms of reliability.
I NEED your opinion. Please rate my review:
Breville 800 ESXL Duo-Temp Coffee Machine Specifications:

Download manual:
Download pdf manual
Machine type:
Pump espresso machine
Width х Deep х Height:
15 x 16 x 13 inches
Coffee used:
Ground coffee or E. S. E. pods
Grinder:
No
Brewing group:
One portafilter with three filters
| | |
| --- | --- |
| Heater: | Thermoblock |
| Max pressure: | 15 bar |
| Water container: | 75oz |
| Bean container: | Baskets |
| Waste container: | No |
| Cappuccinatore: | Manual 'pannerello' |
| Max cup height: | 4.5 inches |
24 comments:
Have some doubts which model to choose? Ask me!