Comments: 106↓ specifications & manual ↓↓ Updated: ECO311 vs Scultura ECZ351 ↓
Delonghi ECO 311 espresso coffee makers replaced the ECO 310 Icona model that had been produced since 2010. In fact, these two models have almost no differences. All inner parts remained the same. However, this can be said about almost any other espresso coffee maker of this brand.
It is Simply a Matter of Marketing. The Manufacturer has Decided to Update a Product Line Every 5 Years as They do in the Automotive Industry.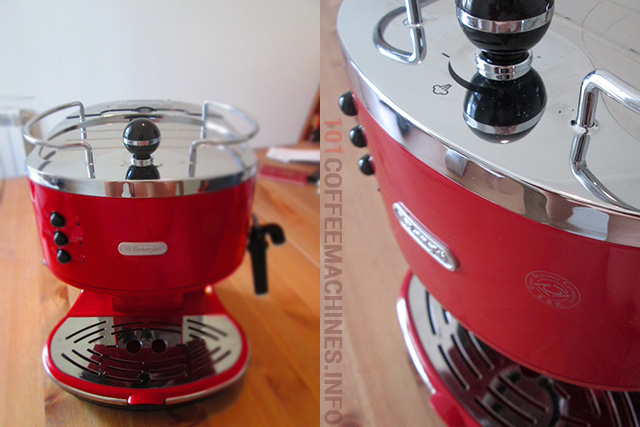 So, what exactly has changed in the De'Longhi ECO 311 in comparison to the 310th model? Well, at least two things:
Now there is an automatic cutoff function. After 9 minutes of downtime, the machine turns off. This feature has been introduced to meet strict European standards of electrical energy consumption.
The ECO 311 is completed with a portafilter of a new design. However, the last produced ECO 310 models already came completed with the new portafilter. Whereas, the first 311-s sometimes included the "old" one. In general, this is exactly why any manual has the following clause: "a manufacturer in its sole discretion and without a notice may change the complete set, appearance, country of production, and technical characteristics of the model"
Important note. Despite the fact that officially Delonghi 310 is called "15-Bar-Pump Espresso Machine", you should not be misled by the word "machine" in the title. It is not an automatic coffee machine, it is a coffee maker. That is, the automation here is at a minimum level. You will have to grab ground coffee (or preferably to grind it just before brewing), put it in the portafilter, tamper it, warm up the coffee maker, and manually turn on the water supply; then, dismantle the portafilter and clean coffee residue off it. Just like any barista would do. Cappuccino should also be cooked manually.




What is the "New Delonghi Portafilter" and What Makes it Different From the Old One?
Now, there is a filter fixing spring for a coffee filter inside the portafilter. Now it is firmly fixed in it, making it easy to throw out the coffee grounds. As a result, there is no need for a mechanical filter holder. Therefore, the thrust has been removed from its design.
The coffee-cream filter system has also been changed. Like any modern coffee machines and coffee makers, Delonghi 310/311 is equipped with a special filter. With it, even an amateur would be able to get a nice coffee foam and a rich taste with any grinding and with any grain. A filter in the old portafilter was designed as a plastic flap (a similar solution is still used now in a Saeco Poemia coffee makers), the new portafilter has baskets with a double floor. Its effect is about the same, but there are less plastic elements contacting coffee, which is good news.
The portafilter feels heavier, now it feels more like portafilters used in professional espresso machines. Nevertheless, we should not delude ourselves into thinking that this effect is achieved by the use of other materials. The reality is it's a metal cylinder-sinker hidden in a handle of the portafilter.
What do Coffee Makers Series 310 and 311 Have in Common?
De'Longhi ECO311, just like ECO310, has a full metal body. The design has not changed, it is made in retro style and feature different colors: red Icona ECO 311.R, white 311.W, black 311.BK, and beige 311.BG:

DeLonghi ECO310 espresso maker comes in three colors: red ECO310R, black EC310BK and white ECO310W. All theree are still available on the market.
However, in North America less color options are available. In the UK and other European countries, you can find models of all colors.
In Europe, there are also modifications in olive and light blue color called "Azur" under the ECOV 311 index (a prefix V means Vintage). They differ only in terms of body colors and in the fact that these models still include old types of portafilters (without fixing spring) made of brown plastic. In addition, Icona Vintage leather logo key ring goes with it as a gift (but do you really need it?):

Check current prices and deals @ Amazon: for Delonghi ECO310 or for Delonghi ECO311, which is sold only in Europe, not in N. America
Big stainless steel boiler for 180ml gurantees that the temperature will be stable during coffee extraction. Boiler power of 1,100 watts and standard Delonghi pump is enough to prepare a 2-2.2 fl oz (60-70ml) of coffee at a required temperature and a pressure of 9 bar. Further, the temperature falls below 365 K (92°C) as the machine informs us about that with the light turning off. This is sufficient for the preparation of espresso and lungo in canonical volumes. However, you can wait 20-30 seconds for the boiler to heat up the water and continue.
This is the parameter that distinguishes Delonghi ECO311 Icona from more expensive coffee makers with thermoblock as a heating element (such as EC 680/685 or EC 820.B). They can maintain the desired temperature and pressure for longer. At the same time, it is not inferior to its direct competitors. Saeco HD 8325 Poemia has even weaker boiler of 950 watts and 110ml.
The coffee maker features a function that lets you make any espresso-based milk beverages with a manual cappuccinator-pannarello. Of course, it does not turn 360° as it is the case with expensive portafilter coffee makers, but it deviates from the cup stand to the side at a large enough angle so that you can whisk the milk in a pitcher or a glass. It also makes it possible to turn espresso into Americano (if you simply run a large amount of water through the portafilter, you get lungo).
On top of the coffee maker, there is a chrome platform with a passive cup heater. It copes with its task quite well, if you reheat the coffee maker, let it steam out for 5-10 seconds, and wait about five minutes, or better yet, make 1-2 servings "in idle." Otherwise, the upper plate doesn't get warm enough and it takes too long for cups to warm up. However, it is also advisable to do so to warm up a group (portafilter), which has a positive effect on the extraction of coffee.
The water tank (50 fl oz) is in the rear part of the coffee maker and it is made of transparent plastic. This makes it easy to monitor the water level and refill it without removing the tank itself (but if necessary, it is possible to take it out). The plastic tank itself, and all sealing rubber components are made of high-quality materials and do not affect the taste and odor of water, as it is the case with some cheaper competitors, e.g. Mr. Coffee models.
Unfortunately, one problem of the 310th model hasn't been addressed. Metal cup stand located right under the portafilter is not fixed in place. Therefore, when using light cups, they vibrate and clang when the pump works and the shining stand gets scratched. Buyers complained in their reviews about it. The solution is either you don't pay attention to the noise, or use heavier cups, or just put a cup on a napkin.
Conclusion of the Review and Similar Models: Scultura and ECP
De'Longhi ECO 310 or 311 Icona are good choices if you care about a design of your future coffee maker and need a simple coffee maker for home use with a pressure of at least 9 bar.
Full Metal Body, "New Portafilter," and Design Explains Higher Price Tag Compared to Cheaper Delonghi Models.
However, in North America, the 311th model usually costs more than "old" model of the 310 series. As I mentioned above, the differences are purely symbolic, the quality of coffee is not affected. Therefore, it is reasonable to choose the red De'Longhi ECO310R or black DeLonghi ECO310BK in this price range. You will get an excellent coffee maker which will serve you for years making you delicious espresso. However, of course, it requires proper maintenance: make decalcification once or twice a year, including dismantling and cleaning the filter. New ECO 311 series requires decalcification, filter cleaning is not necessary.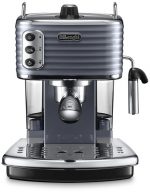 In some counties Delonghi also sells ECZ models. It is black ECZ351.BK Scultura, beige ECZ351.BG, white ECZ351.W etc. All espresso machines with 351 index have all the same characteristics as ECO311 models. Except the design, which became more vintage and has less metal in coating (upper colored part on Scultura is made of plastic, it's not the metal as on ECO311), and the tamper, which is now a separate accessory (on the ECO311 it was built-in). Sizes changed a little due to it, however insignificantly, just ±1cm. All esle buing equal and these changes does not affect the coffee quality.
If the design and appearance are not important to you, it would be wiser to buy Delonghi EC 155 or new Delonghi ECP 31.21, which is cheaper becuase of plastic finishing and different controls. Technically, they are identical. However, EC 145, which is even more cheaper, is not worth your attention, since it has no pressurized crema filter, which, in my opinion, is important for a beginner. Well, if you are not an amateur, but rather a professional, it is unlikely that you consider buying one in this price range.
P. S. Want to know more? Look how I dissambled this model and compared it with other espresso makers.
Check current prices and deals @ Amazon: for Delonghi ECO310, ECO311 and for Delonghi ECZ351, which is a facelift version of the ECO311
I NEED your opinion. Please rate my review:
De'Longhi ECO310R/BK/W and ECO311R/W/BK/BG Coffee Machine Specifications:

Download manual:
Download pdf manual
Machine type:
Pump espresso machine
Top rated:
5th in my list of best machines under $300
Width х Deep х Height:
10.2 x 11.4 x 15 inches
Coffee used:
Ground coffee or E. S. E. pods
Grinder:
No
Brewing group:
Metal filters with double floor
Heater:
Boiler 1100 W
Max pressure:
15 bar
Water container:
50 fl oz
Cappuccinatore:
Manual 'pannerello'
Max cup height:
3 inches / 77 mm
Peculiar properties:
Passive Cup Warmer
Colors:
ECO311R и 310R - red
ECO311W и 310W - white
311BK, 310BK & ECOV311BK - black
106 comments:
Have some doubts which model to choose? Ask me!