Comments: 16↓ specifications & manual ↓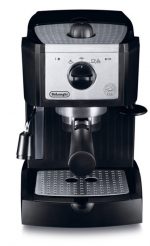 In almost every country, the Delonghi EC155 is the cheapest espresso machine on the market from an Italian brand (Ariete, Delonghi, Gaggia or Saeco). It is a quite old, well-known model and the web is full of positive reviews of this coffee maker. However, now in 2018 I would rather recommend buying the Delonghi ECP31.21 (ECP3420 in the States), which is in fact the successor to the EC155 and has the same functionality, but with improved usability.
§1. Delonghi EC155 vs EC156 vs EC145 vs EC146. Or Why The Filter Type Is So Important.
Besides the EC155, there are three very similar models that look identical: the EC145, EC146 and EC156. There are really no visual differences between them. Nevertheless, there are two distinctions under the hood that are worth mentioning:
Delonghi EC145:

Unpressurized filter basket
No automatic shutdown function
Has a fully plastic body

Delonghi EC146:

Unpressurized filter basket
Automatic shutdown function
Has a fully plastic body

Delonghi EC155:

Pressurized filter (for crema)
No automatic shutdown function
Plastic body with metal parts

Delonghi EC156:

Pressurized filter (for crema)
Automatic shutdown function
Plastic body with metal parts
That's all. Everything else is the same.

The automatic cut-off function is really not a big deal, especially considering the price of these models. Moreover, De'Longhi marketing specialists have even found positive aspects to its absence. As they mention in official texts, the EC145/155 (which does not switch off automatically) has a "Self-Priming System". Sounds cool, however it just means that this espresso machine will keep the boiler hot, consuming electricity, until you press the off button or take the plug out of the socket.
The second distinction (filter baskets) may also seem to be insignificant. But it is not!
It really affects the brewing process a lot. That is why you should take your skills into account when choosing between the 145/146 and the 155/156. Let me explain in detail:
The De'Longhi EC145 and EC146 have classic unpressurized filter baskets (the metal thing where you put the coffee), also known as a single wall filter. It has multiple small holes on both sides:

This is the option that coffee snobs would choose. However, you should keep in mind that in this case you will need at least:

A decent tamper (the built-in one is not good enough)
Good tamping skills
A decent (burr!) coffee grinder with a fine enough minimal grinding level suitable for espresso. A pseudo burr grinder such as Secura SCG-093B is not enough
Some time to practice

An ordinary person with a pack of ground coffee from the local supermarket will be only able to make a poor-tasting cup of espresso without any crema:

The De'Longhi EC155 and EC156 are both equipped with pressurized (double wall) filters with a crema valve on the bottom.

This valve has a tiny output that limits the pressure artificially (~7-9 bar), which is the standard for a classic espresso. This also allows you to get a good-looking crema on top of your espresso.

The pressurized basket is the only option you should consider if you are not a professional barista and not willing to become one.

The majority of at-home espresso machines have pressurized crema systems of various types. This one, by the way, is one of the most effective (a different approach that gives less crema is used in modern De'Longhi models).

Here is an example of the espresso shot an ordinary person would get on the EC155 (compare this photo to the one on the left):
If you have already ordered the EC145 or the EC146 and I have disappointed you with the fact that these espresso makers require serious skills, don't worry. The good news is that you can buy the filter from the EC156 (the part number is 7332173800 for a 2-cup basket) and fit it into the EC146's holder. It works vice versa as well (search for 7313286069, they sell it on eBay).
§2. Similarities and Strong Points
Besides the above-mentioned differences, all four models are identical and have following advantages:
The biggest boiler in the class of at-home models under $400/€300. Its capacity is 180ml and it is made of stainless steel, which is better than aluminium (it gives a more stable temperature). However, this is not unique. Exactly the same boiler is installed on the majority of other Delonghi models (new and old), except the Delonghi EC5/EC7/EC9 (these models are not real espresso makers, because they don't have a pump and, therefore, do not produce enough pressure for an espresso) and the Delonghi EC680/685/820/850 (read my review on them), which has a thermoblock heating element (not a boiler).
15-bar pump by ULKA or CEME. Almost an industry standard. The same pump is used on the majority of other budget semi-automatic and automatic espresso machines.
They have a steam wand with a panarello-like nozzle to froth the milk for cappuccino or to deliver the hot water.
If you are considering purchasing the De'Longhi EC155/156, you should understand that it is designed to brew espresso and espresso-based drinks (cappuccino, latte, latte macchiato etc.). It is not made for classic coffee in big mugs. However, you can imitate traditional filter coffee by simply adding hot water from the steam wand to an espresso.
Two thermostats located on the boiler body regulate the temperature. They are well tuned for 110°C (230°F) in coffee mode and 140°C (284°F) in steam mode. The first value gives a temperature of 90-95°C inside the portafilter (depending on how well the coffee maker is preheated), which is canonical for an espresso.
Two good old twisty knobs to control the brewing process. Reliable and classic. The upper one on the top opens and closes the steam wand output. The second one is used to switch between the steam mode (the left position) and stand-by mode (in the middle), while the right position turns on the water supply (for espresso).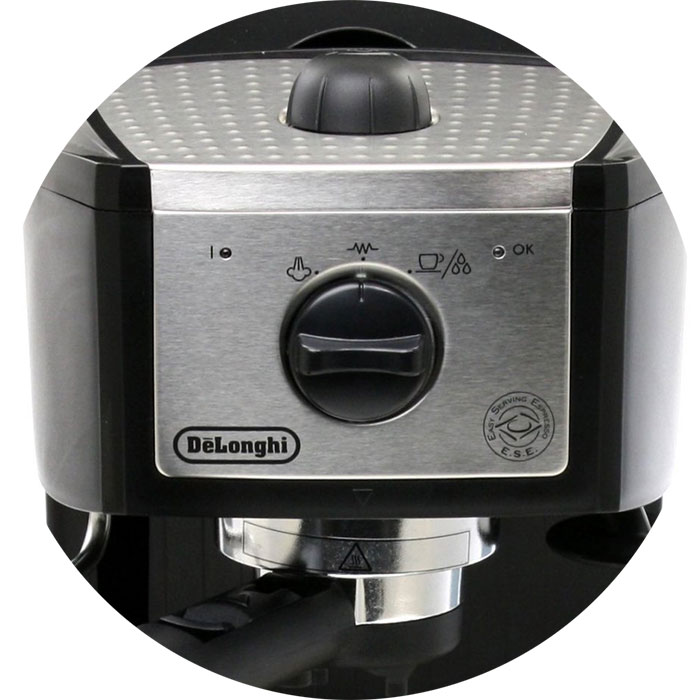 The main on/off switch off button is located on the right-hand side of the Delonghi EC156B, near the back. However, it is still comfortable to reach (if compared to the Saeco Poemia, for example, which has this button located on the rear).
ESE pods can be used in both models.
And last, but not least – both are at a record low price!
As you can see, the construction is quite simple. Maintenance too – just clean it on a regular basis and descale 1-2 times per year. It is also recommended to disassemble and clean the crema valve once every 300-500 cups.
§3. What I Don't Like About the EC155/156. Drawbacks and Problems.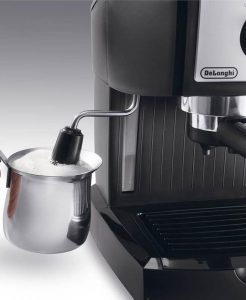 My main complaint is the steam wand. It is inconvenient and less effective than on most competing models:
It is located on the left. That is the side on which you install and remove the holder, which is why you're likely to touch the hot (after use) steam wand with the back of your fingers.
The shape of the nozzle is less effective. Usually I say that about 10% of people wouldn't be able to handle a manual steam wand and make good milk foam. In the case of the EC156 I would increase this to 20-25%.
This is the only specific drawback of these models. The other weak points are rather common to all budget espresso makers:
The 15-bar pump is not isolated well – the machine vibrates while making coffee. If using lightweight espresso cups, you will probably need to hold the cups to stop them from moving on the drip tray. Or put a napkin underneath. However, this is always the case.
The cup heater plate on top only works well when the machine itself is sufficiently heated. This is also common for passive (not electric) cup warmers – they warm up "naturally", simply because the hot boiler is located just underneath.
Built-in tamper – you had better get a nicer one.
The boiler-based construction requires at least 2-3 minutes of preheating, which means that you need to wait before making your first morning cup of espresso. For a better espresso, longer preheating is recommended: at least 5 minutes.
Similar Models
There is also the DeLonghi EC 151.B, a cheaper version of the De'Longhi EC.155B made for Eastern Europe with pressurized filters, a plastic body (without metal parts) and no auto-off feature.
§4. My Review Conclusion
Delonghi EC 145/146. Today this is probably the only example of an entry-level espresso machine WITHOUT a pressurized crema filter. If you want to make 100% real espresso like baristas do in a coffee shop, this coffee maker is the ideal option to start with.
Important! However, if you are not into coffee, do not have a good burr grinder and just want to brew espresso/cappuccino at home with predictable results, spending no more than 5 minutes on each cup, the EC146/EC145 is not for you!
The Delonghi EC155/156 Pump Espresso and Cappuccino Maker is a good, reliable machine. It has been produced for long enough that you can be sure there will be no teething troubles.
Nevertheless, newer Delonghi models use the same parts and have the same functionality, but with some issues fixed. The Delonghi ECP31.21, 33.21 or the ECP3420 on the North American market, for example, is almost the same machine with a better steam wand and different crema filter construction. What's more, the price tags for the EC155/156 and ECP series are almost equal in most countries.
As a result, I personally would rather choose the new ECP for roughly the same price. However, the De'Longhi EC155 pump espresso maker is still a good choice if you are on a really tight budget, the difference in price is larger in your country or you just like the design of the 155 model.
Current EC155 prices and deals:
Last Amazon price update was: 2023-05-29
…vs De'Longhi ECP3420:
Last Amazon price update was: 2023-05-29
I NEED your opinion. Please rate my review:
Delonghi EC145/146/155/156 Coffee Machine Specifications:

Download manual:
Download pdf manual
Machine type:
Pump espresso machine
Top rated:
9th in my list of best machines under $300
Width х Deep х Height:
19 x 24 x 28 cm
Coffee used:
Ground coffee or E. S. E. pods
Grinder:
No
Brewing group:
Metal filter (EC145/146 - unpressurized, EC155/156 - pressurized)
| | |
| --- | --- |
| Heater: | Stainless Steel 180ml Boiler, 1100W |
| Max pressure: | 15 bar |
| Water container: | 1 l, accessible from the back |
| Bean container: | No |
| Waste container: | No |
| Cappuccinatore: | Manual |
| Max cup height: | 65 mm |
| Colors: | Black plastic with metal parts |
16 comments:
Have some doubts which model to choose? Ask me!