My independent advices are based on 6 years of experience in coffee machines sales. 23 comments
You need to have an espresso coffee maker compatible with E.S.E. pods (also called cialda or monodose). It means that there should be special ESE sign on your espresso machine. Like this one: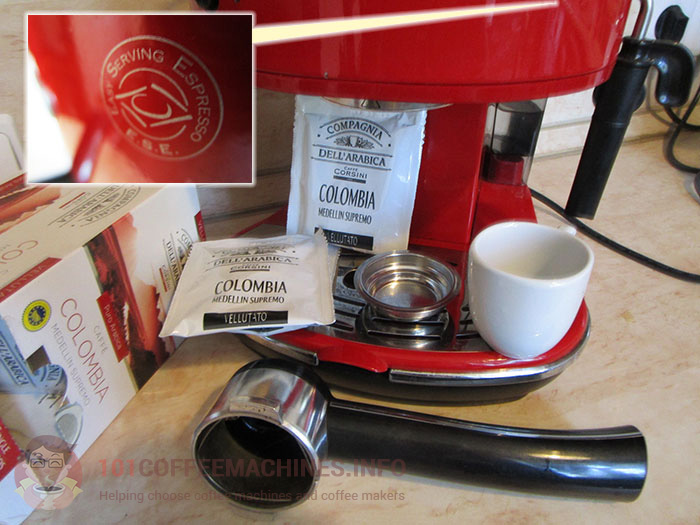 All modern Delonghi pump coffee makers (ECP series, ECO ans EC series) and all Philips/Gaggia/Saeco models (Saeco Poemia HD 8323, HD8325, HD8327, Gaggia Baby and others) are compatible with E.S.E. pods.
Other brands like Breville, Hamilton Beach, Clatronic (all of them are OEM manufactured, that means one factory in China makes the same coffee makers under different labels) could be or could be not E.S.E. pods compatible. You should check if there is a special E.S.E. sign on the machine or in the manual.
You still can use pods in any coffee maker with pressurized filter baskets (that mean almost any pump espresso maker for home use). Nevertheless the result would be little bit poor. You can't use pods with unpressurized filter baskets.
2. The E.S.E. (Easy Serving Espresso) itself is a standart developed by italian company called Illy. It is famous name in the coffee world.
This standart regulates form (round with holder), size and dimensions of the pod (44mm in dimater) and weight. It's always 7 gramms (.24 oz) of finely ground and tampered coffee inside.
The standart is open, so any coffee producer could make E.S.E. pods. Unlike single serve capsule systems like Nespresso, Dolce Gusto or Keurig that are proteced by patents. That's why pods are cheaper than capsules. Nevertheless in terms of price per cup pods are more expansive compared to using whole beans and coffee grinder.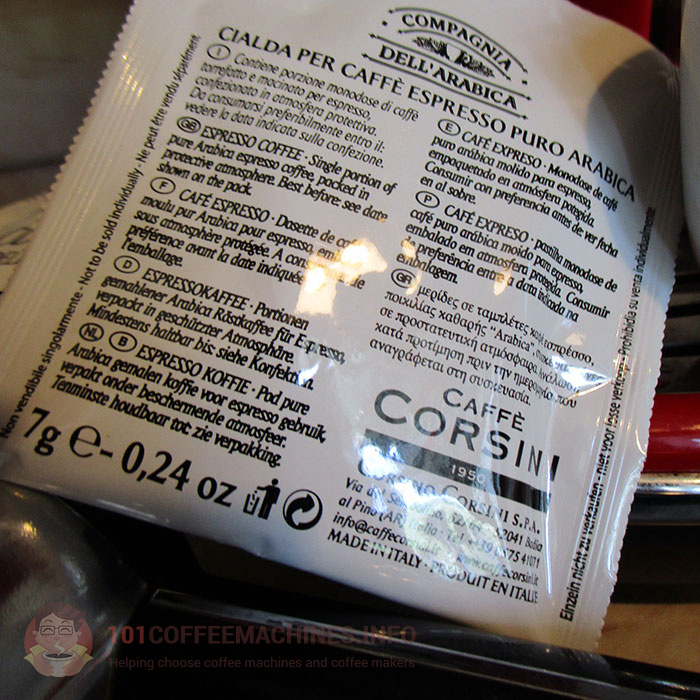 3. ESE is not the only pod (cialda) standart. But the most popular one. ESE pods combine easiness and cleaness of single serve capsules and control over the process like in traditional approach with ground coffee.

However, pods also combine the cons of both ways. Pods are easier to use, but not super easy compared to capsules. I think that's the reason why cialdas loose their popularity. Majority of people that are seeking cleaness and easiness switch to Nespresso/Dolce Gusto/Keurig etc. Real espresso lovers prefer fresh ground coffee and think that ESE pods give more watery taste and less crema. And I personally agree.
Still ESE pods are 'golden middle' and reasonable choice in some cases. Like in case when you left your grandma in your house and have only five minutes to explain her how to make coffee.
4. Anyway, how to brew espresso using ESE pod? Read my step-by-step guide with photos below or simply watch youtube video that I filmed for you.
Step 1. If you have De'Longhi's coffee maker, you should change filter in your portafilter. Choose one with ESE sign on the bottom (it was in the box). For other coffee makers simply use single shot filter.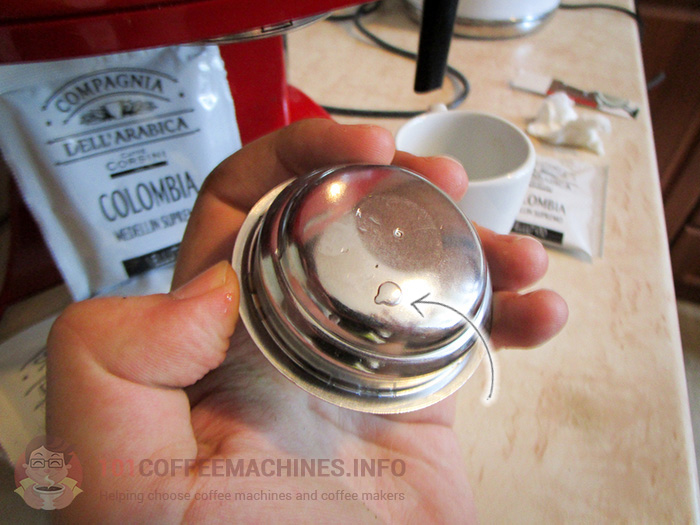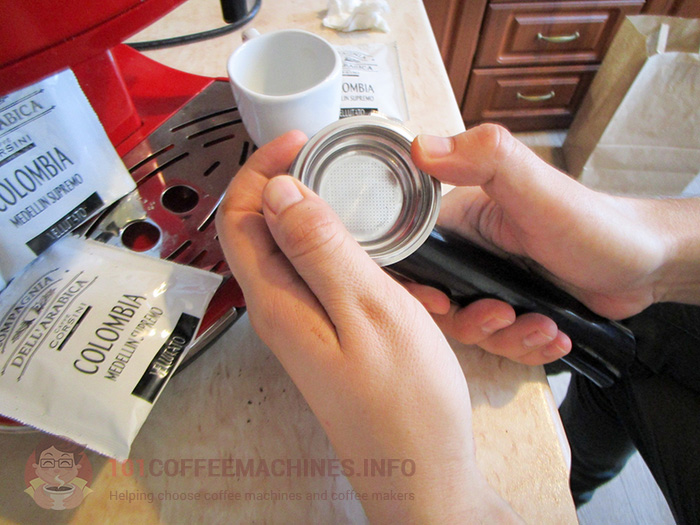 Step 2. Open the packet. Each pod is packed in sealed in water- and airproof package to keep coffee as fresh as possible.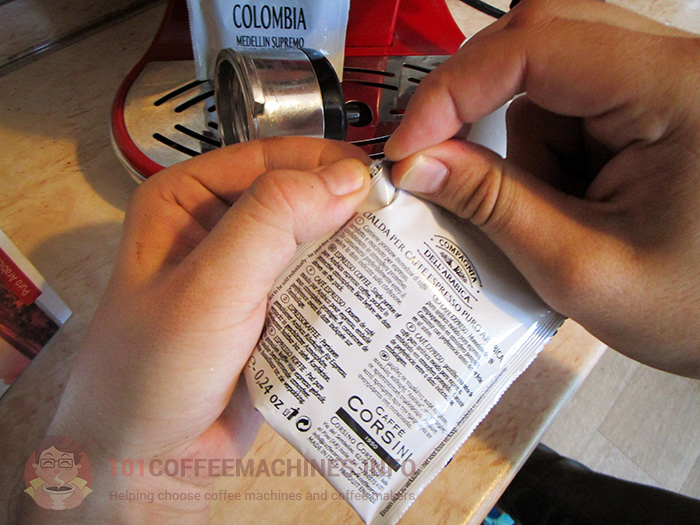 Step 3. Put the pod inside the filter. No need to tamper!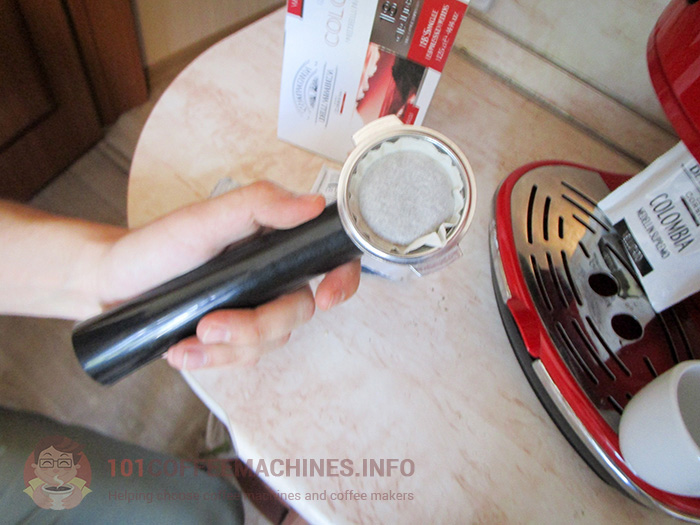 Step 4. Install the portafilter and start the brewing proccess as usual.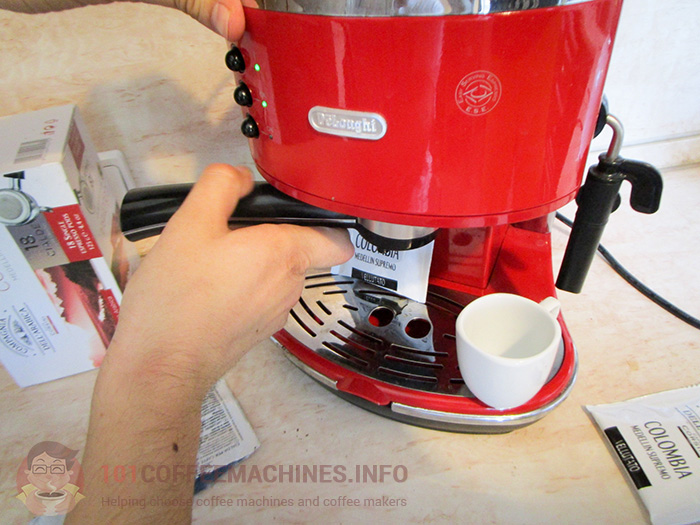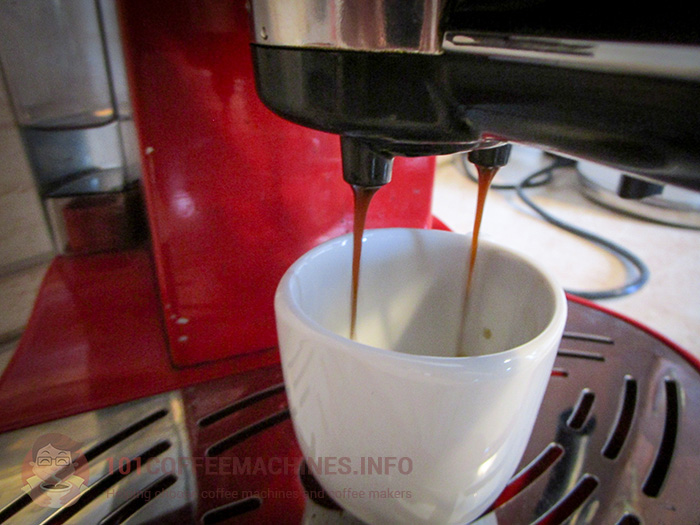 Your espresso is ready, sir! Now you simply need to throw away used pod. It's biodegradable, by the way, since pod filter is made of paper. And there is no need to wash the filter or brush away ground coffee on the table. Clean and simple.
Where to buy ESE pods? There are variety of ESE pods sold on Amazon
I NEED you opinion. Please rate my review:
23 comments:
Have some doubts which model to choose? Ask me!