Comments: 25↓ specifications & manual ↓
Bialetti is a company that invented moka pots. However, today many other brands offer Italian stove top coffee makers for 2 or even 3 times lower price. Is there any real difference between them except the famous 'little man with the mustache' logo, which Bialetti proudly put on its models? (Spoiler: yes)
I decided to compare stainless steel versions, since my new kitchen is equipped with a induction stove (classic aluminium moka pots like Moka Express or Brikka can't work with it). I choose a Bialetti Venus by Bialetti ('Made in India according to Bialetti's quality standarts' was written on the box) and a similar moka pot by some unknown brand from China (almost 3 times cheaper). Both are for 4 cups, which equals to 160ml. Here they are: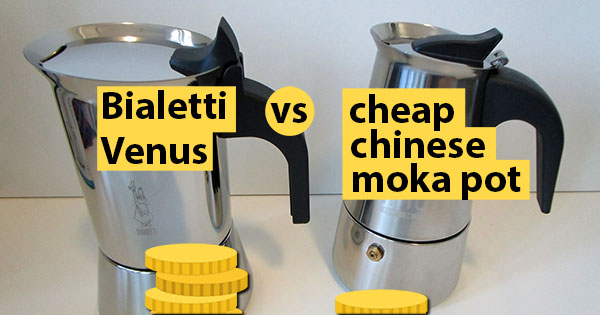 The Chinese moka pot that I bought is sold under different names in different countries. Usually it costs less than Bialetti's one:

In the States you may find it in stock as a Stovetop Espresso by Túasia, AMFOCUS Stovetop Espresso Maker or VonShef Stovetop Espresso Coffee Maker. Similar Inox moka pots are sold also by Primula, BEMINH, Mixpresso Coffee, WeHome, MAYMII, MODIN and Maggift brands.
All these models as I assume are OEM manufactured products. The "original" noname Chinese coffee maker is available on Aliexpress.
Exactly the same model could be found in the UK. Here it is known as 6-Cup Espresso Coffee Maker by Kurtzy (ATWFS, Linaatales, Tooltime, KING HOFF and Yosoo sell identical stainless steel pot as well). On the German market and in other European countries it is known as Generic Moka Espressokocher, Cuigu Edelstahl Moka Pot, HuntGold or UniqueHeart. In Asia (Indonesia as an example) they don't bother to invent brand names and sell it just as namless stainless steel moka.
If you will search for stainless steel moka pot on your local Amazon, then likely you will find more clones. They all look the same and, based on reviews anaysis, they all have similiar drawbacks, which I found in my specimen as well.
So let's investigate the differences between cheap Chinese moka pot made of steel vs original Bialetti Venus. I will not describe the unboxing process (though Bialetti packaging was better) and focus on the materials, construction, coffee taste and temperature:
1. Materials used
Both coffee makers are made of stainless steel. However the thickness of the metal is different, Chinese one definetly has more slim edges (hereinafter on photos the Bialetti is on left while the Chinese one is on right):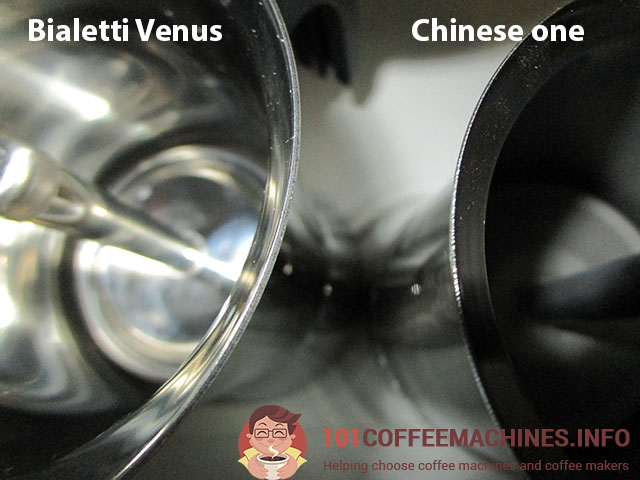 The fact that Bialetti uses a lot more metal while producing their stove top espresso makers is also proven by the weight. According to my kitchen scale it's 544 grams (19.2 ounces) in the case of Bialetti vs 330 grams (11.6 ounces) in the case of its counterpart. Both measurements are made without boxes: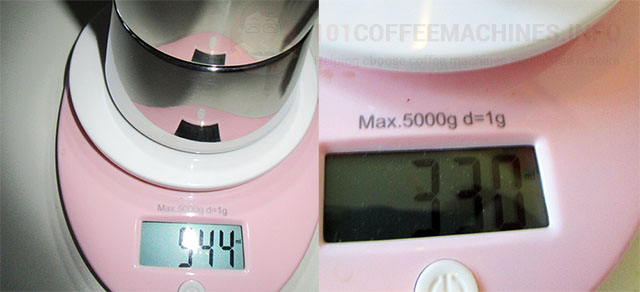 Different weight changes the brewing procces, by the way. I will describe it below.
❕ The main thing, that dissapointed me was the weirdly coated bottom section in Chinese moka pot. While the Bialetti has a equaly shiny polished steel both outside and inside, the bottom chamber of the second coffee maker has a layer of some strange material: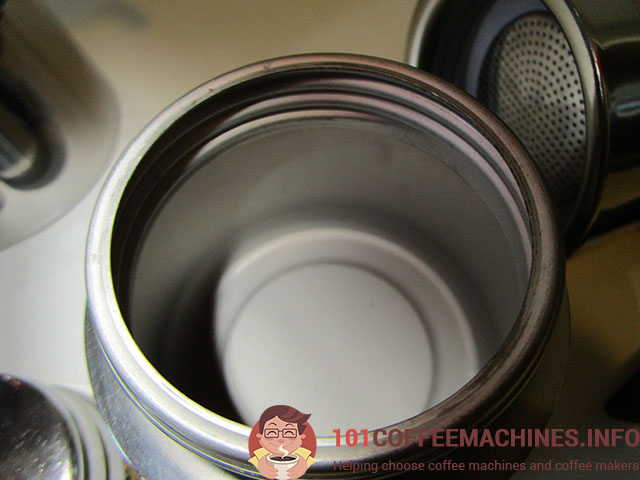 I made a brief analysis of reviews and customer photos of all above mentioned clones (Primula, AMFOCUS, VonShef , MODIN, Maggift etc). Other people report the same, so it's not just because my specimen was defected.
Some people assume that it's unbrushed steel. However, mainly due the specific smell (this fact itself could be listed in cons) I think that they put a layer of some non-stick coating inside. Either because it's cheaper than polishing it from inside or because they use less chromium/nickel in the alloy (they are needed to make the metal stainless). That's why inner parts that are constantly in contact with water have to be covered by some protective surface in order not to corrode.
Anyway, the reason why Chinese-made moka pot has this covering is not so important. What important is that there is some strange smelly thing inside, not just the shiny polished steel.
The same coating, but in less amount, could be noticed in the upper chamber as well. See photo below:

2. Construction
Generally the construction and design of both stove top makers are eqaul. Chinese one even has the identical funnel and gasket: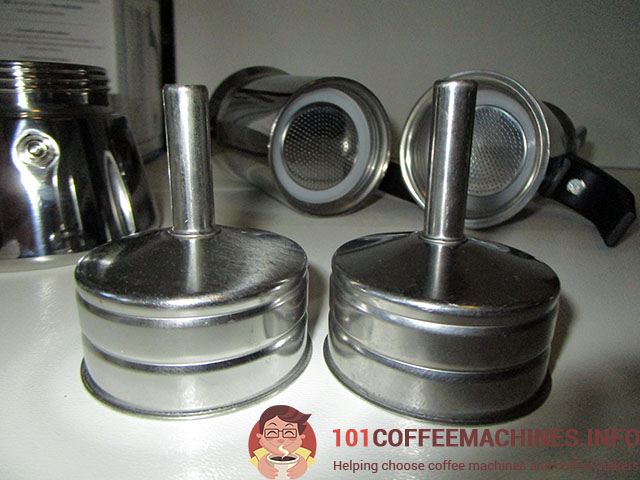 However, what is really terrible and annoying (even more than strange smelly internal surface) is the built quality and the plastic handle combined with the lid opener. Let me show it in details:
My Chinese moka pot (as well as Primula, ATWFS, Kurtzy and most of other clones, which apparently are made using the same technical process) has unfinished welding seam on the upper part that is visible from inside. The same defect was reported by other users, for example, you can notice this defect even on relatively well-rated model by VonShef (check on amazon):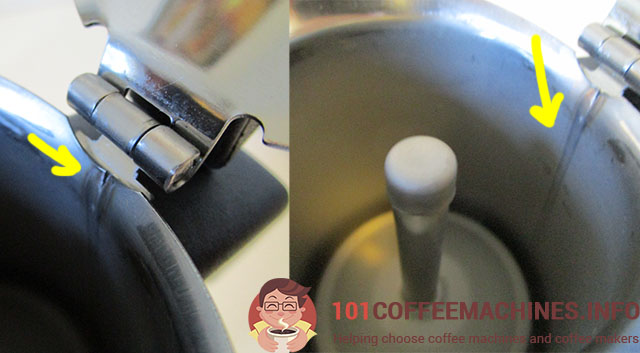 Needless to say that original Bialetti Venus doesn't have such "scar":
The flimsy plastic part, which is used as a handle and the opener for the upper lid on Chinese models, have folowwing drawbacks:
It's small and it's uncomfortable to handle, morover, when you will try to use it as a lid opener, your thimb will likely touch the hot metal (at least you are not a child with small fingers)
It's attached with one(!) screw. No surpise, that users often report that the handle come off quickly.
Finally the lid moves and sounds like a door of 40 y.o. Renault compared to any modern car:
My last observation is about emergency valve that is located one the side of the bottom chamber and that is used to lower the pressure if the funnel would be clogged. They are different:

Bialetti uses a special anti-scale valve (on the left). That is how it's described in the manual:
The Bialetti inspection valve is a patented valve, which has been designed to guarantee the use of the coffee maker in complete safety. Using the coffee maker with drinking water entails the risk of formation of lime scale in the hole of the safety valve, causing the clogging of the valve itself and the malfunctioning of the product.
With the Bialetti inspection valve, it is very simple to avoid clogging arising from lime scale: just move the small piston coming out of the valve along its axis when washing the coffee maker.
3. Taste and Temperature
As I mentioned above the fact that Chinese has thinner metal body affects the brewing proccess. Bialetti's upper chamber stays cools longer, while all parts of Chinese coffee maker becomes hot very soon. That means that temperature of extraction is higher on Chinese one. It's generally condidered to be bad for the coffee taste (because it may become bitter), however it's better for lovers of hot coffee.
Here are photos of coffee temperature measurement in Bialetti Venus and in ATWFS moka pot just after brewing on gas cooker (photos kindly provided by my reader kroleg-m):

I NEED your opinion. Please rate my review:
25 comments:
Have some doubts which model to choose? Ask me!