Comments: 62↓ specifications & manual ↓↓ EC9335 vs Breville Express ↓
De'Longhi La Specialista EC 9335 will be available on the global market since 2019. However, I had a chance to test this machine during the IFA 2018 Trade Show in Berlin this September. Thus my article is probably the first DeLonghi EC9335M review on the Web. I will add more information and thoughts later because DeLonghi is likely to make small modifications before launching serial production. Nevertheless, general facts and conclusions will not change.
La Specialista is presented by De'Longhi as the first semi-professional espresso machine in their model range.
However, it's barely true. On the contrary, I believe it is perfect for any beginner who doesn't want to dig deep into all the espresso 'science' but still wants to have a control (or illusion of it) over the process that fully automated machines (DeLonghi ECAM22110 as an example) rarely give. And it's definitely not for any real home barista wannabe.
What you should know about Delonghi La Specialista, that it is, in fact, a well-known De'Longhi Dedica Deluxe espresso machine plus Delonghi KG520 grinder combined in one fancy Breville/Sage alike looking body. There are some new features (read below), but there is nothing that makes La Specialista a professional equipment.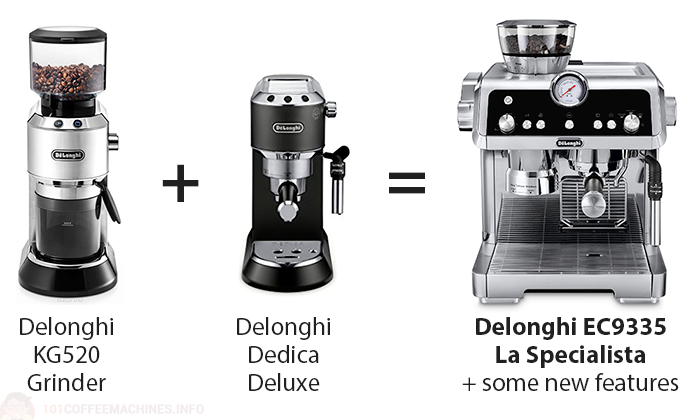 1. Burr Grinder with an integrated tamper
The left part of these machine is a coffee grinder. It is a decent grinder with real burr set (see my article about types of coffee grinders), which is exactly the same as used in the stand alone KG520 and KG521 grinders by DeLonghi. It has numerous grind level settings with the finest one being fine enough for espresso.
The fact that the grinder is integrated into the espresso machine body doesn't mean that process is automated. You will need to put the holder under the grinder, fill it with ground coffee (yes, you can grind directly into the filter basket) and then move the holder to the right.
The new thing is an integrated tamper with pressure limiter. With DeLonghi EC9335 you don't have to tamp coffee in the filter manually. Just use an arm on the left side of the machine while the portafilter is installed under the grinder. This arm will push down the cylinder, which will press the coffee.
No matter how much force you will use, the integrated tamper will limit the tamping force to approx. 19-20 kg, which is considered to be an ideal value for espresso brewing. Since the holder is fixed you will get an ideal 90-degree angle also.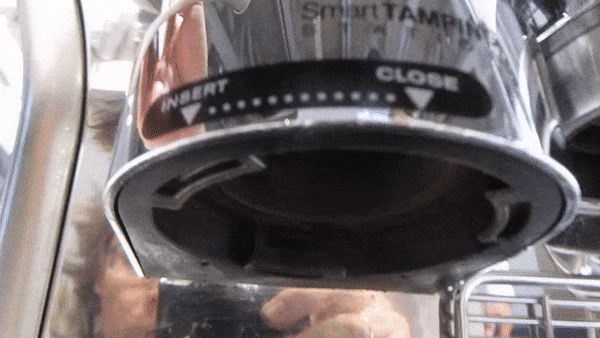 The tamping is especially important for machines with unpressurized baskets (I described the difference in my Delonghi EC155M review). On the other hand, La Specialista comes with pressurized dual wall filter baskets that are used in any other modern espresso machine by Delonghi. This is the first fact why it is not a semi-professional machine by the way.
However, even with such filter type right tamping matters. Integrated tamper helps a user to avoid main tamping mistakes that beginners usually make: inconsistent tamping pressure and not perfectly flat coffee puck.
Another new feature of the grinder if compared to the stand-alone Dedica KG520/521 is the additional adjustment, which may be needed to tighten burrs when they will wear down – see §11.9 of the user manual below.
Delonghi also promises to introduce something that is described as "two sensors guarantee the optimum grinding settings and the perfect amount of espresso powder with every grind". That's the only moment I didn't fully understand. Didn't notice any sensors under the grinder. Let me know in comments below if you know something about that function!

2. The Espresso Machine
As I already mentioned above "the coffee part" is very similar to Delonghi Dedica Deluxe. I will briefly repeat key facts:
It has auto dosing functions with thermoblock as a heating element, which is not perfect for a professional machine (since the temperature is not super stable during brewing). However, it's the best option for a home user, because:

It can give a bigger amount of hot water and steam (while the boiler is always limited by its capacity). In other words, boiler-based machines are designed to brew only one or double shot of espresso with right temperature. With thermoblock you can brew a big 150ml cup of cafe crema.
It's faster. It needs only 30-40 seconds to heat up after you switch it on.
You can regulate temperature settings (three options: normal, a bit hotter and a bit colder)
The machine has a memory for drink volumes. That means that when you select espresso recipe on the rotary knob above, the machine will stop automatically when it will be 40ml in your cup. There are two more preset options: "Coffee" and "My" button. You can program and change the volume settings for all three recipes.
Unlike Delonghi Dedica, La Specialista has an independent heating element for milk frothing, which makes it easier to make several cappuccinos in a row (no need to wait when thermoblock will cool down from steam temperature to coffee temperature).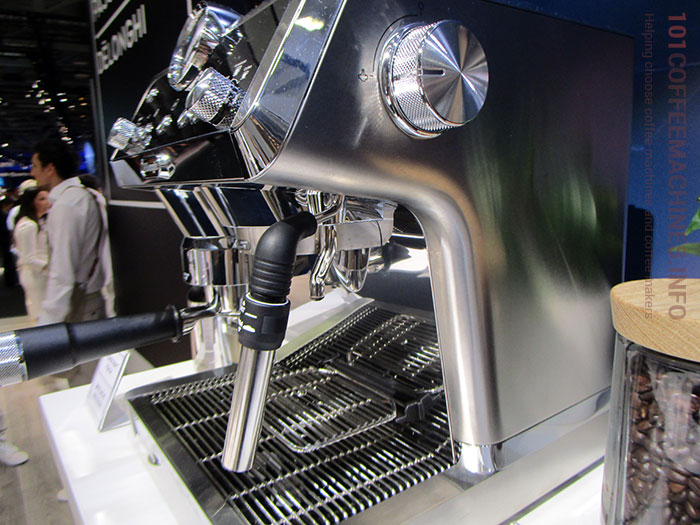 The

360° rotational 

panarello steam wand on the right, which is used for milk frothing, has a "Flat"/"Foam" regulator. Move the ring up to just warm up milk, making almost no bubbles, or move it down to make a rich foam for a classic cappuccino.
The portafilter has a slightly different design (if compared to the EC680/685), however, from the technical point of view, it is identical. The only difference that coffee outlets are now made like on professional machines (see photo below). La Specialista uses 51mm filter baskets, the same that is used on Dedica. There are no unpressurized baskets in the box, as I already mentioned in the beginning of the review, only two dual wall filter for 1 or 2 cups.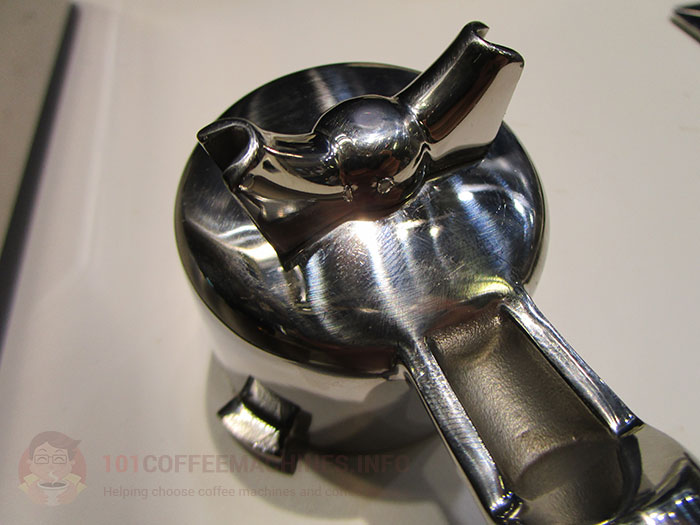 Cafe Americano for Misters and Tea for Sirs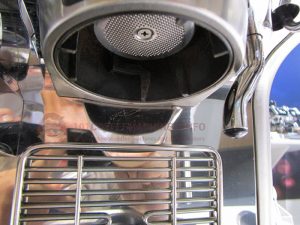 The really new feature, which is introduced in the DeLonghi EC9335 espresso machine and which I really like, is a hot water outlet. The special tube is conveniently located near the portafilter, exactly above the cup.
Surely most of the at-home espresso machines with a steam wand can deliver hot water. If you will open the steam on the coffee mode (means – without heating the water up for the steam) than the hot water will come from the steam wand.
Many coffee lovers use this trick to dilute espresso or to make a tea. However, with a separate outlet, it becomes more comfortable to do (no need to move the cup). Moreover, since DeLonghi La Specialista is automated, it allowed them to make automated 'americano' and 'tea' recipes:
1. Americano/Long Black. This program is not only about the volume as others ('espresso' and 'coffee'). It makes caffe americano in one touch and in the exactly the same way as it is made in European coffee shops. First, the machine will deliver hot water using this new outlet. Secondarily, it will add an espresso shot to the cup (40ml by default, but you can change the volume)
It's not the same as making a super big espresso, e.g. pouring 200 ml of hot water through one coffee puck. Because of the fine grind level and high pressure, the taste will be spoiled due to over-extraction. After 50-70 ml the coffee powder will start giving away a bitter taste.
This means that if espresso is too strong for you and you prefer bigger cups of coffee, you have three options:
Throw away the espresso machine and buy a classic drip-machine for classic American coffee (espresso machines are for espresso after all)
If you still want to make something similar to American coffee on the espresso machine than you have two other options. New Delonghi La Specialista allows you to make both:

You can make cafe crema/Australian lungo. You use the same pressure as for espresso, but on a medium grind and using 120-160ml of water. Just change the grind settings on left, use 2-cup basket and choose 'coffee' recipe on the rotary knob of the coffee maker.
You can make cafe americano, as I already described above (add hot water to espresso).
I personally prefer so-called Scandinavian americano. They make it vice versa – add espresso to hot water. This helps to keep the crema (espresso foam) on top of the drink. It's a pity, that La Specialista doesn't allow to change the sequence. But you can make it manually in two steps: deliver hot water (the 'tea' button), then brew the double shot of espresso. Hooray! Delonghi changed that recipe in the final version of La Specialista and now it's my favorite Scandinavian Americano (they called it 'Long Black'). Does anybody from Delonghi read my reviews? 😉
2. Tea. Here we come to the tea recipe – another new feature, which Delonghi introduced in the new EC 9335 model. There is nothing to write about much, the button activates the hot water supply to make a tea. Yes, you can program the volume, and yes, the general temperature setting affects this recipe as well.


Other Less Important Features
The pressure gauge. It shows you a current pressure inside the system. The thing is barely useful if you use default pressurized filter baskets.
Solid metal body in the Breville style.
Second retractable cup stand for small espresso cups (to avoid splashes).
A big surface of the cup warming plate on the top of the machine.

Overall Conclusion of My Review
Update for the US market (July 2019). We now know the recommended retail price in the States, which is $749.95. Just for understanding – the Breville Barista Express, which is a main competitor for La Specialista, has a lower suggested price tag. It's a surpise, because on other markets Delonghi sets the similar price. This means that for American customers I would rather recommend choosing Barista Express (read my comparison of these two models below). Unless Delonghi will drop the price (and it will in 2-3 monthes as it do with any new model).

That means that Delonghi lowered the price – initially La Specialista was expected to be more expensive than Barista Express (at least on European market). That also means that Delonghi gets a few more points in the comparison with Breville (read below).

The main feature, which I really like is the new integrated hot water outlet, which allowed to make semi-automatic recipes for the 'right americano' and for the tea. The machine is not solely focused on espresso and allows to make almost all kind of hot beverages.
What I don't like is marketing. It is not even a semi-professional machine. It's a perfect equipment for an experienced amateur for at-home practices, not more. Moreover, since it's combined device (grinder+espresso maker in one body) it will be hard to upgrade if you will decide to a buy more professional grinder, for example.
Delonghi La Specialista is like a fitness instructor. It gives you a possibility to make every step from bean to the espresso by yourself. On the other hand, each step is controlled. La Specialista gives you almost no chance to make mistake and spoil your coffee. It helps to correctly tamp the coffee, watches for the right temperature and pressure (due to pressurized baskets) and on default settings every recipe (espresso, long coffee or Americano) has ideal proportions of coffee and water.
The only problem is that there are too many alternative options in this price range:
For the expected price tag of Delonghi EC 9335, you can afford a fully automated machine like Delonghi ECAM22.110 (see my review). For a person who seeks automatisation, it will be more preferable, the result will be similar with less manual operations.
A real 'barista-wanna-be' would choose a better machine (really semi-professional) with bigger filter diameters, unpressurized baskets, PID control, solenoid valve and boiler as a heating element. The best option for the grinder, in that case, would be a stand-alone model, that will give you a possibility to upgrade later.
An ordinary amateur will be definetely satisfied with this machine. On the other hand, he will have a chance to save by buying separately Delonghi Dedica Deluxe Espresso Machine and Delonghi Dedica Grinder. The only important thing he will miss in this setup (EC685+KG521 or EC685+KG520) is the automated recipe for Americano (diluted espresso).
Delonghi La Specialista vs. Barista Express by Breville and Sage
Moreover, entering the 'semi-professional' segment of the espresso machine market, Delonghi meets  Breville (in the States) and Sage (UK). These brands focus on similar devices for years and succeed. By 'similar' I mean semi-automated combined coffee stations (grinder+machine) in one fancy brushed stainless steel body.
As you may know from my Breville Duo-Temp Review I personally don't like Breville (or Sage) much because of its value for money (if we put the design apart).
However, even I should admit, that it would be hard for Delonghi La Specialista to compete with Breville's Barista Express model. Delonghi's new model is expected to be more expensive (hope they will change their mind and reduce the retail price), while Barista Express offers a bit more professional features. To name few it's both pressurized and non-pressurized filter baskets with more professional diameter, more grind settings, 3-Way Solenoid Valve and the similar hot water outlet…
A few advantages of the Delonghi in this comparison (La Specialista vs Barista Express) is automated tamping system and automated americano program. Plus the fact that all Delonghi parts are compatible with other Delonghi machines and there would be no problem to buy replacement parts in any country of the world even in several years after. Breville/Sage is known for a habit to stop supporting older models soon and many parts from newer models don't fit older ones.
P. S. In my humble opinion a simple update of the Delonghi Dedica with an added hot water supply and automated americano recipe would have a greater success.
Update (29 Jan 2019). La Specialista starts to appear on first online shops under 'coming soon' status (the first one was Australian's The Good Guys). Highly likely that already in February we will find out the final retail price and I will be able to update my review. So far I can add that EC9335 will come with the welcome set, which will include milk jug (pitcher), brush and cloth for cleaning. Breville's style again 😉
I NEED your opinion. Please rate my review:
Delonghi EC9335.M Coffee Machine Specifications:

Download manual:
Download pdf manual
Machine type:
Pump espresso machine with integrated grinder
Width х Deep х Height:
32 x 37 x 45 cm
Coffee used:
Beans, ground coffee or E. S. E. pods
Grinder:
Steel burr set, 6 steps adjustable
Brewing group:
Metal filters with double floor
| | |
| --- | --- |
| Heater: | Thermoblock 1850 W |
| Max pressure: | 19 bar |
| Water container: | 1.8 litres / 1.9 quarts |
| Bean container: | 250 g |
| Waste container: | No |
| Cappuccinatore: | Manual 'pannerello' |
| Max cup height: | 12 cm |
| Controlling: | Temperature adjustment (3 levels), automatic dosing with coffee volume adjustment, symbolic display, pressure gauge, burr adjustment |
| Peculiar properties: | Hot water output |
| Colors: | Metal with black parts |
62 comments:
Have some doubts which model to choose? Ask me!