No comments yet↓ specifications & manual ↓↓ comparison table ↓
Delonghi Magnifica Start is, as the name suggests, the new entry level automatic bean-to-cup espresso machine by Delonghi. New models are in stock since October-November 2022, so it might take some time to arrive to your local distributor. Please also check my video review on this machine at YouTube.
In fact, Magnifica Start is a name for a whole range of slightly different models։ ECAM220.21, 220.22, 220.30, 220.31 etc. In this review I have one of the top of the line models – ECAM220.30.SB. "SB" here stands for the color only, silver black. There is no functional differences between different colors.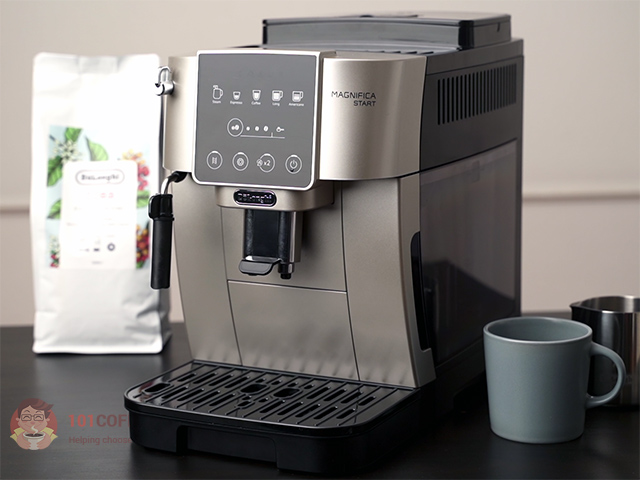 Magnifica Start is a yet another effort to make a replacement for a super popular Delonghi Magnifica series (simply Magnifica, without Start: ECAM 22.110, 21.117), which has been on the market for at least seven-eight years as for now. Older Magnificas were – and still are – very reliable entry-level espresso machine that pull decent and strong espresso shots. You can check the reviews on Amazon to unsure that people are overall happy with it:
So, the new Magnifica Start – it is basically the same machine, built on the same platform, however with some improvements. Above all it is new controls with touch-buttons and, which is more important, several new recipes. Or special modes for brewing black coffees.
Magnifica Start – as well as previous Magnfica – can brew espresso shot with touch of a button, it has 3 temperature settings, three-step adjustment of coffee intensity, volume of any drink can be regulated. And finally you can adjust its stainless steel conical burr grinder, which has in total 14 setting from the finest one to the coarsest. Also, it can make coffee using ground coffee powder, which… is always a bad idea. Honestly.
Freshly roasted and freshly grinded coffee is a must for a good flavour, so if you are still using preground coffees, please, check some specialty roasters near you.
However, lets get back to our Magnifica Start. Its brewing unit (or some time they call it infuser) – it is the same part that is used on the majority of Delonghi's models, – so, this brewing unit has one of the biggest capacity if compared to other automatic espresso machines by other brands for at-home use. In maximum it can use up to 14 grams per cup. And you can pull it out for cleaning, it is hidden behind the water tank, and you better clean it regularly if you want your coffee to be perfect.
You can also make cappuccinos and lattes, but in "manual" mode. You need to froth the milk by yourself using steam wand on the left, and then add milk foam to espresso to get cappuccino.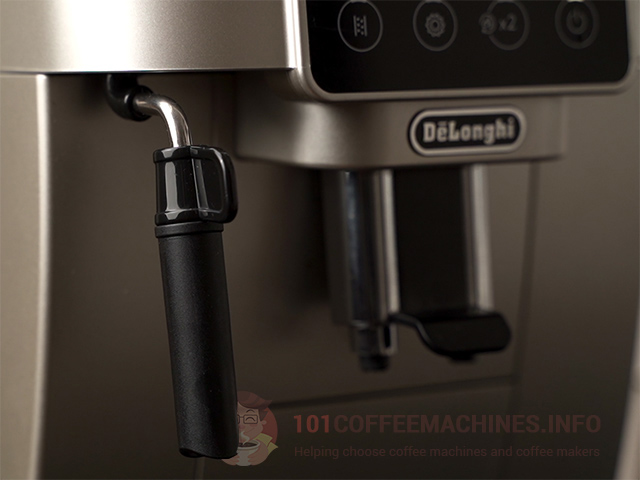 However, this machine is primarily made for black coffees. So it's more important to show you special recipes or new special programs, which make this model outstanding among other entry-level espresso machines.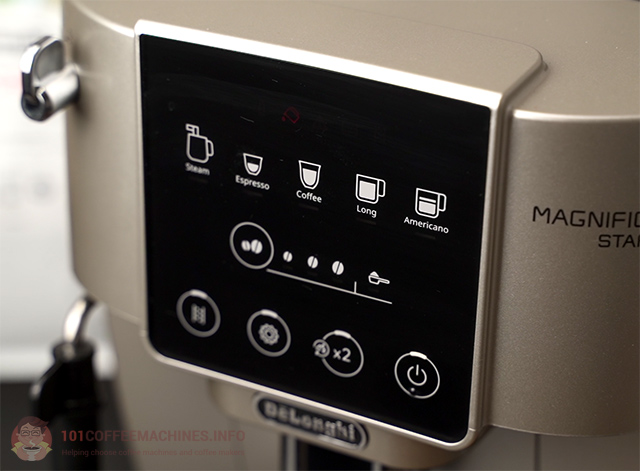 First of all, it's "Americano" recipe for brewing a caffe americano, or American-style coffee. More expensive models of Magnifica Start's line – in particular my ECAM220.30 as well as ECAM220.22 – they have it. It makes americano in exactly the same way as it is done in cafes with professional machines and baristas, at least here in Europe. Machine brews one portion of a strong espresso, then automatically adds hot water into it:
It's better than brewing one big "espresso" from a single load. It helps to avoid over extraction. As a result – classic Americano will be less bitter, and much more flavorful. Default setting are 40 ml of espresso + 110 ml of water, however, you can adjust it. Please remember that these recipes can be found only on Delonghi Magnifica Start with numerical indices .30 and .22 at the end.
It is remarkable that previously Americano recipe was implemented only on expensive, top-notch super-automatic machines by Delonghi. Now the cheapest, entry-levels models got it. And this is good.
Another approach to make a big cup of a decent black coffee is to use lower pressure. This recipe in Delonghi coffee machines is usually called LONG. And they made it on some of the Starts as well. So if you touch corresponding button, pump will work in pulsating mode. Working-pause-working-pause, and so on. Roughly speaking it makes overall pressure lower, overall time of brewing longer, so the taste is richer, but the coffee in your cup still isn't over extracted.
Moreover, there is one more special mode or program for brewing black coffee on these machines. In particular model ECAM220.31 has Doppio+ recipe. Doppio+ brews very strong espresso, using above-mentioned 14 grams of coffee per cup and making a long pause in the beginning to pre-brew or pre-infuse coffee grounds.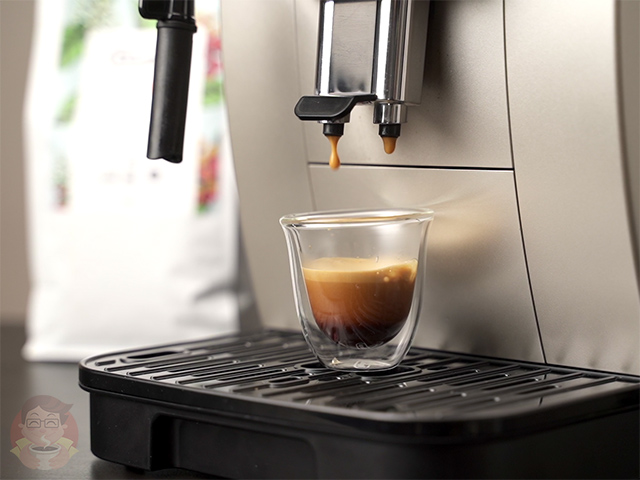 There is few more usability improvements also. For example, take a look on the new cup stand. Yes, now it's black plastic, not a shiny metal. However, due to this very plastic and due to these lines, that are little above the surface, cup doesn't make jingle sounds while brewing, doesn't move on the cups stand because of the vibration – this was a popular complain about previous Magnifica.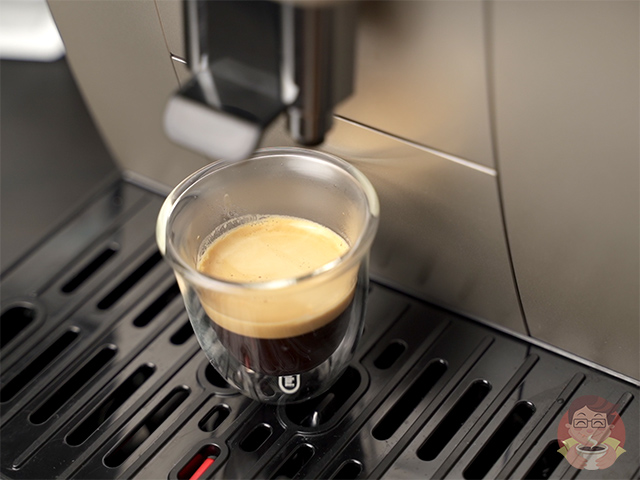 My Review's Conclusion on Magnifica Start ECAM220.xx
Five key points to summarize this review:
Delonghi Magnifica Start is an upgraded version of previous Magnifica (ECAM22110), which proved it's reliability and coffee quality.
The new functions like Americano, Long and Doppio+ recipes are taken from much more expensive Delonghi models, now these recipes are available in budget class, which new Magnifica Start represents.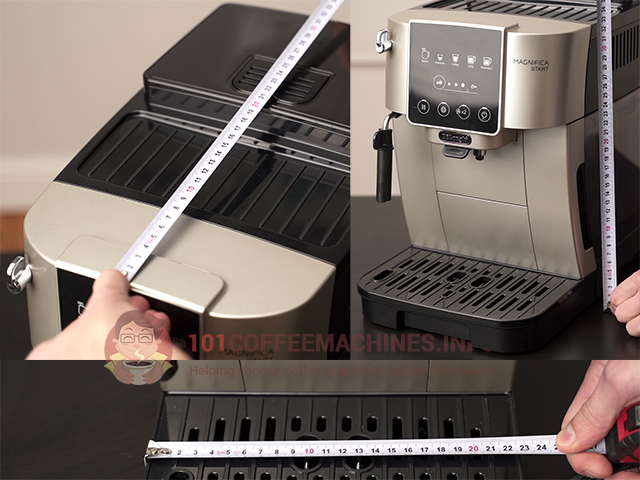 This machine is more about black coffee rather than cappuccinos and lattes. New functions is especially important for those of you who like you coffee to be served in the big mug. I strongly recommend new Magnifica if you prefer bigger portions of coffee on your mornings, not a tiny espressos.
However, you still can make a cappuccino frothing milk foam manually.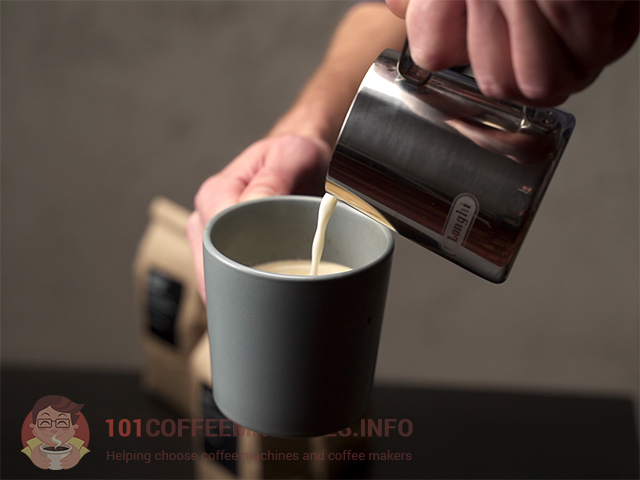 Different models under are sold under the same name ("Magnifica Start"), which could be confusing, so check the comparison table below.
Delonghi Magnifica Start models: comparison table
Model
Color
Espresso
Coffee
Long
Americano
Doppio+
Price
ECAM220.20.W
White
➕
➕
➕
➖
➖
Check
ECAM220.21.B
Black
➕
➕
➖
➖
➕
Check
ECAM220.22
W – white,
GB – gray and black
➕
➕
➖
➕
➖
Check
ECAM220.30․SB
Silver and black
➕
➕
➕
➕
➖
Check
ECAM220.31․SSB
Fully silver front panel, black sides
➕
➕
➕
➖
➕
Check
Special situation is on French market, where Delonghi unexpectedly uses different indices starting with FEB. Apparently:
Delonghi Magnifica Start FEB 2221 (FEB22.21) in France = worldwide ECAM220.21 model
Delonghi Magnifica Start FEB 2222 (FEB22.22) in France = worldwide ECAM220.22 model
Delonghi Magnifica Start FEB 2231 (FEB22.31) in France = worldwide ECAM220.31 model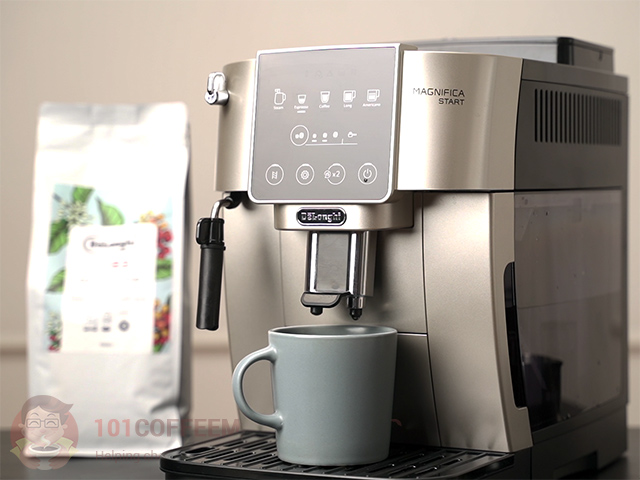 I NEED your opinion. Please rate my review:
Delonghi Magnifica Start ECAM220.xx Coffee Machine Specifications:

Download manual:
Download pdf manual
Machine type:
Bean-to-cup super-automatic machine
Width х Deep х Height:
24 x 43 x 35 cm
Coffee used:
Beans or ground coffee
Grinder:
Steel conical burr grinder, 13 steps adjustable
Brewing group:
One, removable, with a pre-brewing functions
| | |
| --- | --- |
| Heater: | Thermoblock 1450 W |
| Max pressure: | 15 bar |
| Water container: | 1.8 l (accessible from the front) |
| Bean container: | 250 g |
| Waste container: | 14 servings |
| Cappuccinatore: | Manual 'panerello' |
| Max cup height: | 142 mm |
| Controlling: | Adjustable coffee strength (3 steps), adjustable serving volume, adjustable tempertaure (3 steps) |
| Peculiar properties: | Special americano, long black and doppio+ recipes |
| Colors: | ECAM220.20.W - white, ECAM220.21.B - black, ECAM220.22.W - white, ECAM220.22.GB - gray and black, ECAM220.30․SB - silver and black, ECAM220.31․SSB - silver front panel, black sides |
Have some doubts which model to choose? Ask me!