Comments: 10↓ specifications & manual ↓
This would be a very brief post now, since I'm in a hurry to share my discovers before the end of the 11.11 sale on Aliexpress. I will update it late with more details and full review of 1Zpresso and Timemore grinders.
Straight to the facts. Manual coffee grinders are one of the rare espresso devices – except tampers, pitchers, knock-boxex and other accessories – that are worth buying at AliExpress. That's because Chinese coffee grinder factories not simply produce OEM-products, which will be labeled under Hamilton Beach/Oster/whatever. They do all the marketing by themselsves and…
The secret is that you can buy an original 1Zpresso or Timemore grinders on AliExpress for less. And that's not the case like when someone shows you cheaper copies or analogues of Western brands. No. When ordering something named like MYM54 or MYY47 coffee grinder… you are getting the very same 1Zpresso Q series grinder or new Timemore Chestnut C1. Personally checked!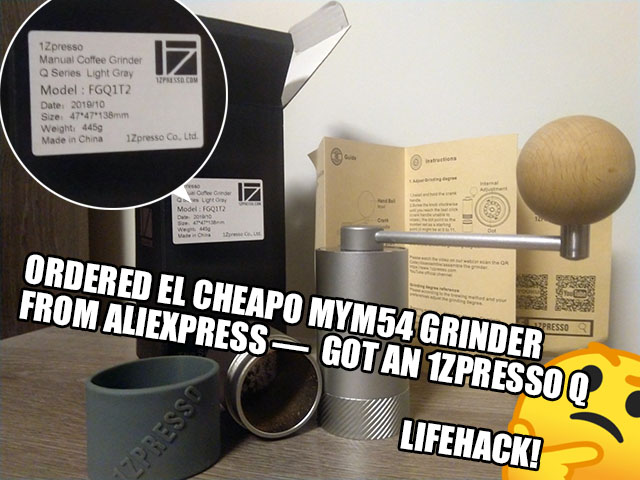 1. Timemore Grinders are sold on AliExpress under following names:
MYY47 Aerolite
MYY48
MYM51
MYM59
Price 09.11

$122

$117

$99
$71
Price 11.11
check
check
check
check
+ don't forget to collect special coupins here to save more – new codes every 2 h
Timemore model

Timemore Chestnut
Chestnut Nano
Chestnut Mini
Chestnut C1 (2019)
Amazon link
click
out of sale
out of sale
out of sale
Handle
Straight
Straight folding
Curved (easier to rotate)
Curved (easier to rotate)
Burr set
⌀38mm conical burrs. See difference between G1, G1s and GS2 below
Grind

Adjustment

stepped
Receiver

Capacity

~ 30 g
~15 g
~20 g
~20 g
2. 1Zpresso are sold on AliExpress under following names:
3. G1, GS1 or Gs2 and the end designates burr type. And the difference are:
First Generation G1/GS1
Titanium G1S
Titanium GS2
Type
Conical ⌀38mm
Burrs made in
China/Italy
Italy
China
Материал
Stainless Steel
Titanium Plated Carbon Steel
Hardness Vickers / Rockwell scale
620 HV / 55-58 HRC
2300 HV / 65 HRC
… to be continued…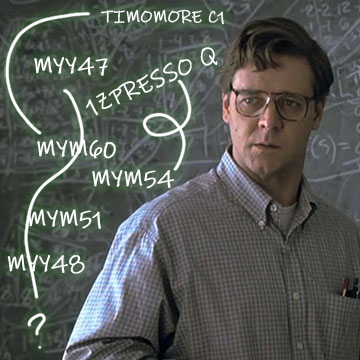 I NEED your opinion. Please rate my review:
10 comments:
Have some doubts which model to choose? Ask me!