Comments: 10↓ specifications & manual ↓↓ D6 vs E6 vs C60 ↓
One year ago Swiss brand launched the D6 – new automatic espresso machine, which became the most affordable machine in Jura's model range. It was available only in Europe until 2019, when Jura D6 appeared on the North American market – this March they start selling it in the US and Canada.
Quick note #1. There are, indeed, cheaper machines by Jura: A1 and ENA Micro. However, both models are built on minimized and simplified platform, which is very compact, but much less reliable – based on many reviews from both ordinary users and my friends working in service shops. Thus, I generally can't recommend buying A1/ENA. All the kind words addressed to Jura below refer only to full-size machines. The D6 is currently the cheapest among them.
The D6 has two versions: D6 15216 Platinum and D6 15215 Piano Black (on European Market it has a D60 index). They differ by color only. This model is going to replace the C60/С65 – previous leader of Jura's budget range. It's an entry-class model for espresso and cappuccino, very basic, especially if compared to Saeco or Delonghi super-automatic machines with similar price tags.
Jura D6 is equipped with semi-automatic milk frother of 'tube' type. That means that you don't need to practice with a steam wand to get the foam for your cappuccino, the tube will suck milk from a pack or bottle and the machine will produce the milk foam by itself. However, you should manually move the cup (milk output is located not where the coffee output is – see my video below), wait for indicator lights on the display, open the steam supply with a rotary knob and then manually close it and clean the system.
Some other cons of this milk frothing system:
It 'spits out' some amount of water in the cup in the very beginning of the cycle (you may see it on video).
You can't adjust the milk foam height to make hot milk with fewer bubbles – the machine always froths at maximum.
Quick cleaning of milk frother is made strangely. You can't start the rapid rinse cycle in one touch just after you made a cappuccino to keep the frother clean – the way it is made on many competing models. You have to:

either wait 10 minutes until the machine 'asks' you to clean the frother and press the button
or you need to run it manually from the menu, which will require you to make several clicks
However, as I already noted, the D6 is a typical entry-class model, so there is no surprise that the 'milk part' of the device is very basic and has a minimal level of automatization. After all, Jura D6 does make a cappuccino (albeit not in one touch of a button) and does it well – with good, long-lasting milk foam. Just for a comparison: Jura C60 have the same frother, C65 has the foam adjustment.
New Jura D6 = Jura E6 in the body of the C60
If you are familiar with other espresso machines by Jura, then it very simple to imagine the functionality of the new D6. It is, in fact, a Jura E6 put in the body of the C6/C65. Thus, Jura D6/D60 combines the advantage and disadvantages of both models.
| | | | |
| --- | --- | --- | --- |
| | Jura E6 | Jura D6 | Jura C60 |
| Official MRSP | $1,299.00 | $999.00 | discontinued |
| Amazon price | | | |
| Coffee used | Beans only | Beans only | Beans or ground coffee |
| Bean hopper | 280 g / 10 ounces | 200 g / 7 ounces | 200 g / 7 ounces |
| Should you move the cup? | No, if the cup is wide enough (~8cm/3.2″) | No, if the cup is wide enough (~8cm/3.2″) | Yes, even if it is wide cappuccino cup |
| Intensity settings | 8 | 4 | 4 |
| Display | 2,8", color | Text display, 1 short line | Text display, 1 short line |
| P.E.P. extraction (read below) | Yes | Yes | No |
| Wireless Ready | Yes | Yes | No |
Quick note #2. Wireless ready function is not something you should really look at. It's just a socket where you can plug the «JURA Smart Connect Bluetooth Adapter», which you should buy separately. Having this adapter installed you can control the machine with J.O.E. mobile app.
However, as any mobile-friendly coffee machine it's barely useful, because anyhow you need to be around it: put the cups, move the cups, remove the cups when the machine is switching on to avoid the situation when the dirty water after cleaning cycle (every time the machine switches on and switches off) will be in your cup… In the case of Jura D6, you should also manually control the steam switch as described above. In short, I don't see any meaningful use case for mobile apps in any espresso machine. The model being reviewed is not an exception.
Let's back together to comparison with the E6 and the C60
As you can see from the table above, the D6 keeps the limitations of the C60 – previous basic model of the brand, which is now discontinued but still can be found in retail. Most of these limitations are artificial. The manufacturer just needs the D6 to be simpler than more expensive models like Jura E6:
The by-pass for ground coffee is still in place, it's just deactivated programmatically and is used only for cleaning tablets.
The intensity (coffee strengths) settings, which in terms of the machine means merely the amount of coffee used per cup, are also programmatically reduced.
The short text display (even the word 'cappuccino' can't fit into it) looks weird on the machine which is sold for the almost four-digit price. However, it's understandable in the case of Jura brand – its espresso machines have always been less affordable than competitors.
The good news that all these cons are not making the Jura D6 much less functional. You still can make all the popular drinks and can expect the good full-bodied taste of espresso – that's what the brand is known and respected for. Even these limited adjustments are usually enough for an average espresso and cappuccino drinker.
What is more important is that here on the D6 – the cheapest full-size Jura – two features are introduced, which previously were installed on more expansive models:
The milk frother output moved to the left, and now it's near the coffee spout. It is still not possible to fill a narrow glass for latte macchiato without moving it. However, standard American mug is wide enough to be placed under both espresso and milk output. As I already mentioned above in my review, if the glass diameter is at least 8cm/3.2″, then it can be placed under both (coffee and milk) spouts.
By the way, Jura better matches to big mugs if compared to most of the other brands. For example, the maximum volume of a cappuccino is 800 ml / 27 fl oz. It's the maximum I've managed to get on this machine, milk foam volume depends much on the milk itself, of course. Delonghi also can get a similar amount. But all other brands (Philips, Saeco, Gaggia, Bosch, Siemens) can't.
A Pulse Extraction Process (P.E.P.) for espresso recipe is introduced.
What is P.E.P. technology on Jura?
It is a special way of espresso brewing, an analog of Doppio+ button on Delonghi machines. With the PEP on (espresso recipe), the pump is working in intermittent mode. That leads to a bit longer time of brewing (14 seconds vs 13 seconds for a 30 ml / 1 oz shot) than without PEP (coffee recipe). On the other hand, it makes a bit stronger espresso with more 'rounded' (balanced) taste. Dark roasted coffee blend with robusta, for example, will be not so bitter if compared to ordinary espresso recipe. The sour taste is also will be less acidic. The crema is also richer – watch my video below:
Other key points of Jura D6 (common to all Jura machines)
All the specific facts about this machine I already described. However, since it is my first Jura review on this blog, I will briefly explain key features of any espresso machine made by Jura (except ENA and Micro series). The D6 have all of them:
The brewing unit has enlarged capacity if compared to other brands: Saeco, Philips, De'Longhi, Bosch, etc. Jura can use up to 16 grams (0.56 ounces) of ground coffee per one brewing. That means that you can make a stronger espresso.
The brewing unit is not extractable. This fact has both positive and negative consequences:

Jura needs fewer cleanings and maintenance. Other brands with removable brewing groups require user to wash it regularly and lubricate. Unextractable unit also means more reliable and durable construction.
On the other hand, it makes Jura more sensitive to the lack of maintenance. You should regularly buy special tablets (Amazon sells it) and run cleaning cycles. After 2-3 years it is highly recommended to take the machine to a service shop, where it will be disassembled, manually cleaned and lubricated. It is uneasy to do it by yourself, even bolt heads on Jura are not-standard (see photo below). It's a hint – "Don't even try to unscrew me! 🙂 ".

15-bar pump by Invensys. The gold standard, all characteristics are the same as 90% of other fully automated espresso machine have.
1450-watt thermoblock with heats up fast – the device is ready to brew espresso in 32 seconds after being switched on.
Grinder with stainless steel burr set has six grind levels. However, in fact, there are 12 of them – you can rotate the knob and select intermediate values (between drawn white dots). Metal burrs are not better or worse than ceramic ones, which is used by Saeco, Gaggia, and Philips. At least for home use, I explained this here.
Adjustable coffee spout – maximum cup height is 11 cm / 4.3 inches.
Typical capacities: 1.9 l / 64 fl oz water tank (you'll need a space to the left and to the top to take it out), a container for beans on the right top with a capacity of approx. 200 g / 7 ounces, the waste container should be cleaned every 16 brewings.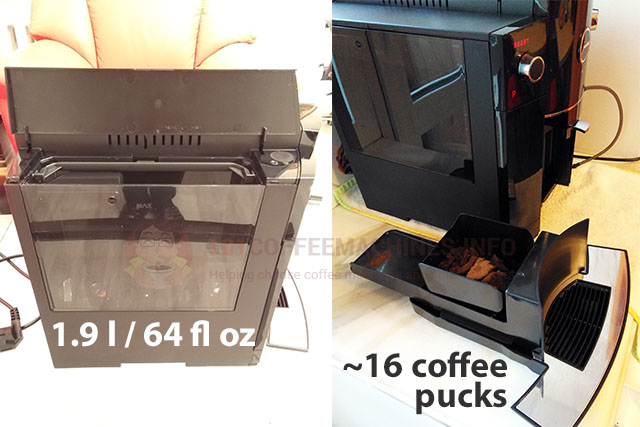 Tests and measurements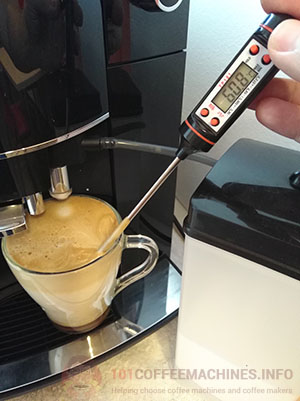 Does it make hot or cold coffee?
My sample shot of espresso was 67°C (153°F). The cappuccino was 62°C (144°F). Milk foam without coffee – 50°C (122°F).
How many recipes does it 'know'?
The full list of Jura D6's recipes with min/max volume adjustments:
Espresso (always in PEP mode): 15-80 ml / 0.5 oz – 2.7 fl oz
Coffee (=espresso without PEP mode): 25-240 ml / 0.85 – 8.1 fl oz
Cappuccino:

You can regulate milk foam volume in seconds. Yep, sounds confusing. You set how many seconds should the frother work for: from 3 to 60 seconds. One minute corresponds to approx. 550 ml / 18.6 fl oz of milk foam, but it depends on the milk, of course.
Coffee volume for a cappuccino is the same as on 'coffee' recipe: 25-240 ml / 0.85 – 8.1 fl oz

Frothed milk: from 3 to 60 seconds (see above)
Hot water: up to 450 ml / 15 fl oz
That's all. The machine 'knows' only 5 drinks (I don't count double drinks like double espresso). Two of them – without coffee 🙂
Is it loud?
Yes, it's a bit louder than more expensive Jura automatic espresso machines. Probably because less sound-proofed materials are used. D6 sounds like Delonghi of ESAM series.
My Review Verdict (or What Is Damn Good About Jura D6?)
Well, that's a reasonable question. In my review, I noted more cons, than pros. The machine is a bit overpriced if compared to models with similar functionality by other brands, it is costly in maintenance (check price for care products at Amazon), have limited adjustments, can make only three coffee beverages… Finally, the milk frother is not super easy to use (it makes good foam, though). After all, what is good about Jura D6 and if it is worth buying?
Jura makes a damn good espresso. Rich and strong. D6 (as any other Jura) is really good at it. In my personal opinion, Saeco and Jura are competing for the title of the tastiest espresso among fully-automatic machines.
It is durable and reliable. A bit better built than modern Saecos and De'Longhis. Definitely more robust than Krups and Bosch.
You don't need to do weekly cleanings of brewing unit and lubricate it (1-2 times per year).
So, the verdict. If you want a basic, reliable espresso machine with focus on the espresso (cappuccinos occasionaly) and you can pay extra 'for the brand' (Jura's functions/price ratio isn't the best for sure), then you may go with D6 in the US.
But if a cappuccino is your everyday drink or if you want a more functional machine for the same money, then I would rather suggest checking Saeco Incanto with Milk Carafe, for example:
P. S. Jura D600 is another index for D6/D60, which is sold in Europe and is functionally identical to D6. In North America, only D6 designation is used.
P. P. S. If you are considering buying Jura D6 from abroad, then you can be sure that you will be able to set your language and preferable units (ml or oz). All machines come with the same firmware.
I NEED your opinion. Please rate my review:
Jura D6/D60/D600 Auto Coffee Machine Specifications:

Download manual:
Download pdf manual
Machine type:
Bean-to-cup super-automatic machine
Width х Deep х Height:
28 x 41 x 35 cm (11 x 16 x 14 inches)
Coffee used:
Beans
Grinder:
Steel burr set, 12 steps adjustable
Brewing group:
One, unremovable
Heater:
Thermoblock 1450 W
Max pressure:
15 bar
Water container:
1.9 l / 64 fl oz (accessible from top or left)
Bean container:
200 g / 7 oz
Waste container:
16 servings (accessible from front)
Cappuccinatore:
Semi-auromatic (tube)
Max cup height:
11 cm / 4.3 inches
Controlling:
Adjustable coffee strength (4 grades), 2 temperature settings
Peculiar properties:
Wireless ready
Colors:
Jura D6 Pianoblack (US article 15215) – fully black
Jura D6 Platin (US article 15216) – black with gray parts
10 comments:
Have some doubts which model to choose? Ask me!