No comments yet↓ specifications & manual ↓
This is an OEM product.
The espresso machine, which is sold as the Mr. Coffee Café Barista in the States, is known in other countries as the Oster Prima Latte, Breville PrimaLatte VCF045/046, Sunbeam EM5000, etc. (
see the full list of clones here
). All the points in my review also concern these models.
The Café Barista BVMC-ECMP1000/1102/1106 by Mr. Coffee is an intermediate between classic pump espresso machines (which are usually called semi-automatic, although they require a human's attention at every step) and super-automatic machines, which can make a cup of cappuccino in one touch (the ESAM 5500 by Delonghi is a great example).
The Café Barista can make cappuccino in one touch as well. However it requires a lot of manipulation before (putting ground coffee in the filter and installing the portafilter) and after (cleaning the coffee filter and manually running the milk cleaning cycle).
It is indeed a basic espresso maker (like Mr. Coffee's previous model, the ECMP50) with added electronic dosing and an automated milk frother. It can automatically deliver espresso shot of the programmed size after making milk foam .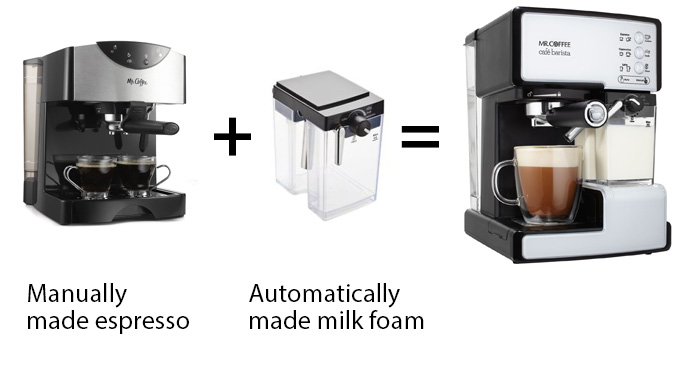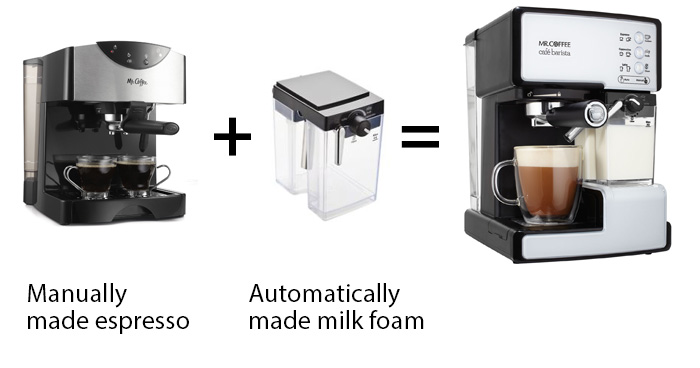 These functions really make the brewing process easier, because on average 1 out of 10 people can't handle a manual milk frother (steam wand). Mr. Coffee's automated milk jug will generate rich milk foam with predictable results every time, as long as it doesn't break.
Nevertheless, these functions don't make the Café Barista as automated as it may seem. I would like to draw attention to this fact again, because many negative reviews of this espresso and cappuccino maker are based on unrealistic expectations. Other bad reviews are about the low durability, which I can confirm (see below).
1. Espresso (ristretto, lungo etc)
The ECMP-1000/1102 has a 1thermoblock as its heating element. It works like electric point-of-use tankless water heater for bathrooms. Coffee snobs will chuckle at this, however it gives advantages for a beginners: less "warm up" time and bigger portions of coffee.

If the machine is well heated, the boiler's capacity is enough to deliver upto 5 fl. oz. (150 ml) of stably hot water. This fact, paired with a 15-bar Italian-made (this much is true) pump, is a necessary condition for good espresso.
For better results, it is recommended to wait at least 1-2 minutes after switching the machine on or make one shot without coffee in the filter in order to speed up the heating process.
Once the machine is heated and the ground coffee is loaded in the filter basket and tamped, you need to press the upper button once (for a single shot – default factory settings are about 1 fl. oz.) or twice (for a double shot). The machine will stop automatically, which is a benefit of the electronic control system. The standard dosing can be changed – you can program your machine to make a ristretto, which is a smaller and stronger version of espresso or, vice versa, to get a bigger portion for a lungo.
Overall, the espresso brewing process is similar to any other pump espresso machine. Still, there are some small differences compared to espresso machines from Delonghi or Saeco.
I described these in my ultimate taste, but I will repeat myself here:
The Mr. Coffee's crema filter gives rich, good-looking cream foam on top of espresso shots. However, it's 100% fake – the filter physically makes the bubbles like a faucet aerator does. This is not a negative fact in itself; it just means that rich crema is not an indicator of a good taste in the case of the Mr. Coffee ECMP-1000.
The filter construction and thermoblock, which is configured for a slightly lower value than it should be, gives a flatter and more watery taste. It is still decent, but the Saeco's crema filter gives noticeably better results.
However, you are probably considering the Mr. Coffee Café Barista because your main drink is cappuccino. So below I will describe the automatic milk frother that is the key feature of this machine.
2. Cappuccino (latte, latte macсhiato etc)
As I mentioned at the beginning, espresso makers usually have a steam wand (also called a panarello), which is used to froth the milk manually. It is not rocket science and there are various video tutorials on youtube showing how to do it. Anyhow, some people (around 10%, I would say) can't get away with it. Some other people can, but with unstable results. In both cases, an automated milk frother will help.
In the case of Mr. Coffee, it is implemented as an integrated milk jug with a milk foam regulator. Very roughly speaking, it works like a steam-driven milk sprayer.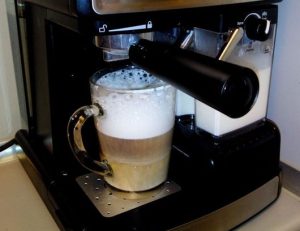 The machine makes espresso and adds it to the cup automatically after making the milk foam. It will produce more foamy milk if the regulator on the milk jug is in the Cappuccino position, or less, if you move the regulator to the left into the Latte position.
Technically the machine makes latte macchiato in both positions, because in the original cappuccino recipe the milk foam should be added to espresso. While Mr. Coffee BVMC-ECMP1000 adds espresso to the milk foam.
However, you can froth the milk separately if you want by pressing and holding the second button for a while. This will allow you to get the "orginal cappuccino".
There could be a pause between the milk-frothing and coffee brewing processes, which is normal because the machine needs time to cool down the water (from ~150°C/300°F that is needed to generate the steam to ~95°C/200°F) .
And here we have two main cons of this machine:
First of all, the integrated milk jug requires a separate cleaning cycle after being used. You will need to put an empty cup under the milk dispensing tube, fill the jar with water, put the froth control regulator into Clean mode and start the cycle by pressing and holding the third button.
In my opinion, this ruins all the automation, as the procedure for cleaning this automatic frother is at least as complicated as using a manual frother.
The cleaning is important! Without regular cleaning, the frother will quickly stop making good foam. Even one skipped cleaning cycle could be fatal – it's almost impossible to wash out the old curdled milk.
Below there is a official video tutorial for Oster Prima Latte, which shows how to clean it. Mr. Coffee Cafe Barista, Breville PrimaLatte and other clones have the same procedure. Pay attention that they don't mention that you should take off the jar, wash it and fill with water. Coffee filter cleaning isn't shown as well:
The second problem is the construction and durability of Mr. Coffee's automated frother. Even when properly maintained, it could stop working within 6-12 months. Just because the construction is too complicated, with narrow tubes and tiny pins that are easy to break.
Even European-made milk frothers with similar constructions that are used in super-automatic machines are likely to last only 2 or 3 years. In the case of the Mr. Coffee Café Barista, which is engineered and made in China, the life cycle is much shorter. Numerous reviews prove this. However, I can't deny the fact that there are people who have used this or a similar machine for years and it still works fine. It's a lottery. Nevertheless, it is useful to bear this in mind when buying a product with a limited 1-year warranty.
3. Competing models: Delonghi EC860 and separate milk frothers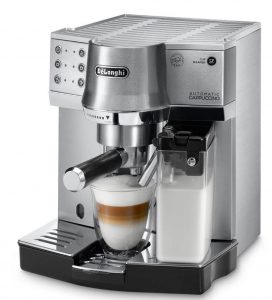 There are a surprisingly small number of similar espresso makers on the market. By "similar", I mean manual semi-automatic espresso machines combined with an automated frother. The main – and in some countries only – competitor is the Delonghi EC860 (not to be confused with the EC680), which usually has a price tag that is 2 or even 3 times higher. There is also a model called the EC850, which is the older version of the same machine.
I will shortly compare Mr. Coffee Café Barista ECMP-1000/1102/1106 vs. De'Longhi EC860:
EC860 has a massive stainless steel body, plastic elements are made of better materials
It also has autodosing and an integrated milk jug with similar construction.
Delonghi EC860 requires cleaning cycle after cappuccino as well, however it has quick clean function. It means that you don't need to empty the milk jug and fill it with fresh water – the cleaning could be made when the jug is installed and filled with milk.
It has an active (electric) cup warmer
Delonghi's filters gives less crema, but a bit more rich taste (in my personal opinion)
Delonghi has a better durability
Both are made in China and go with 1-year warranty
I also find the EC850/EC860 to be overpriced – you can get a super-automatic machine for a similar amount of money.
Check current prices and deals @ Amazon: Mr. Coffee Cafe Barista vs Delonghi EC860
To sum up, we have the affordable Café Barista with lower durability, average espresso results and complicated cleaning requirements. On the other hand, there is the overpriced Delonghi EC860 with a simpler, but still not super-easy cleaning function. Between these two models, I would choose… neither. I believe that for most people who want to buy an affordable espresso machine and want the milk frothing to be automated the best solution is a:
Simple espresso machine + stand-alone milk frother and warmer
In that case, you can buy any decent espresso machine (even a budget of $100/€80 would be enough, for example Saeco Poemia or Delonghi ECP series) and a separate electric milk frother and warmer (starting from $40). Here are a few tips:
However, it's better to add a little and choose magnetic-driven milk frother, which is easier to clean and which makes less noise:
This pairing requires less messing around, cleaning is easier and it will likely work for much longer. And last but not least, the cappuccino will be better: a cheaper espresso machine with a simple manual frother (see my ultimate test, for example, could give a better espresso, while a good stand-alone milk steamer will make richer and softer foam.
Yes, you will need to manually pour the milk foam from the frother to the cup in this case. But I find this much easier than running the complicated cleaning procedure on the Mr. Coffee Café Barista ECMP1106.
The full list of clones
As any OEM-manufactured model the Mr. Coffee BVMC-ECMP1102 has a huge list of clones produced on the same factory in China for other brands in other countries. I already mentioned some of them in the beggining of my review. I will try to list all of them below:
Breville VCF045 or VCF046 Prima X Latte Coffee Machine (in Germany, Finland, Romania and some other EU countries). Check if it is sold in your country
Cafetera Express Automática Oster Prima Latte (in Canada, Spain, Chile, Mexico and some other LATAM countries). Check if it is sold in you country
Sunbeam EM5000 (Australia and New Zeland).
Vitek VT-1514/1516/1517 (Russia, Ukraine and some of the CIS countries + India).
BEEM 1110SR and Silvercrest SEMM 1470 A1 (with a slightly different design, controls).
My Review Conclusion
I think that Mr. Coffee Cafe Barista BVMC-ECMP1000/1102 Espresso, Cappuccino and Latte maker should only be considered as a temporary solution:
It's cheap
It's not as automated as it seems
It has lower durability than models from Delonghi, Saeco, Gaggia and even Breville (which I'm not the biggest fan of)
And the main concern: the complicated "after cappuccino" cleaning requirements ruin all the automation.
If you want to buy something affordable to make espressos and cappuccinos, but find a manual steam wand frother too complicated, then buying a simple pump espresso machine and a stand-alone milk warmer and frother (electric, but not handheld) would be a much better solution.
P. S. I also want to mention the low quality of materials used, which is to be expected considering the low price. You can notice the cheaper plastic (the smell, by the way, disappears after 1-2 weeks) and poorly moulded joins between elements even on photos: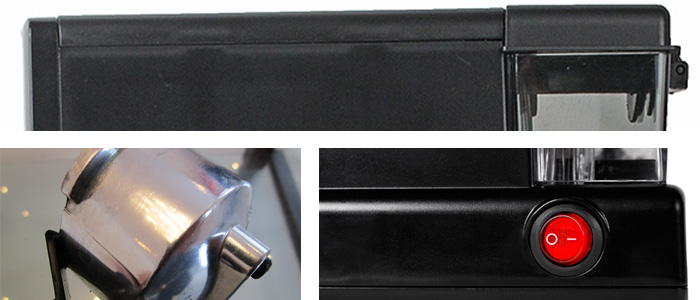 I NEED you opinion. Please rate my review:
Mr. Coffee BVMC-ECMP1000/1002/1006, Oster Prima Latte, Sunbeam EM5000 & Breville VCF045 Coffee Machine Specifications:

Download manual:
Download pdf manual
Machine type:
Pump espresso machine
Width х Deep х Height:
8.86" x 11.22" x 11.6" (22cm x 28cm x 29 cm)
Coffee used:
Ground coffee or E. S. E. pods
Grinder:
No
Brewing group:
Metal filter
Heater:
Aluminium 130ml Boiler, 1040W
Max pressure:
15 bar
Water container:
1,65 l
Bean container:
No
Waste container:
No
Cappuccinatore:
Automatic with milk foam regulator
Max cup height:
4.1" (105 mm)
Controlling:
Automatic dosing with coffee volume adjustment
Colors:
Black and Silver: Mr. Coffee BVMC-ECMP1000, Oster BVSTEM6601SS, Sunbeam EM5000, Breville VCF045X;
Red: BVMC-ECMP1106, Oster BVSTEM6601R, Breville VCF046X;
White BVMC-ECMP1102, Oster BVSTEM6601W
Have some doubts which model to choose? Ask me!